printer friendly version
Ball screws with nut cooling
Second Quarter 2022 Editor's Choice Shaft power components
Machining centres feature ball screws with nut cooling to increase surface quality of milled parts. NSK ball screws with nut cooling are setting new standards in the precision of machine tools with mechanical drive components. Confirmation comes not only from NSK's own testing, but from machine tests conducted with Chiron Group, a well-known manufacturer of machining centres. NSK ball screws contribute to the outstanding surface quality of milled parts produced by Chiron Group's new CNC machining centres.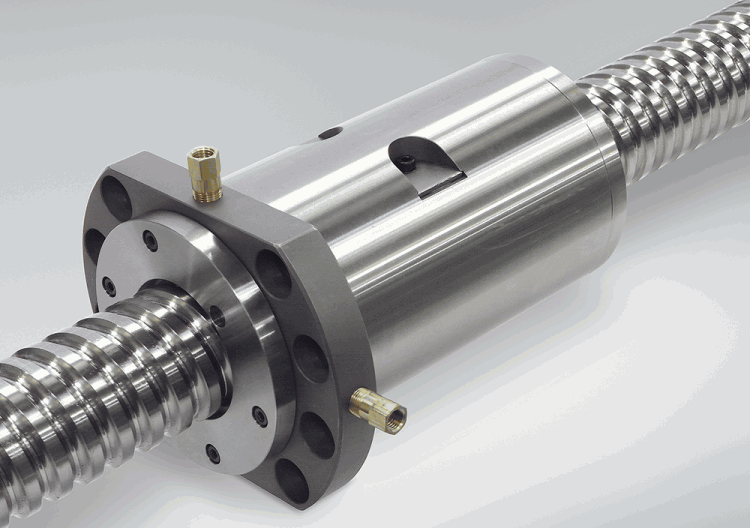 The machine tool industry uses ball screws to convert the rotary motion of an electric motor into linear motion. Very often, the positioning accuracy, as well as the travel speed and acceleration, have to endure extreme demands. As a result of axial forces, acceleration and speed, the ball screw generates frictional heat. This heat can cause the length of the screw to increase due to thermal expansion and hence lead to very slight but often critical positioning inaccuracies that may impair machining quality. To help avert this outcome, many machining centres are equipped with a length scale that measures the actual position of the tool, while for those that require higher positioning accuracy it is possible to use ball screws with hollow shafts. In the latter, coolant passes through the shaft to remove heat from the system. This method is quite costly, however, because rotating screws require a rotary union in addition to the hollow bore.
A new approach is to cool the nut, which means there is no need for an expensive hollow bore and rotary union as cooling takes place directly at the point where the heat is generated. Another key benefit is that the heat generated in the ball screw no longer dissipates directly in the machine. This thermal decoupling between the machine and ball screw is important because any heat can impair dimensional stability. The results now prove that by cooling the nut, it is possible to increase the surface quality of machined components.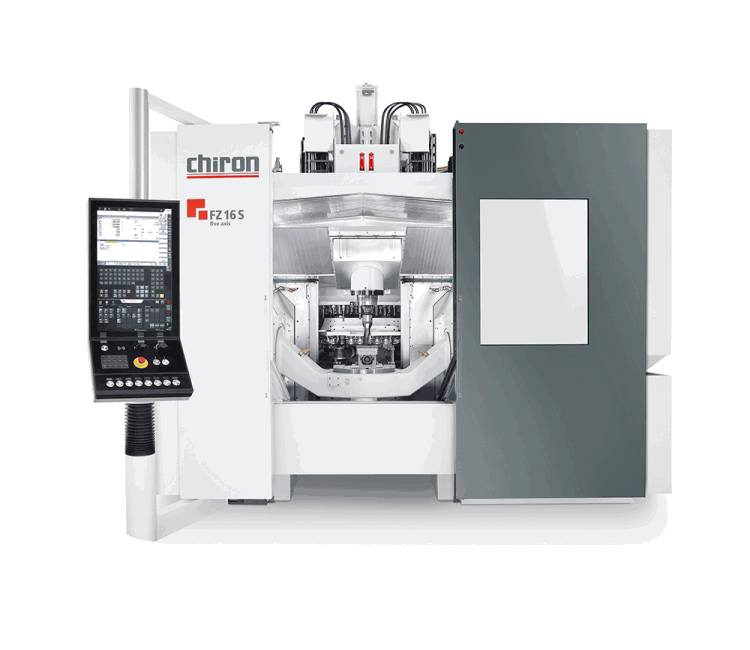 NSK engineers designed the nut body so that the changes to the ball screw caused by cooling have no negative influence on its performance profile, as confirmed by endurance tests at NSK's Technology Centre. Many years of cooperation with Chiron Group have also confirmed these results in practice. The use of NSK ball screws with cooled nuts means that machining centres of the PR 16 and 22 Series operate with exceptionally high precision, which not only applies to ease of positioning, but also to machining accuracy and surface quality.
In two specific Chiron series, the ball screws are also equipped with NSK's highly effective X1 seal, which protects the nut from contamination and retains lubricant within the nut for an extended period. Looking ahead, NSK intends to pursue its collaboration with the Chiron Group and thus continue optimising precisely targeted cooling technology for ball screws. This teamwork will enable developers to deepen their knowledge of ball screws and how they influence machine performance.
The Chiron Group, headquartered in Tuttlingen, is a global company specialising in CNC vertical milling and mill-turn machining centres, as well as turnkey manufacturing solutions. The group has a global presence, with production and development sites, sales and service subsidiaries and sales agencies worldwide. Around two thirds of machines and solutions that are sold are exported. Key customer sectors are the automotive, mechanical engineering, medicine and precision engineering, aerospace industries and tool production.
For more information contact Geraldene Govender, NSK South Africa, +27 11 458 3600, [email protected], www.nsk.com
Further reading:
The best of hydraulics meets the advantages of electric
Parker Hannifin - Sales Company South Africa Editor's Choice Hydraulic systems & components
Electrification is not new. The difference is the convergence of three powerful forces: stricter governmental regulations; ESG initiatives by the top companies in the world; and TCO. As adoption 
...
Read more...
---
The world's lightest electric mountain bike
DNH Tradeserve Editor's Choice Electrical switching & drive systems & components
The barely noticeable additional weight of the maxon drive of only 3,5 kg, in combination with superior carbon technology from Thömus, delivers a ride that feels as natural on the trail as on the 
...
Read more...
---
The strength of your machine is defined by its pivot joints
Bearing Man Group T/A BMG Editor's Choice Shaft power components
"Through Nord-Lock's advanced Expander System, which consists of a comprehensive range of components, BMG specialists are able to supply the correct pivot to prevent the problems that lug wear causes 
...
Read more...
---
Common myths about machine safety
Omron Electronics Editor's Choice Other technologies
The consequences of inadequate machine safety practices can be severe, and there are many misunderstandings that put facilities and their employees at risk. Omron assesses and evaluates over 3000 machines 
...
Read more...
---
Hägglunds Fusion: the power of one
Editor's Choice Electrical switching & drive systems & components
Hägglunds Fusion provides unbeatable torque from zero speed and includes built-in torque limitation. This enables the machine to start, stop and reverse as often as needed to serve low-power applications, 
...
Read more...
---
Expanding the market for Dura-Bar
Axiom Hydraulics Editor's Choice Hydraulic systems & components
Dura-Bar is the largest producer of 5 to 66 cm diameter iron bar in the world. The company is unique in the industry in creating the iron bar stock in a horizontal, continuous casting process without 
...
Read more...
---
Saving energy and protecting the impact on the environment
Editor's Choice Pneumatic systems & components
In the first quarter of 2022, short-term gas prices on the largest European exchange were five times higher than the 2021 average, and future markets are pricing European gas at up to three times its 2021 levels 
...
Read more...
---
Ultra-compact robot-based cake production with PC control
Beckhoff Automation Editor's Choice
"Baking Baumkuchen requires advanced skills and experience from the confectioner," says Mr Matsumoto, managing director of Juchheim's central plant. "However, if the oven's parameters can be captured 
...
Read more...
---
The advantages of robotics and simulation for your business
Editor's Choice Robotics & Mechatronics
The more complex your business is, the more room there is for innovation. At the same time, innovation cannot come at the cost of efficiency, quality and output levels. According to Von Fintel, this is 
...
Read more...
---
Concept to solution the short way
Axiom Hydraulics Editor's Choice Hydraulic systems & components
QuickDesign streamlines your custom design process, delivering complete designs in as little as ten minutes.
Read more...
---