printer friendly version
The control giant from Duisburg
Third Quarter 2023 Editor's Choice News & events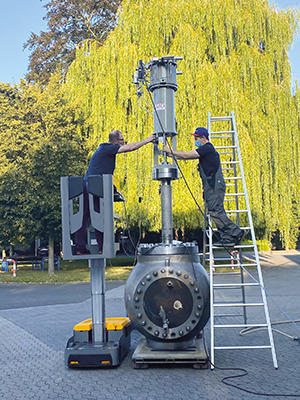 Valve & Automation's control valve, more than four metres tall, produced for Siemens Energy in Duisburg, has broken ARCA's internal design height record.
In September 2021, Valve & Automation ran a special type of acceptance test at one of its factories in Tönisvorst, Germany. With the production of this 'control giant' with a design height of 4,20 metres, the company confirmed that it is a leader in control valve design and manufacture, and is a first contact partner in compressor construction.
This record was achieved by the pairing of a 60 cm valve with a special bonnet, which in addition to its conventional components, also included a bellows seal, which was specially designed to prevent any emission of the medium through the stuffing box. The enormous design height made it necessary to switch to alternative assembly steps in order to manufacture the valve according to customer requirements.
Together with this colossus, this project from Siemens Energy included a 50 cm valve and a 157 cm perforated disc. Siemens Energy required these valves for a plant owned by Formosa Petrochemical Group, which will be built in the eastern Chinese coastal city of Ningbo. The control valve was part of a delivery of a gear type turbo compressor train, which is to be used in a purified terephthalic acid plant (PTA) to manufacture plastic products. The compressor train consisted of a gear type compressor of the STC-GV (200-4) type and a cold gas expander STC-GT (160-2),driven by an electromotor.
For more information contact Desmond Delport, Valve & Automation, +27 11 397 2833, sales@valve.co.za, www.valve.co.za
Credit(s)
Further reading:
Inovance brings advanced motion control to South Africa
Motion Tronic Editor's Choice
Inovance and its South African distributor, Motion Tronic are launching the Easy Series PLC in this country, bringing its flexible, high-performance motion control solution to customers across South Africa in a wide range of industry sectors.
Read more...
---
How to protect against water hammer
SA Gauge Editor's Choice Hydraulic systems & components
Water hammer is a high-pressure surge or wave created by the kinetic energy of moving fluid when it is rapidly forced to stop or change direction, altering the liquid's velocity. The progression of the water hammer shockwave needs to be detained and slowed before reaching the instrument sensor. SA Gauge manufactures several such devices in order to achieve this.
Read more...
---
Axiom ups its game
Axiom Hydraulics Editor's Choice Hydraulic systems & components
In today's competitive market, manufacturers of hydraulic components are constantly challenged to find better, faster and cheaper ways of producing parts. Axiom Hydraulics has met the challenge, and can now deliver a product with superior performance and significant cost savings for its customers.
Read more...
---
Anti-surge valves
Valve & Automation Shaft power components
Anti-surge valves meet the most stringent requirements, and in the event of a disturbance must open lightning fast, with precise positioning and absolute reliability. One of the world's leading compressor manufacturers selected Arca anti-surge valves for its compressor stations at a steel mill in Taiwan.
Read more...
---
How to get the best of both worlds with hydraulics and electric
Editor's Choice Hydraulic systems & components
While battery technologies continue to evolve and overcome challenges that have previously restricted more rapid electrification adoption rates, hybrid electric systems are well positioned as an ideal interim solution.
Read more...
---
Going underground for energy storage
Editor's Choice Other technologies
The idea of using gravity to store energy is not new. Hydro has been a feature of mature electricity grids for decades. While this may be ideal for large-scale storage, it requires very specific geographies and comes with a huge capital cost. Gravitricity, an Edinburgh-based green engineering startup, is working to make gravity energy storage a reality.
Read more...
---
World's largest concentrated solar farm
Editor's Choice Other technologies
Sub-title: Noor power station in Morocco is the largest concentrated solar power plant on the planet, and uses molten salt storage to produce electricity at night.
Read more...
---
Robot-assisted workflows in the food and beverage industry
Omron Electronics Editor's Choice
Producers are increasingly having to juggle between longer term range proliferation centred on consumer demands, and range reduction caused by the rapidly changing buying habits of retailers and consumers. This has resulted in them having to be even more agile with existing assets.
Read more...
---
Sustainable machines for groundworks
Parker Hannifin - Sales Company South Africa Editor's Choice Electrical switching & drive systems & components
The global drive towards net zero and sustainable energy sources is accelerating the shift from fossil fuel to electric-driven machines. Some European companies are already setting conditions for electric-driven equipment on their tender requirements.
Read more...
---
The world's largest magnet
Editor's Choice Other technologies
The world's largest and most powerful magnet is the Central Solenoid magnet in the ITER fusion reactor in France. Built by General Atomics, it is the result of over five years of research and development, and the statistics are mind-blowing.
Read more...
---