printer friendly version
Powerful diagnostic tool for condition monitoring
Third Quarter 2023
Other technologies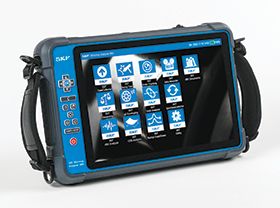 SKF has extended its Microlog Analyser family of data collection devices with a new model that offers faster measurement collection and greater diagnostic power. "The new SKF Microlog Analyser that is part of our broad portfolio of condition monitoring solutions built on state-of-the-art technologies is a powerful tool for standalone troubleshooting, as well as being part of a comprehensive predictive maintenance programme," says Janne Westerlund, director of Services & Technologies EMEA. "The Microlog Analyser dBX, together with our analytic software, is providing best in class information and insights of customers' rotating asset health."
This unique portable solution, coupled with analytic software, significantly improves the scheduling of the maintenance of rotating machines. When used as part of a condition monitoring solution, it can detect issues with rotating machinery quickly and accurately.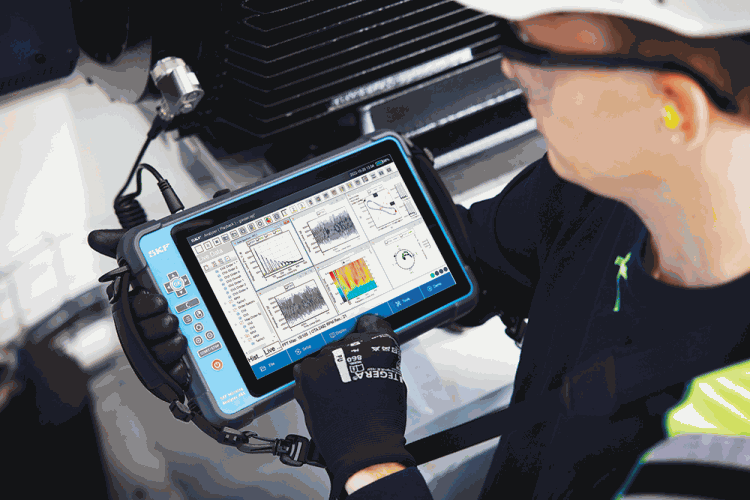 The device allows the user to carry out a range of tasks including impact tests, digital recording, modal analysis, multi-plane balancing and cross channel phase. It can be applied in any type of industry including pulp and paper, food and beverage, renewable energy, mining, off-highway, metals, automation, and marine.
The Microlog is backwards compatible with SKF's proven existing Microlog CMXA Series and adds new technology including a high resolution, 25 cm screen that can display up to six measurement windows simultaneously, and an embedded camera. Furthermore, it features a hybrid touch and keypad control, and simplified navigation, making it more comfortable and easy to use.
For more information contact SKF South Africa, +27 11 821 3500, samantha.joubert@skf.com, www.skf.com
Credit(s)
Further reading:
Automation solutions for underground material handling on mines
Other technologies
Deep Automation is Epiroc's cutting-edge set of automation systems and applications, used to orchestrate loaders and trucks in underground mining operations.
Read more...
---
Lube tip: thermal failure in lubricants
WearCheck, a division of Synerlytic Services Other technologies
One of the most common causes of thermal failure in hydraulic fluids and some lubricating oils relates to aeration.
Read more...
---
Magnetic bearings
SKF South Africa Pneumatic systems & components
SKF's magnetic bearings, which can rotate at up to 50 000 rpm, are now playing a key role in reducing CO
2
emissions across a range of industrial applications, including compressors. The company's magnetic 
...
Read more...
---
Megatrends shaping the auto industry
Other technologies
The automotive industry is in the midst of a technology-driven revolution that will not only advance the safety and sustainability of transportation, but also transform how consumers interact with their vehicles and the OEM brands behind them.
Read more...
---
R200 part saves recycler millions
igus Other technologies
A simple switch to a polymer bearing, in place of stainless steel, has saved lead acid battery recycler, Frys Metals, tens of thousands of rands in maintenance costs, and much more in preventing lost production time.
Read more...
---
Lube tip: foaming is affected by oil level
WearCheck, a division of Synerlytic Services Other technologies
In a circulating system, it is crucial to check the oil level before introducing anti-foam agents to address a foaming problem.
Read more...
---
Going underground for energy storage
Editor's Choice Other technologies
The idea of using gravity to store energy is not new. Hydro has been a feature of mature electricity grids for decades. While this may be ideal for large-scale storage, it requires very specific geographies and comes with a huge capital cost. Gravitricity, an Edinburgh-based green engineering startup, is working to make gravity energy storage a reality.
Read more...
---
Bearings with lowest possible carbon emissions
SKF South Africa Shaft power components
SKF has signed a letter of intent with CAKE, the Swedish maker of premium, lightweight, electric motorcycles, to explore how it can incorporate bearings produced with the lowest possible carbon emissions.
Read more...
---
World's largest concentrated solar farm
Editor's Choice Other technologies
Sub-title: Noor power station in Morocco is the largest concentrated solar power plant on the planet, and uses molten salt storage to produce electricity at night.
Read more...
---
The world's largest magnet
Editor's Choice Other technologies
The world's largest and most powerful magnet is the Central Solenoid magnet in the ITER fusion reactor in France. Built by General Atomics, it is the result of over five years of research and development, and the statistics are mind-blowing.
Read more...
---