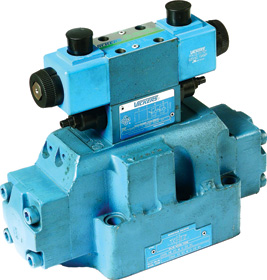 Valves from BMG Hydraulics
2nd Quarter 2013, Hydraulic systems & components

BMG Hydraulics distributes a wide range of valves for operation in demanding applications. "An important part of our business is in the supply and servicing of hydraulic valves. BMG's range of Eaton Vickers hydraulic valves extends from simple shut-off valves to precise directional control valves used in advanced motion control systems," says Greg Lester, director of BMG Hydraulics. "Typical applications are found in machine tools, mining, automotive, metalworking, power generation and construction."
The company's range consists of spool type directional control valves (from NG 6 to NG 32), proportional valves in directional, throttle and pressure control types, slip-in cartridge valves (from NG 16 to NG 80) and modular screw-in cartridge valves.
Hydraulic valves used in a fluid control system are designed to regulate flow and fluid pressure, to limit fluid pressure and to direct flow and pressure to the desired application. Vickers proportional hydraulic valves, with or without integrated on-board electronics, ensure optimum power consumption and improved machine operating time. They have a rated working pressure up to 350 bar and are designed for a range of performance levels.
Compact slip-in cartridge valves improve the efficiency of the latest hydraulic machines and equipment. The latest cartridge valve and system technology enhances the flexibility of the system, ensures reliability, offers greater resistance to contamination and eliminates external leakage.
In order to streamline a hydraulic system, hydraulic valves can be incorporated into a manifold block. These blocks are custom designed by BMG Hydraulics and manufactured at BMG's fabrication facility in Johannesburg. They are manufactured from aluminium, mild steel or imported Durabar. Special coatings are applied to blocks designed for use in corrosive areas.
Other valves in the BMG Hydraulics range include Galtech hand control valves, Pister high pressure ball valves, Bieri high pressure directional control and Oleoweb control valves, as well as Enerpac high pressure equipment.
For more information contact Veronique van Niekerk, BMG, +27 (0)31 576 6221, veroniquev@bmgworld.net, www.bmgworld.net