printer friendly version
A new coupling system
3rd Quarter 2013
Hydraulic systems & components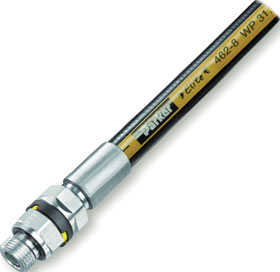 For more than 80 years Parker Hannifin, a specialist in motion and control technologies, has been developing high pressure hydraulic couplings and setting standards globally. Over the years, new geometries and materials have improved the performance, reliability and ease of installation of the original Ermeto couplings. Today, leakages in piping systems cannot be ascribed to material defects as they could previously but rather to improper installation.
When it comes to couplings, correct installation is essential because the effects of leakages can result in cost-intensive downtimes, customer complaints, reworking, environmental damage and even accidents. With the new, quickly installable EO-3 system, Parker Hannifin has developed a coupling concept that sets new standards.
EO-3 couplings enable simpler, quicker and more secure installations. This is achieved with a new thread technology. In contrast to all prior DIN standard couplings, the EO-3 system is based on a 24° inner cone with integrated soft seal and a cone-shaped connecting thread. A world first, this unique system enables the control of installation results from the outside. Using a yellow signal ring, the installer can tell immediately whether the coupling has been made correctly.
EO-3 couplings can be installed considerably quicker than conventional coupling systems on the market and require neither a torque wrench nor a wrench extension – a common open-ended wrench will suffice. With pipe sizes from 25 mm, an octagonal screw nut – instead of a standard hexagonal screw nut – makes access easier in tight construction spaces.
For the new bolt connections Parker uses the existing EO metal-forming machine tool. With the machines users have been using up until now to produce, for example, EO-2-shaped pipe couplings, users can also create EO-3 couplings – an important contribution to cost reduction. This merely requires the respective EO-3 forming dies.
In addition to rigid pipework, many applications demand flexible hose connections. The EO-3 is applicable in both variants. Linking to existing EO-2 connections is also possible without any problems using an adaptor. This means previous couplings can be converted or upgraded to the EO-3 system at virtually no additional cost. The new coupling system offers four times as much safety and does away with the standard LL, L, and S series classifications that have previously been customary. But for a few exceptions, a single pressure stage of 420 bar applies to all pipe sizes. Elastomeric materials can be selected for specific applications. Parker's EO-3 coupling system can be used in rigid pipe connections and hose applications at temperatures from -40 to 120°C with external pipe diameters from 6 to 42 mm.
For more information contact Lisa de Beer, Parker Hannifin, +27 (0)11 961 0700, parker.southafrica@parker.com, www.parker.com/za
Credit(s)
Further reading:
Land Cruiser wet brakes for mining
First Quarter 2021, Axiom Hydraulics , Editor's Choice, Hydraulic systems & components
Unfortunately, the vehicle's OEM brakes are not built for mining; they compromise safety while suffering frequent and expensive maintenance. Simply put, the brakes were never designed for use in the highly 
...
Read more...
---
Understanding your filtration needs
First Quarter 2021, Hydrasales , Hydraulic systems & components
Contaminants such as solid, liquid and gaseous particles are the bane of a hydraulic engineer's life. Systems over time become less efficient and ultimately break down. This is costly. The problems are 
...
Read more...
---
How much is a second worth?
First Quarter 2021, Honingcraft , Hydraulic systems & components
There are 86 400 seconds in a day. How much is each second worth? Honingcraft is investing in every second.
Read more...
---
Next generation particle contamination monitor
Fourth Quarter 2020, Parker Hannifin - Sales Company South Africa , Hydraulic systems & components
Parker Hannifin has launched the icount LaserCM30 particle contamination monitor, a user-friendly field diagnostic device that allows service personnel to quickly and easily assess the cleanliness of 
...
Read more...
---
Monitoring oil with the power of connectivity
Fourth Quarter 2020, Hydrasales , Hydraulic systems & components
The latest innovation in the MP Filtri range of condition monitoring products helps system engineers with the digitalisation of their monitoring processes. It identifies contaminants early in the service 
...
Read more...
---
Why reinvent the wheel?
Fourth Quarter 2020, Axiom Hydraulics , Hydraulic systems & components
Sun Hydraulics' standard hydraulic solutions are road tested, ready and expanding. With more than 700 ready to order solutions delivering 20 different control functions across multiple settings and flow 
...
Read more...
---
Supplying essential hydraulic services
Third Quarter 2020 , Hydraulic systems & components
Hytec Secunda was tasked with overseeing the urgent repair of two hydraulic cylinders for a large regional customer. Working with Hytec Engineering, the cylinders were delivered and installed in just 
...
Read more...
---
New Range of Bosch Rexroth AquaSensors
Third Quarter 2020, Hytec Fluid Technology , Hydraulic systems & components
Hytec Fluid Technology (HFT) recently launched the Bosch Rexroth AquaSensor range of humidity sensors. Branded Humidity Sensor WGM, the range was developed to serve as a preliminary warning system on 
...
Read more...
---
Sophisticated electro-hydraulic closed-loop control
Third Quarter 2020, Axiom Hydraulics , Hydraulic systems & components
Sun Hydraulics has announced the release of the new CANpoint XMD Configuration Software, available as a free download from its website. This expands the capabilities of the company's line of XMD mobile 
...
Read more...
---
Hydraulic bolt tensioners remove uncertainty from couplings
Third Quarter 2020, SKF South Africa , Hydraulic systems & components
Hydrocam hydraulically operated bolt tensioners offer far greater accuracy compared to other fixing methods. With their superior control and safety, damage to bolts and associated structures is avoided, 
...
Read more...
---