printer friendly version
An ideal HMI alternative
3rd Quarter 2014
Other technologies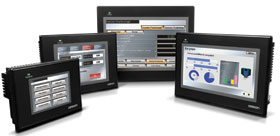 Omron's feature-rich and cost effective NB HMI human machine interface (HMI) series is perfect for any industry requiring a small, affordable basic HMI touch screen. Offering the best in reliability, the NB HMI series has many features.
"Often customers require more from an HMI than the rudimentary LCD quality or minimum approval requirements and this is where Omron's NS HMI series comes in as an outstanding alternative," says Victor Marques, country general manager for Omron Electronics South Africa. "For example, the NB HMI series is the ideal replacement for existing monochrome units," he says. "In addition, the replacement is easy to carry out as the cutout size is the same."
Replacements coincide with existing products as follows:
* NB7W can replace Easyview/Weintek MT6056i/MT6070iH.
* NB5Q can replace Delta DOP-B05.
* NB3Q can replace Pro-Face ST400 and NQ3.
* NB5Q can replace NT31(C) using NB5Q-ATT01 mounting bracket.
The NB HMI series is characterised by a best in class display with more than 65 000 display colours and a wide viewing angle across a 18 and 25 cm wide screen (resolution 800 x 480). In addition a long-life LED backlight TFT LCD and 28 MB internal memory offer customers outstanding features. During the months of July to end September, the Omron NB HMI series will be sold on promotion.
For more information contact Michelle le Roux, Omron, +27 (0)11 579 2600 michelle.le.roux@eu.omron.com
Credit(s)
Further reading:
Schneider Electric brings digital competence to mining applications
First Quarter 2020, Schneider Electric South Africa , Other technologies
Schneider Electric is dedicated to the deployment of digital technologies in mining to address the rising pressures on business sustainability and reduced energy consumption. "The organisation has 
...
Read more...
---
Gearmotors for electrified monorail system
First Quarter 2020 , Other technologies
A leading systems integrator for the automotive industry has adapted a Maxolution electrified monorail system (EMS) and 23 HK Series gear units for overhead trolley systems, from SEW-Eurodrive, for a 
...
Read more...
---
Aluminium profiles for COVID-19 protection screens
First Quarter 2020, Tectra Automation , Other technologies
Rexroth aluminium profiles from Tectra Automation are used to safeguard personnel across a range of industries and numerous applications. The durable composition of these profiles and their adaptability 
...
Read more...
---
3D printing of face masks
First Quarter 2020 , Other technologies
SEW-Eurodrive has joined a nationwide campaign to use 3D printing technology to produce much needed face masks and shields for healthcare workers and first responders. Since the announcement of a national 
...
Read more...
---
Pressure measurement converter for harsh industrial conditions
First Quarter 2020, Instrotech , Other technologies
Instrotech is offering Kobold's PNK pressure measurement converter, used for the electrical remote transmission of pressure. For use in heavy machinery, engines, shipbuilding and automotive engineering, 
...
Read more...
---
Three lubrication myths
First Quarter 2020 , Other technologies
As specialists in lubrication reliability solutions, the team at Lubrication Engineers (LE) South Africa frequently comes up against myths relating to lubricants. "People believe things or are taught 
...
Read more...
---
Top 5 industrial automation trends in 2020
First Quarter 2020 , Other technologies
1. Deploying IIoT edge 2.0 solutions
The edge of IIoT enabled architectures is becoming increasingly important due to their role in digital transformation strategies. Initially focused on delivering 
...
Read more...
---
Food grade chain hoists
First Quarter 2020, Becker Mining South Africa , Other technologies
New to Becker's range of Kito hoists are food grade electric chain hoists, designed for safe lifting applications in contaminant controlled and corrosive processing environments, where pristine cleanliness 
...
Read more...
---
Digital factory revenues to jump to US$375 billion by 2030
First Quarter 2020 , Other technologies
Technology investments in the industrial and manufacturing sector are set to skyrocket, jumping from $59 billion in 2019 to $375 billion in 2030. Including hardware revenues, that figure climbs to over 
...
Read more...
---
Factory harmony
First Quarter 2020, Omron Electronics , Robotics & Mechatronics
A promising model for the new harmony on the factory floor is based on intelligent, integrated and interactive design of tomorrow's manufacturing processes.
Read more...
---