printer friendly version
An amazing turnaround
1st Quarter 2017
News & events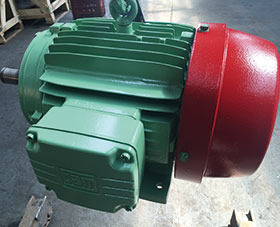 It is not every day that a company stares at liquidation and devastating job losses, but survives to tell the tale. Unidrive Electric Motors is receiving a second lease on life following the acquisition of a majority stake in the business by Ayanda at Work, with the majority of funding coming from a consortium of black women.
Between 2012 and 2013, Unidrive went through hard times as a result of cash flow challenges and this pushed the business into a precarious financial position with the possibility of closure. "Unidrive is one of the most recognised players in the refurbishment and supply of electric motors and its demise would have been very sad," says Unidrive MD, Theo Mashego.
Key among the steps to win back business was to improve the quality of workmanship and secure all necessary standards. Unidrive is SANS 1561-1:2006 listed and also complies with SABS 0242 as well as being ISO 9001 certified. Mashego says Unidrive is very competitive in the market for the repair of up to 450 kW and 1000 V motors, and also complies with SANS 60079-0 and 60079-1 for repairs of flameproof motors and with SANS 60079-0/15/19 for sparkproof motors. The company has seen its turnover growing in double digits between 2015 and 2016, with more upside expected in 2017 with the recovering economy.
Unidrive has been verified as a level 2 B-BBEE company. Mashego says the company will continue to focus on black women youth training, development and employment as part of its socio-economic contribution.
For more information contact Theo Mashego, Unidrive, +27 (0)11 813 3206, info@unidrive.co.za, www.unidrive.co.za
Further reading:
Danfoss continues to invest in sustainable transformation
First Quarter 2021, Danfoss , News & events
There has been growing momentum in the energy sector, and governments across the world are committing to a transition to low-carbon economies. At the recent opening of the Investing in Africa Mining Indaba, 
...
Read more...
---
ABB sensor onboard SpaceX rocket to detect greenhouse gas emissions
First Quarter 2021, ABB South Africa , News & events
An optical sensor manufactured by ABB was deployed with the successful launch of satellite Hugo from GHGSat, the emerging leader in greenhouse gas sensing services in space.
Read more...
---
From the editor's desk: The sun in a bottle
First Quarter 2021, Technews Publishing , News & events
I was recently captivated by the sheer scale of a new technology. On the horizon is the promise of something way bigger than renewable energy – nuclear fusion – with the vision of a clean and endless 
...
Read more...
---
Siemens and CSIR to boost 4IR
First Quarter 2021, Siemens Digital Industries , News & events
South Africa's pursuit of 4IR received a massive boost when the CSIR and Siemens South Africa entered into a partnership to empower the country with digital skills. The two organisations have signed an 
...
Read more...
---
The digital sensor age is here
First Quarter 2021 , News & events
In an ever-growing digital world, Danfoss Industrial Automation has repositioned itself as Danfoss Sensing Solutions, representing the union of application-driven sensor technologies and unparalleled 
...
Read more...
---
Willem Gijzelaar retires from Bosch Rexroth
First Quarter 2021 , News & events
Willem Gijzelaar, group marketing manager at Bosch Rexroth South Africa, retired in December 2020 after 35 years' service at the company and 47 years in the fluid power industry. Beginning his career 
...
Read more...
---
SMC's new virtual showroom
First Quarter 2021 , News & events
SMC Corporation South Africa is proud to announce the launch of its new 360-degree interactive virtual showroom. Locally designed and developed by Joanne Zimmerman, it was created to extend the company's 
...
Read more...
---
Schneider Electric supports GivingTuesday
First Quarter 2021, Schneider Electric South Africa , News & events
Schneider Electric South Africa has, in the run up to GivingTuesday, rolled out complimentary virtual training to its education partners network across southern Africa. These digital training sessions 
...
Read more...
---
Gimatic expands product range with launch of vacuum product offering
First Quarter 2021 , News & events
Suction cups, vacuum pumps, sensors, and related accessories allow Gimatic's customers to handle different objects in various industrial sectors with low energy consumption and reduced downtime. Gimatic 
...
Read more...
---
Appointments
First Quarter 2021 , News & events
Read more...
---