printer friendly version
An amazing turnaround
1st Quarter 2017
News & events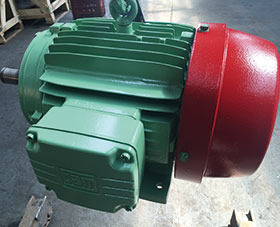 It is not every day that a company stares at liquidation and devastating job losses, but survives to tell the tale. Unidrive Electric Motors is receiving a second lease on life following the acquisition of a majority stake in the business by Ayanda at Work, with the majority of funding coming from a consortium of black women.
Between 2012 and 2013, Unidrive went through hard times as a result of cash flow challenges and this pushed the business into a precarious financial position with the possibility of closure. "Unidrive is one of the most recognised players in the refurbishment and supply of electric motors and its demise would have been very sad," says Unidrive MD, Theo Mashego.
Key among the steps to win back business was to improve the quality of workmanship and secure all necessary standards. Unidrive is SANS 1561-1:2006 listed and also complies with SABS 0242 as well as being ISO 9001 certified. Mashego says Unidrive is very competitive in the market for the repair of up to 450 kW and 1000 V motors, and also complies with SANS 60079-0 and 60079-1 for repairs of flameproof motors and with SANS 60079-0/15/19 for sparkproof motors. The company has seen its turnover growing in double digits between 2015 and 2016, with more upside expected in 2017 with the recovering economy.
Unidrive has been verified as a level 2 B-BBEE company. Mashego says the company will continue to focus on black women youth training, development and employment as part of its socio-economic contribution.
For more information contact Theo Mashego, Unidrive, +27 (0)11 813 3206, info@unidrive.co.za, www.unidrive.co.za
Further reading:
From the Editor's desk: Building the telescopes of tomorrow
Third Quarter 2021, Technews Publishing , News & events
There are times when the news can get us down. Sadly the Bloodhound project aimed at breaking the world landspeed record at Hakskeen Pan in the Northern Cape has stalled, but there is other magic happening 
...
Read more...
---
Siemens supports the machine tool industry
Third Quarter 2021, Siemens Digital Industries , News & events
Under the motto 'Digitalisation in machine tool manufacturing - infinite opportunities from infinite data', Siemens is demonstrating at EMO Milano and at the virtual Siemens Machine Tool Days 2021 to 
...
Read more...
---
Goodbye Mr Chips of the hydraulics industry
Third Quarter 2021, Hydrasales , News & events
Reginald Pretorius, a veteran of the hydraulics industry, recently bade farewell to Hydrasales and the industry after a long and distinguished career. Popularly known as Oom Reg, this jovial personality 
...
Read more...
---
New B2C online shopping platform for engineering consumables
Third Quarter 2021, Bearing Man Group T/A BMG , News & events
BMG's online shopping platform now encompasses a newly launched E-commerce service, designed especially for consumers, to boost their buying experience of engineering consumables.
Read more...
---
RS Components trebles its SKF bearings portfolio
Third Quarter 2021, RS Components SA , News & events
RS Components has added 4000 SKF bearings to its portfolio, increasing the offering to a total of 6000. This is the first step in RS significantly increasing its SKF range offer across bearings, power 
...
Read more...
---
TurboDirect SA launches online store
Third Quarter 2021 , News & events
TurboDirect SA is launching an all new catalogue and online store. The brands include all international OEM leaders and a wide range of after-market turbochargers, such as Garrett, Mitsubishi, Borg Warner 
...
Read more...
---
Hytec Services Africa appoints new partner
Third Quarter 2021 , News & events
Hytec Services Africa has appointed a new Zimbabwean sales and distribution partner, Pace International, to offer the entire scope of Bosch Rexroth SA Group products and services to the actively growing 
...
Read more...
---
Hytec's Smart Inspection app
Third Quarter 2021 , News & events
Hytec South Africa has developed a new app that simplifies the inspection and servicing reporting processes for its customers. The 'Smart Inspection' app, developed in collaboration with Bosch Mining, 
...
Read more...
---
Virtual commissioning of thickener drive
Third Quarter 2021 , News & events
In a first for Bosch Rexroth South Africa, Hytec Services Africa (HSA) conducted its first online-based commissioning of a 3000 kN thickener drive for a Madagascan-based mine. The power pack had been 
...
Read more...
---
Africa's economic recovery
Third Quarter 2021, SEW-EURODRIVE , News & events
The Covid-19 pandemic has had a devastating impact on many African economies, particularly those dependent on oil exports, tourism and resources. According to the African Development Bank's recently released 
...
Read more...
---