printer friendly version
Technology that gets under your skin
3rd Quarter 2018 Editor's Choice Electrical switching & drive systems & components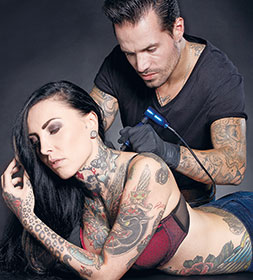 Football players Lukas Podolski and Jerome Boateng have them. Olympic swimmer Franziska van Almsick has them. Pop stars such as Robbie Williams and Madonna also decorate their bodies. What does this have to do with Faulhaber? In the handy machines used for tattoos and permanent make-up there are DC-micromotors – made in Schönaich.
Requirements
Tattoo professionals consider themselves to be artists; accordingly, their tattoo devices are the equipment with which they realise their art. They are occupied for many hours, without a break, when creating a large-scale tattoo. Modern tattoo machines are, therefore, characterised by a low intrinsic weight and the flexibility to adapt to individual movements. What is also desirable is that the device operates quietly and with low vibration, and it fits the hand well.
The underlying technology
Essentially, tattoo artists can choose between two types of machines: coil-based machines and rotary machines. Coil-based machines belong to the older generation, and function somewhat like an old-fashioned doorbell in which a clapper strikes a little bell repeatedly in rapid sequence. These classic tattoo machines work with alternating current, which flows through a magnetic coil while the electrical contact is closed; this causes a magnetic field to build up in the coil, which then interrupts the contact and simultaneously moves the needle. This earlier technology is now rapidly being superseded by a more modern one. However, the newest generation tattoo machines work with high-performance electric motors. With them, the needle is no longer actuated by means of a coil, but instead by a motor. The advantages are that these rotary machines are especially smooth running and significantly quieter than the coil-based machines, and – thanks to their low intrinsic weight – fit much better in the hand. In these angular devices, the motor is located in a cross-piece and drives an eccentric mechanism in order to linearly oscillate the injection needle. This requires thicker and shorter DC-micromotors. These are available in Faulhaber's product range in various versions and technologies. Depending on the model, the drives just barely weigh 20 to 60 grams, yet can deliver the necessary performance – thanks to their high efficiency factor of up to 86%.
Enduring, but not everlasting
Permanent make-up was developed from tattooing and refers to an enduring outlining of features by means of micro-fine colour pigments. In contrast to a tattoo, permanent make-up is not irreversible. The result lasts about five years. Beyond the aesthetic aspects, permanent make-up can also cover up small imperfections and scars.
Precision in ballpoint pen format
Cosmeticians who apply permanent make-up also benefit from having a light, handy device that they can delicately operate. The colour pigments are injected in the surface of the skin with an oscillating needle. The devices that are employed must meet the highest demands in technology and design, and work precisely and reliably. As the most sensitive parts of the body – such as the eyes – are being treated, extremely smooth running is necessary. Motors made by Faulhaber can also be successfully utilised in devices for applying permanent make-up. Because the devices are elongated and ideally have a format somewhat resembling a ballpoint pen, the slender models of Faulhaber DC-micromotors have proven themselves ideal.
Unique solutions
Faulhaber motors are distinguished by a high efficiency. As a result of the high power density, more compact, lighter drive solutions are possible. Faulhaber models are differentiated from conventional DC motors by the rotor. It is not wound around an iron core, but instead consists of a copper coil manufactured with a self-supporting, skew-wound design. This provides for low rotor weights, very smooth-running operation and a highly dynamic cogging-free action, without the usual magnetic hysteresis losses associated with other technologies.
For more information contact David Horne, Horne Technologies, +27 76 563 2084,  sales@hornet.cc,  www.hornet.cc
Credit(s)
Further reading:
E-Motion on the bike
First Quarter 2020, Horne Technologies , Electrical switching & drive systems & components
The bicycle is a part of locomotion culture in Germany. Over 97 percent of people in Germany can ride a bike. They use bicycles not only for bike tours in their free time but also on a daily basis for 
...
Read more...
---
Power and finesse
First Quarter 2020, Horne Technologies , Electrical switching & drive systems & components
High-quality mechanical watches are pieces of fine jewellery with a complex inner life. To produce these marvels of craftsmanship, countless individual steps must work together in a refined way. Today, 
...
Read more...
---
Addressing evolving hydraulics challenges
Fourth Quarter 2019 , Editor's Choice, Hydraulic systems & components
Using materials science and design technologies, Gates' engineers come up with innovative hydraulic hose solutions for ever-changing needs and challenges.
Read more...
---
Control for additive manufacturing
Fourth Quarter 2019, Beckhoff Automation , Editor's Choice, Electrical switching & drive systems & components
Colossus plans to manufacture large functional or decorative objects such as outdoor furniture and ornaments with a new 3D printer that processes recycled plastics, and this creates further special 
...
Read more...
---
Varispeed VSDs now available from Bearings International
Fourth Quarter 2019 , Electrical switching & drive systems & components
Being part of the broader Hudaco Group allows BI to leverage synergies across a broad range of companies, meaning it can offer a complete product basket at its extensive branch network countrywide. One 
...
Read more...
---
On the way towards fully electrified mining machines
Fourth Quarter 2019, Parker Hannifin - Sales Company South Africa , Editor's Choice, Electrical switching & drive systems & components
The more time humans spend working in mining conditions, and near mining vehicles, the more likely they are to be injured, contract illnesses or die in accidents. According to the UN's International 
...
Read more...
---
The Bloodhound
Fourth Quarter 2019, Bloodhound Technologies , Editor's Choice, News & events
The Bloodhound project is back on track. The British team developing a car capable of reaching 1600 kmph is in South Africa for several weeks of high-speed testing on the dry desert track at Hakskeenpan 
...
Read more...
---
Robot with air-water actuators has fluid motion
Fourth Quarter 2019 , Editor's Choice, Robotics & Mechatronics
Hydraulics and pneumatics are widely used for power transmission: hydraulics for moving heavy loads with highly controlled motion, and pneumatics for lighter loads and rapid, repetitive motions. Many 
...
Read more...
---
Future-proof chair lift system
Fourth Quarter 2019, Siemens Digital Industries , Editor's Choice, Electrical switching & drive systems & components
At Snow Space, a winter sports resort near Salzburg, Bergbahnen Wagrain operates the Sonntagskogelbahn 2, a chair lift for taking skiing enthusiasts to the piste. New innovative drive technology guarantees 
...
Read more...
---
Rescue from the sky
Fourth Quarter 2019, Siemens Digital Industries , Editor's Choice, Other technologies
Zipline International designs and builds autonomous flying drones that transport medical supplies in hard to reach regions. The company uses design solutions from Siemens PLM Software. This enables the 
...
Read more...
---