printer friendly version
The first Mars helicopter will fly with maxon motors
1st Quarter 2019 Editor's Choice Electrical switching & drive systems & components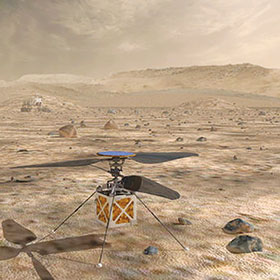 The US space agency NASA has announced that its Jet Propulsion Laboratory (JPL) will be sending a helicopter to the Red Planet on the upcoming Mars 2020 rover mission. The rotors will be controlled by robust DC motors from maxon motor in Switzerland. It will land on Mars in February 2021 while attached to the bottom of the rover. During the first 30 days of the mission it will undertake several autonomous flights, each lasting up to 90 seconds. It will send inflight images of Mars back to Earth for the first time. The Mars helicopter technology will lay the way for many future scientific and exploratory missions to Mars. Similar robots could serve as flying eyes for future rovers, exploring the surroundings and finding the best route for the rover.
For the small helicopter to fly, it takes an enormous engineering effort. The thin air on Mars is comparable to the conditions prevailing on Earth at an altitude of 30 kilometres. Even accounting for the reduced Martian gravity, the helicopter must therefore be particularly light (1,8 kilograms) and can only carry small batteries. This requires that the components used are extremely energy-efficient, a characteristic of maxon's DC motors. The drives from Switzerland have proven themselves in many previous Mars missions and will also be used in JPL's helicopter. Six DCX precision micro motors with a diameter of 10 mm are responsible for moving the swashplate and hence adjusting the inclination of the rotor blades i.e. for controlling the vehicle.
The helicopter propulsion system is designed and built by AeroVironment under contract from JPL. maxon engineers have been working closely with the specialists at AeroVironment who are world experts in building micro air vehicles. After a year of development work, NASA's approval for the inclusion of the helicopter project in the Mars2020 mission is an additional motivation for the Swiss drive specialists. "Being part of another Mars pioneering project makes us incredibly proud and happy," says Eugen Elmiger, CEO of maxon motor.
The Mars helicopter is just one of several other Mars projects that maxon is currently involved in. For example, in the European Space Agency's ExoMars rover more than 50 drives are located in the wheels, drill head, analysis unit and camera mast. This mission is also scheduled for launch in 2020. In November 2018, NASA's InSight lander studied the Red Planet's seismic activity and planet core temperature. A powerful and robust DC motor from maxon drove a pile driver type mechanism that burrowed almost five metres deep into the Martian soil.
For more information contact Hans Burri, DNH Tradeserve, +27 11 468 2722, hans.burri@dnhtrade.co.za, www.dnhtrade.co.za
Credit(s)
Further reading:
Moving into 2020 with Festo digitalised products
Second Quarter 2020, Festo South Africa , Editor's Choice
HoloLens, mobile phones, 3D printing and smart glasses – the gadgets that captured the public imagination in the blockbuster movie 'Back to the Future' over 30 years ago have now become a reality, all 
...
Read more...
---
Simplified access to HIV tests
Second Quarter 2020 , Editor's Choice
Roche has developed the Cobas Plasma Separation Card (PSC), a new technology that simplifies and improves the examination and monitoring of HIV patients, particularly in remote areas. For the first time, 
...
Read more...
---
Three lubrication myths that need busting
Second Quarter 2020 , Editor's Choice
As specialists in lubrication reliability solutions, the team at Lubrication Engineers (LE) South Africa frequently comes up against myths relating to lubricants. "People believe things or are taught 
...
Read more...
---
E-Motion on the bike
Second Quarter 2020, Horne Technologies , Editor's Choice
The bicycle is a part of locomotion culture in Germany. Over 97% of people in Germany can ride a bike. They use bicycles not only for bike tours in their free time but also on a daily basis for shopping 
...
Read more...
---
Enabling the smart factory
Second Quarter 2020 , Editor's Choice
Smart manufacturing practices making use of connected technology hold the power to improve efficiency and optimise factory operations. However the increased use of IIoT comes with the threat of a cyber 
...
Read more...
---
Versatile energy saving drives
Second Quarter 2020, Bearing Man Group T/A BMG , Editor's Choice
BMG's Vacon 100 AC drives have been designed to save energy, optimise process control and improve productivity in many sectors, including processing, mining and minerals, industrial HVAC, marine and water, 
...
Read more...
---
Developing custom lubrication solutions
Second Quarter 2020 , Editor's Choice
The right lubricant, consistently applied at the right interval, goes a long way in extending plant life, minimising downtime and maximising the usefulness of machinery. This is why Lubrication Engineers 
...
Read more...
---
Robots in the medical arena
Second Quarter 2020 , Editor's Choice
The Coronavirus outbreak has highlighted use cases for mobile robotics to successfully disinfect, monitor, surveil and handle and deliver materials. These proven use cases will propel the overall mobile 
...
Read more...
---
Critical support for essential service providers
Second Quarter 2020 , Editor's Choice
BMG has been authorised to provide engineering components and support services to businesses approved as essential service providers, during the country's COVID-19 lockdown period. "As a customer-driven 
...
Read more...
---
Mobile robots for quiet locations
Second Quarter 2020 , Editor's Choice
NSK has developed an innovative direct-drive wheel unit aimed at OEMs looking to add mobility to their autonomous or collaborative robots. Specifically designed for use in quiet environments such as hospitals, 
...
Read more...
---