printer friendly version
How the latest pneumatics can reduce plant costs
Third Quarter 2019
Pneumatic systems & components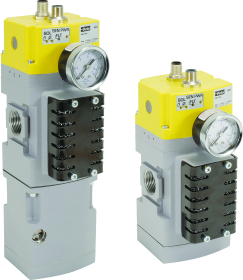 Growing demand for greater functionality and capability means that the latest pneumatic components are becoming increasingly complex. Plant engineers seeking cost-effective solutions need to know the optimum products available. Making wise selections when it comes to pneumatic components can pay huge dividends. To help avoid expensive mistakes, a variety of different pathways can be considered when looking to optimise the performance of pneumatic components.
Preventative maintenance
Regular and correct maintenance extends the working life of pneumatic equipment. Lubricators must not be left to run dry, while filters need cleaning, and contaminants such as water, unwanted oils, metal shavings and corrosion must be removed. A good visual indicator here is a yellowing of the filter elements, suggesting that compressor oils are causing an issue.
Predictive maintenance
Predictive maintenance avoids the cost of both reactive and scheduled preventative maintenance by only deploying maintenance routines when needed, namely shortly before a pneumatic component is predicted to fail. The route to predictive maintenance is via sensors. For instance, a flow sensor that sits in line with a filter, regulator, lubricator unit can indicate a blocked filter that might otherwise go unspotted. If a blocked filter is allowed to continue serving a pneumatic system, several problems can result. Air supply can become restricted, contamination levels can rise, and extra heat can be generated that might compromise a system and ultimately lead to its complete failure. The cost implications of such an outcome are significant. Today, sensors have been developed for use on almost all pneumatic components, for example continuous position sensors on cylinders. This type of sensor can indicate whether heat or wear is being generated to the point of becoming a problem.
Reduce energy usage
Modern pneumatic components can help plants save money via reduced energy consumption. Many plant engineers fall into the trap of oversizing, thinking they are playing it safe. However, a correctly sized pneumatic component is perfectly safe and avoids the extra costs associated with larger pneumatics and wasted energy. A key tip here is to use pneumatic zoning on a manifold to mix pressures, add vacuum to the application, or manage the use of supply pressure. Pneumatic zoning allows the user to section the manifold via a gasket, thus creating different pressure zones or changing the flow, or even making one zone a vacuum. A further alternative to oversizing is to use pressure boosters, which amplify the pressure or serve as a simple reservoir to store compressed air in the system for later use.
Be safe, not sorry
There is a cost associated with ensuring machine/system safety, but workplace injuries will almost certainly cost more. A simple risk assessment can add significant value to a pneumatics project. Any potential hazards identified can be designed out or protected against using solutions such as light curtains, interlocks, machine guards or safety exhaust products. When incorporated into an air preparation system, a safety exhaust valve lets users safely and reliably shut off the pneumatic energy, stopping the flow of compressed air to the machine and allowing downstream pressure to exhaust. There are, however, a number of criteria associated with the optimum specification of a safety exhaust valve, including fast exhaust time to faulted condition; fast switching time; utilising series-parallel flow so that both valve elements (redundant design) shift to supply air downstream; and high B10 value (life expectancy in switching cycles).
Consider system changes
Low cost Ethernet-based shop floor connectivity is the future for manufacturing industries, and many are shifting in this direction.
In stark contrast, numerous plants still rely on hard-wired solutions. However, the shift from long runs of wire trunking to a simple Ethernet port is not as daunting as it sounds, particularly with the advent of IO-Link. This is fast becoming the next significant industrial network protocol as it can provide the perfect local extension to a superior industrial Ethernet network. It is the first I/O technology for communication with sensors and actuators to be adopted as an international standard (IEC 61131-9), meaning that devices can be integrated in the same way in all commonly used fieldbus and automation systems, right up to ERP level. The opportunity to save money with IO-Link is substantial as users can run field level devices back to the IO-Link master, which saves in time, wiring, component costs and troubleshooting. What's more, today's advanced network nodes come with many advantages, such as prognostic data for predictive maintenance, as well as built-in sensors for shorts, over-current, thermal management and cycle counting.
For more information contact Lisa de Beer, Parker Hannifin SA, +27 11 961 0700, lisa.debeer@parker.com, www.parker.com/za
Credit(s)
Further reading:
Smart sensors for motion control
Fourth Quarter 2019, Parker Hannifin - Sales Company South Africa , Other technologies
They can also receive commands and parameter information from the controller and thus adapt to new requirements on a continuous basis. Two-way data flow helps facilitate what can be defined as a true 
...
Read more...
---
Identifying energy wastage in compressed air
Fourth Quarter 2019, Artic Driers International , Pneumatic systems & components
Auditing is a real need and the cost savings that can be achieved are huge. What do the various components of a comprehensive air audit tell you?      
Air flow testing
Often older compressors deliver air 
...
Read more...
---
On the way towards fully electrified mining machines
Fourth Quarter 2019, Parker Hannifin - Sales Company South Africa , Editor's Choice, Electrical switching & drive systems & components
The more time humans spend working in mining conditions, and near mining vehicles, the more likely they are to be injured, contract illnesses or die in accidents. According to the UN's International 
...
Read more...
---
Class 0 oil-free versus technically oil-free air
Fourth Quarter 2019 , Pneumatic systems & components
Oil-free compressed air is used throughout industry, where the purest compressed air quality is critical to the end product and to the processes involved – in the pharmaceutical or food and beverage sectors, 
...
Read more...
---
Ultrasonic leak detector
Fourth Quarter 2019, SKF South Africa , Pneumatic systems & components
SKF's TKSU 10 ultrasonic leak detector helps users to quickly find leakages in compressed air or vacuum systems. The instrument is very simple to use and features adjustable sensitivity and intuitive 
...
Read more...
---
Externally monitored pneumatic safety exhaust valve
Fourth Quarter 2019, Parker Hannifin - Sales Company South Africa , Pneumatic systems & components
Parker Hannifin has introduced a new safety exhaust valve that rapidly exhausts compressed air in the event of a fault condition or when a machine has an emergency stop. The P33 is designed for two-channel 
...
Read more...
---
SMC is here to stay
Third Quarter 2019, SMC Corporation South Africa , Pneumatic systems & components
SMC has been making its presence known in the South African market since 2015. Motion Control's editor paid a visit to incoming general manager, Peter Findlay, to find out more about the company's progress.
Read more...
---
Suction cup for sheet metal handling
Third Quarter 2019, Tectra Automation , Pneumatic systems & components
Tectra Automation has introduced the new SAX bell-shaped suction cup from Schmalz to its range of vacuum components. This is a single-piece suction cup with a vulcanised connection nipple made of reinforced 
...
Read more...
---
Air-operated diaphragm pumps
Third Quarter 2019, Bearing Man Group T/A BMG , Pneumatic systems & components
BMG has been appointed by Ingersoll Rand as distributors of the ARO Pro series diaphragm pumps. ARO air-operated diaphragm pumps have been designed to pump virtually any type of liquid with ease – ranging 
...
Read more...
---
Valve island for end of arm tooling
Third Quarter 2019, Metal Work Pneumatic South Africa , Pneumatic systems & components
The Metal Work EB80 BOXI Valve Island, now also available with IO-Link, is a suitable candidate for end of arm tooling (EOAT).This is an integral part of robotic technology. It refers to the equipment 
...
Read more...
---