printer friendly version
Contactless energy transfer system for automotive assembly line
Third Quarter 2019 Editor's Choice Electrical switching & drive systems & components
The Movitrans contactless energy transfer system from SEW-Eurodrive, in conjunction with its Movipro SDC decentralised drive, position and application controller, has played a critical role in an assembly line extension at a major automotive producer in Port Elizabeth.
The big advantage of the Movitrans system is that it is based on contactless energy transfer. In this system, electrical energy is transferred without contact from a fixed conductor to one or more mobile consumers. The electromagnetic connection is made via an air gap. Not being subject to wear has the added benefit of it being maintenance-free.
In addition, this type of power supply is emission-free, and therefore environmentally friendly.
"Movitrans is the ideal supply system for all mobile applications, and has been tested according to BGV B11. It is perfect for equipment that has to cover long distances at high speeds, for example, or if maintenance-free operation is required. It is also suited for applications in sensitive environments where outside contaminants are not permitted, and in wet and damp environments," explains electronics support technician, Juandré La Cock.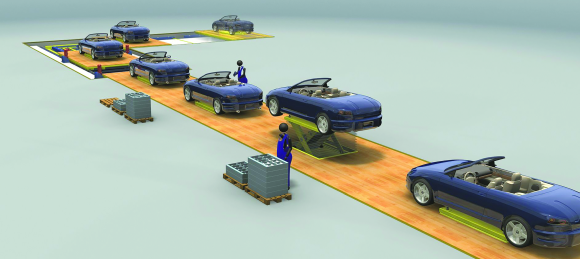 Wherever a trolley/skillet (conveyor) system is implemented, such as with an automotive assembly line, a custom designed drive concept is required that must correspond to the necessary load bearing capacity, the desired transport speed, the existing space restrictions, and the specific ambient conditions of the application.
Here the Movipro SDC is an ideal solution for both horizontal and vertical trolley/skillet applications. It not only integrates all necessary functions, but allows for decentralised installation of up to 15 kW. The solution is characterised by its design robustness, especially in terms of reliability and precise positioning requirements. With its modular, standardised design and freely configurable software components, this decentralised drive and positioning control system facilitates the integration of numerous functions, while reducing the complexity of the machine or system.
At the Port Elizabeth plant, SEW-Eurodrive was required to replace an existing Movitrans system installed originally in 2006, in order to be able to add a further four skillets to the existing line. La Cock explains that this was done in order to upgrade the technology to the latest iteration developed by the research and development department in Germany,
The Movipro SDC provides wireless communication for the Movitrans system, based on WiFi routers. Adding to the complexity of the solution required is the fact that the 30 different stations along the assembly line have different height requirements. "This means we had to design a height table into the system," La Cock points out.
SEW-Eurodrive's scope of work on this project was not only to commission the extension of the assembly line, but also to ensure that the entire plant was up to date with the latest technology. "This involved resetting all of the Movipros, replacing and extending the leaky WiFi cable, and then replacing the Movitrans system with the latest version,"
La Cock continues. He adds that since its original installation in 2006, the entire system has functioned flawlessly.
While SEW-Eurodrive's Maxolution has developed products and solutions specifically for the automotive industry, La Cock stresses that the system supplied for the Port Elizabeth project has been customised specifically for the automotive manufacturer. "This demonstrates our flexibility in being able to adapt to specific client requirements, and also how we ensure our long-standing clients remain up to date with the latest developments," he concludes.
For more information contact Jana Klut, SEW-Eurodrive, +27 11 248 7000, jklut@sew.co.za, www.sew-eurodrive.co.za
Credit(s)
Further reading:
SEW-Eurodrive's new head office and factory
Fourth Quarter 2020, SEW-Eurodrive , News & events
SEW-Eurodrive has commenced construction of a new R200 million head office and factory in Everton, Johannesburg in order to accommodate the company's growth. The 25 000 sqm building is being constructed 
...
Read more...
---
From the editor's desk: Life after coal
Fourth Quarter 2020 , Editor's Choice
Renewable energy has been around for a while. But as attractive as the concept might have been, the hard reality was always that it just did not make economic sense. I remember not so many years ago doing 
...
Read more...
---
maxon drives are heading to the Red Planet
Third Quarter 2020, DNH Tradeserve , Editor's Choice
NASA is sending its fifth rover to Mars. Its main mission is to collect soil samples that will be analysed on Earth at a later time. The rover will also carry a helicopter that will perform the first flights on the Red Planet. maxon's precision DC and BLDC motors will be used for numerous mission-critical tasks.
Read more...
---
The new mobility: how sensors control the cobots of the future
Third Quarter 2020, SICK Automation Southern Africa , Editor's Choice
The ongoing development of small, powerful and flexibly positionable robots that can collaborate with humans is progressing in leaps and bounds. Sensors from SICK Automation are an important component. 
...
Read more...
---
Innovative mobile robots
Third Quarter 2020, Omron Electronics , Editor's Choice
Tailor-made mobile robotics revolutionise human-machine collaboration in the automotive industry.
Read more...
---
From the editor's desk: The future is calling
Third Quarter 2020 , Editor's Choice
The move to level 2 has brought a feeling of renewal. At last we can start thinking ahead and contemplating the future in this new digital world. SAFPA for one has taken the leap, and has engaged an association 
...
Read more...
---
Nine drives for copper mining project
Third Quarter 2020, SEW-Eurodrive , Electrical switching & drive systems & components
SEW-Eurodrive has supplied a comprehensive drive package to a major Greenfield copper mining project in the Democratic Republic of Congo. The package comprised nine drives in total, of which the five 
...
Read more...
---
Milling machines for the aircraft industry
Third Quarter 2020, Beckhoff Automation , Editor's Choice, Electrical switching & drive systems & components
In aircraft construction, exceptional component quality and precision are crucial. However sheet-metal aircraft parts are often very large, making machining and handling problematic. Harmuth CNC-Frästechnik 
...
Read more...
---
The role of hydraulics and pneumatics in smart mining technologies
Third Quarter 2020 , Editor's Choice, Pneumatic systems & components
A Bosch Rexroth South Africa perspective.
Read more...
---
Rethinking pneumatic technology for the factories of the future
Third Quarter 2020, Parker Hannifin - Sales Company South Africa , Editor's Choice, Pneumatic systems & components
As manufacturing continues its rapid journey to digitalisation, one must ask, what will become of conventional technologies? Take pneumatics for example, which remains based on the age old principle of 
...
Read more...
---