printer friendly version
Rescue from the sky
Fourth Quarter 2019 Editor's Choice Other technologies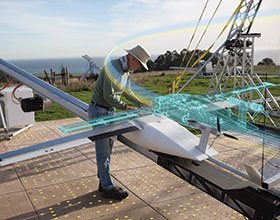 Zipline International designs and builds autonomous flying drones that transport medical supplies in hard to reach regions. The company uses design solutions from Siemens PLM Software. This enables the easy and cost-effective manufacture of the drones, which can travel at around 100 kilometres per hour, and brings together the individual disciplines involved in the process, such as electrical engineering, mechanical engineering and aero engineering. Simulations enable virtual test flights, making it easy to identify and remove faults and to optimise the drones.
The flying drones are designed with the CAD software NX from Siemens PLM Software to deliver lifesaving products to rural areas faster and more reliably than ever before. In many countries around the world, for example Tanzania or Rwanda in Africa, the supply of medical products is a major challenge – particularly in an emergency. Areas are often remote and hard to reach. Above all, a lack of blood supplies frequently leads to fatalities. In 2016 CEO of Zipline, Keller Rinaudo and his team developed a new delivery system for medical supplies. "Our first-generation aircraft and logistics system allowed us to create the first drone-only delivery service in the world", says Rinaudo. "And it is helping to save lives in Rwanda every day." Since the first drone took off, Zipline has completed over 7000 flights and delivered 13 000 units of blood. This success is due in no small part to the careful design of the drones, where Zipline relies on NX software from Siemens PLM Software.
Quick and easy data handling
The drones have a service radius of 80 kilometres and can carry up to 1,75 kilograms of cargo per flight. It is also important that they can work in all weather conditions and deal with any unforeseen problems. The design software used in the company's early years quickly reached its limits. "I really pushed hard to move the company to NX", recalls Scott Parker, mechanical engineer at Zipline. "Something that you want to do with an aircraft like this is check that your part fits with the rest of the plane. In the previous CAD package, that would be a multi-hour ordeal. With NX, you just load it up. Everything is fast, and you don't make mistakes." In addition, using NX Journal enables Zipline to quickly and easily create a bottom-up bill of materials that gives a detailed mass buildup, which helps the firm optimise the aircraft in terms of weight.
Virtual tests for real-life rescue missions
In addition to maximum weight reduction – each kilogram saved increases the range of the drone by five percent – test flights also play a key role. With virtual test flights, Zipline can simulate the heat characteristics of the battery or the thermal performance of the drone cost-effectively and without physical prototypes. Jeremy Schwartz, roboticist at Zipline, sums up what this work means to the team: "When one of our drones takes off in Rwanda, it's delivering blood to somebody who needs blood. It's saving somebody's life, and just thinking about that is an incredible thing."
For more information contact Jennifer Naidoo, Siemens Digital Industries, +27 11 652 2795, jennifer.naidoo@siemens.com, www.siemens.co.za
Credit(s)
Further reading:
Smart sensors for motion control
Fourth Quarter 2019, Parker Hannifin - Sales Company South Africa , Other technologies
They can also receive commands and parameter information from the controller and thus adapt to new requirements on a continuous basis. Two-way data flow helps facilitate what can be defined as a true 
...
Read more...
---
Addressing evolving hydraulics challenges
Fourth Quarter 2019 , Editor's Choice, Hydraulic systems & components
Using materials science and design technologies, Gates' engineers come up with innovative hydraulic hose solutions for ever-changing needs and challenges.
Read more...
---
Control for additive manufacturing
Fourth Quarter 2019, Beckhoff Automation , Editor's Choice, Electrical switching & drive systems & components
Colossus plans to manufacture large functional or decorative objects such as outdoor furniture and ornaments with a new 3D printer that processes recycled plastics, and this creates further special 
...
Read more...
---
On the way towards fully electrified mining machines
Fourth Quarter 2019, Parker Hannifin - Sales Company South Africa , Editor's Choice, Electrical switching & drive systems & components
The more time humans spend working in mining conditions, and near mining vehicles, the more likely they are to be injured, contract illnesses or die in accidents. According to the UN's International 
...
Read more...
---
The Bloodhound
Fourth Quarter 2019, Bloodhound Technologies , Editor's Choice, News & events
The Bloodhound project is back on track. The British team developing a car capable of reaching 1600 kmph is in South Africa for several weeks of high-speed testing on the dry desert track at Hakskeenpan 
...
Read more...
---
Robot with air-water actuators has fluid motion
Fourth Quarter 2019 , Editor's Choice, Robotics & Mechatronics
Hydraulics and pneumatics are widely used for power transmission: hydraulics for moving heavy loads with highly controlled motion, and pneumatics for lighter loads and rapid, repetitive motions. Many 
...
Read more...
---
Future-proof chair lift system
Fourth Quarter 2019, Siemens Digital Industries , Editor's Choice, Electrical switching & drive systems & components
At Snow Space, a winter sports resort near Salzburg, Bergbahnen Wagrain operates the Sonntagskogelbahn 2, a chair lift for taking skiing enthusiasts to the piste. New innovative drive technology guarantees 
...
Read more...
---
A Digital Enterprise journey
Third Quarter 2019, Siemens Digital Industries , News & events
Siemens recently demonstrated its Digital Enterprise portfolio at the Africa Automation Fair (AAF), showcasing its current and future digital automation technologies.
Read more...
---
Does edge computing have the edge?
Third Quarter 2019, Omron Electronics , Editor's Choice, Other technologies
Implementing artificial intelligence in industrial manufacturing.
Read more...
---
Underwater robot with a unique fin
Third Quarter 2019, Festo , Editor's Choice, Robotics & Mechatronics
Swimming like the natural model
The longitudinal fins of the polyclad and the cuttlefish extend from the head to the tail along their backs, their undersides or the two sides of their torsos. To 
...
Read more...
---