printer friendly version
Food grade lubricants
Fourth Quarter 2019
Other technologies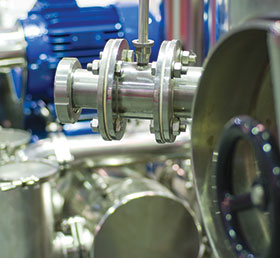 Food safety precautions and regulations need to extend to every component in the food and beverages processing environment. This includes the lubricants used in machinery. Callum Ford, national marketing manager at Lubrication Engineers (LE) South Africa, explains that the food and beverage industry requires specialised lubrication solutions that consider not only the complexity of the equipment, but also specific operating environment challenges. Most food processing machinery requires lubrication for bearings, gears, slides or chains. Lubrication solutions in this environment need to be able to protect against wear, friction, corrosion and oxidation. They have to withstand moisture, hot and cold conditions, shock loading and impact. They also need to comply with non-toxicity regulations. In addition they have to resist degradation from any chemicals in the environment, from the pH of the food components themselves to chemicals used in sanitation and cleaning processes. They also cannot allow for any microorganism growth.
"As the licensed distributor of LE products for southern Africa, all our food grade products are certified by the United States Department of Agriculture (USDA) or National Sanitation Foundation (NSF) International," Ford says. "Our LE Quinplex additive makes many LE lubricants an easy and appropriate choice for food applications, while our USDA and NSF certified greases are well suited for applications in sealing and waterproofing machinery. All LE H1 lubricants – except for H1 Machine Oil – are also certified Halal by the Islamic Food and Nutrition Council of America, as well as Kosher Pareve by the Orthodox Union."
For more information contact Callum Ford, Lubrication Engineers, +27 11 464 1735, callum@lubricationengineers.co.za, www.lubricationengineers.co.za
Further reading:
Pressure measurement converter for harsh industrial conditions
First Quarter 2020, Instrotech , Other technologies
Instrotech is offering Kobold's PNK pressure measurement converter, used for the electrical remote transmission of pressure. For use in heavy machinery, engines, shipbuilding and automotive engineering, 
...
Read more...
---
Three lubrication myths
First Quarter 2020 , Other technologies
As specialists in lubrication reliability solutions, the team at Lubrication Engineers (LE) South Africa frequently comes up against myths relating to lubricants. "People believe things or are taught 
...
Read more...
---
Top 5 industrial automation trends in 2020
First Quarter 2020 , Other technologies
1. Deploying IIoT edge 2.0 solutions
The edge of IIoT enabled architectures is becoming increasingly important due to their role in digital transformation strategies. Initially focused on delivering 
...
Read more...
---
Food grade chain hoists
First Quarter 2020, Becker Mining South Africa , Other technologies
New to Becker's range of Kito hoists are food grade electric chain hoists, designed for safe lifting applications in contaminant controlled and corrosive processing environments, where pristine cleanliness 
...
Read more...
---
Digital factory revenues to jump to US$375 billion by 2030
First Quarter 2020 , Other technologies
Technology investments in the industrial and manufacturing sector are set to skyrocket, jumping from $59 billion in 2019 to $375 billion in 2030. Including hardware revenues, that figure climbs to over 
...
Read more...
---
Why are half of IIoT deployments failing?
First Quarter 2020 , Other technologies
The global Industrial IIoT business is arriving at a tipping point, with the industry reaching a connectivity milestone next year that will pave the way for market-changing events like the proliferation 
...
Read more...
---
How real is augmented reality?
First Quarter 2020, Absolute Perspectives , Other technologies
The early morning air was cold when we arrived at the mine for an underground visit. Our hosts were keen to show us the practical challenges of the drilling and blasting operation, and the many ways in 
...
Read more...
---
Switched interlocked socket range
First Quarter 2020, Powermite - Div. of Hudaco Trading , Other technologies
Powermite's range of plastic switched interlocked sockets form part of a new series of cutting edge Gen 2 plastic industrial plugs and connectors which are poised to raise the bar for efficiency, versatility 
...
Read more...
---
Universal industrial Ethernet absolute encoder
First Quarter 2020, Vepac Electronics , Other technologies
Do you use different protocols on your machines or carry out repairs and don't always know what to expect? With Vepac's WDGA universal IE encoder you are completely flexible. You do not have to worry 
...
Read more...
---
Protecting with lubrication
First Quarter 2020 , Other technologies
Proper lubrication is essential to the correct functioning of mechanical equipment and ensures its longevity. "Even over-lubricating is problematic as it causes grease churning and overheating, which 
...
Read more...
---