printer friendly version
Electrical window for safe compliance
Fourth Quarter 2019
Other technologies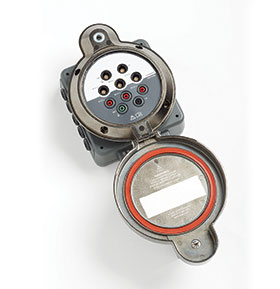 Fluke's new PQ400 electrical measurement window, with a permanently installed interface, gives technicians safe and near instant access to electrical panels for making critical power quality and energy measurements. The PQ400 installs using a standard step drill bit and electro-hydraulic hole punch and allows users to make three-phase voltage, current and ground connects covering most measurement configurations. Once installed, users can simply unlock the window cover, lift the lid, and connect the voltage leads of the logger or analyser. Then, connect the leads for the current sensors and start making critical measurements. Once complete, the voltage and current connections are simply removed from the front panel interface and the window lid locked, leaving the internal connections in place for future use.
The Fluke PQ400 electrical measurement window enables the connection of three-phase measurement equipment to energised panels, without the need to open the panel door or wear personal protective equipment (PPE). It can:
• Reduce the risk of arc-flash and electrocution, while increasing the safety for personnel.
• Decrease maintenance costs and reduce downtime by making critical power quality and energy measurements without opening the panel door, enabling logging and monitoring at any time without disrupting operations.
• Reduce work permit requirements and processes by reducing the hazards associated with taking measurements on open panels.
• Increase measurement efficiency and reduce the need for arc-flash PPE, saving time, increasing efficiency and increasing operator comfort.
Credit(s)
Further reading:
Pressure measurement converter for harsh industrial conditions
First Quarter 2020, Instrotech , Other technologies
Instrotech is offering Kobold's PNK pressure measurement converter, used for the electrical remote transmission of pressure. For use in heavy machinery, engines, shipbuilding and automotive engineering, 
...
Read more...
---
Three lubrication myths
First Quarter 2020 , Other technologies
As specialists in lubrication reliability solutions, the team at Lubrication Engineers (LE) South Africa frequently comes up against myths relating to lubricants. "People believe things or are taught 
...
Read more...
---
Top 5 industrial automation trends in 2020
First Quarter 2020 , Other technologies
1. Deploying IIoT edge 2.0 solutions
The edge of IIoT enabled architectures is becoming increasingly important due to their role in digital transformation strategies. Initially focused on delivering 
...
Read more...
---
New automated drive analyser
First Quarter 2020, Comtest , Electrical switching & drive systems & components
Fluke's MDA-500 Series is designed to help users easily test and troubleshoot typical problems on three-phase and single-phase inverter type motor-drive systems. The on-screen information, and step-by-step 
...
Read more...
---
Sonic imager for leak detection
First Quarter 2020, Comtest , Pneumatic systems & components
Fluke's new ii900 is a handheld sonic industrial imager that enables maintenance teams to quickly and accurately locate air, steam, gas and vacuum leaks in compressed air systems. The straightforward, 
...
Read more...
---
Food grade chain hoists
First Quarter 2020, Becker Mining South Africa , Other technologies
New to Becker's range of Kito hoists are food grade electric chain hoists, designed for safe lifting applications in contaminant controlled and corrosive processing environments, where pristine cleanliness 
...
Read more...
---
Digital factory revenues to jump to US$375 billion by 2030
First Quarter 2020 , Other technologies
Technology investments in the industrial and manufacturing sector are set to skyrocket, jumping from $59 billion in 2019 to $375 billion in 2030. Including hardware revenues, that figure climbs to over 
...
Read more...
---
Why are half of IIoT deployments failing?
First Quarter 2020 , Other technologies
The global Industrial IIoT business is arriving at a tipping point, with the industry reaching a connectivity milestone next year that will pave the way for market-changing events like the proliferation 
...
Read more...
---
How real is augmented reality?
First Quarter 2020, Absolute Perspectives , Other technologies
The early morning air was cold when we arrived at the mine for an underground visit. Our hosts were keen to show us the practical challenges of the drilling and blasting operation, and the many ways in 
...
Read more...
---
Switched interlocked socket range
First Quarter 2020, Powermite - Div. of Hudaco Trading , Other technologies
Powermite's range of plastic switched interlocked sockets form part of a new series of cutting edge Gen 2 plastic industrial plugs and connectors which are poised to raise the bar for efficiency, versatility 
...
Read more...
---