printer friendly version
Solutions for bulk materials handling on mine conveyors
Fourth Quarter 2019
Other technologies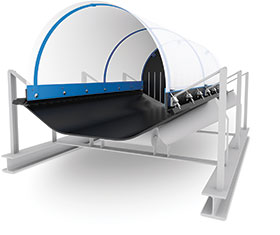 BLT World offers dependable solutions for specific problems at the transfer points of conveyor systems in bulk materials handling on the mines. One of these is ScrapeTec Trading's German-engineered products, which have been specially developed for the prevention of dust formation and material spill and for more efficient belt cleaning at critical sections along the conveyor route and transfer points. AirScrape, DustScrape and SpeedScrape systems, which are easy to assemble and operate, form part of BLT World's custom-designed solutions service to meet bulk material conveyor project requirements.
The DustScrape dust filter system, which is used in conjunction with the contact-free AirScrape conveyor belt skirting system, is a highly effective, energy-free dust emission prevention system. This compact and lightweight system minimises product loss by effectively preventing material from being blown into the surrounding environment.
Selection of the correct AirScrape size depends on the loading width of the conveyor belt and the required load-free zone of the belt edges. The AirScrape conveyor belt skirting system is installed above the load-free zone and generates the air intake from outside, into the system. The generated airflow from above the conveyed material then gets filtrated through the filter cloth, retaining any dust particles, which are redeposited back into the material flow.
BLTWorld's extensive portfolio of bulk handling equipment also includes Samson material and boom feeders for loading and high capacity stockpiling, link conveyors and grab hoppers, as well as mobile shiploaders. The company also distributes MDS trommel screens and apron feeders for mineral processing and recycling applications.
For more information contact Ken Mouritzen, BLT World, +27 31 274 8270, ken@bltworld.com, www.bltworld.com
Further reading:
Pressure measurement converter for harsh industrial conditions
First Quarter 2020, Instrotech , Other technologies
Instrotech is offering Kobold's PNK pressure measurement converter, used for the electrical remote transmission of pressure. For use in heavy machinery, engines, shipbuilding and automotive engineering, 
...
Read more...
---
Three lubrication myths
First Quarter 2020 , Other technologies
As specialists in lubrication reliability solutions, the team at Lubrication Engineers (LE) South Africa frequently comes up against myths relating to lubricants. "People believe things or are taught 
...
Read more...
---
Top 5 industrial automation trends in 2020
First Quarter 2020 , Other technologies
1. Deploying IIoT edge 2.0 solutions
The edge of IIoT enabled architectures is becoming increasingly important due to their role in digital transformation strategies. Initially focused on delivering 
...
Read more...
---
Food grade chain hoists
First Quarter 2020, Becker Mining South Africa , Other technologies
New to Becker's range of Kito hoists are food grade electric chain hoists, designed for safe lifting applications in contaminant controlled and corrosive processing environments, where pristine cleanliness 
...
Read more...
---
Digital factory revenues to jump to US$375 billion by 2030
First Quarter 2020 , Other technologies
Technology investments in the industrial and manufacturing sector are set to skyrocket, jumping from $59 billion in 2019 to $375 billion in 2030. Including hardware revenues, that figure climbs to over 
...
Read more...
---
Why are half of IIoT deployments failing?
First Quarter 2020 , Other technologies
The global Industrial IIoT business is arriving at a tipping point, with the industry reaching a connectivity milestone next year that will pave the way for market-changing events like the proliferation 
...
Read more...
---
How real is augmented reality?
First Quarter 2020, Absolute Perspectives , Other technologies
The early morning air was cold when we arrived at the mine for an underground visit. Our hosts were keen to show us the practical challenges of the drilling and blasting operation, and the many ways in 
...
Read more...
---
Switched interlocked socket range
First Quarter 2020, Powermite - Div. of Hudaco Trading , Other technologies
Powermite's range of plastic switched interlocked sockets form part of a new series of cutting edge Gen 2 plastic industrial plugs and connectors which are poised to raise the bar for efficiency, versatility 
...
Read more...
---
Universal industrial Ethernet absolute encoder
First Quarter 2020, Vepac Electronics , Other technologies
Do you use different protocols on your machines or carry out repairs and don't always know what to expect? With Vepac's WDGA universal IE encoder you are completely flexible. You do not have to worry 
...
Read more...
---
Protecting with lubrication
First Quarter 2020 , Other technologies
Proper lubrication is essential to the correct functioning of mechanical equipment and ensures its longevity. "Even over-lubricating is problematic as it causes grease churning and overheating, which 
...
Read more...
---