printer friendly version
The benefits of oil analysis and monitoring
Fourth Quarter 2019
Other technologies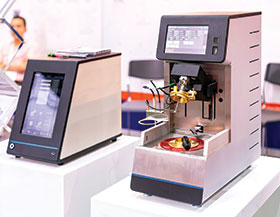 Even when using top quality lubrication products and following correct storage and usage programmes, a lubrication solution can fall flat without consistent, accurate monitoring of the condition of your oil. Oil analysis is critical to understand how well your lubrication programme is working, and to tweak it as and when required.
Callum Ford, National Marketing Manager at Lubrication Engineers (LE), says that oil analysis is important, regardless of whether the oil is in an engine, gearbox, circulating system or mainline power generation turbine. "What people tend to underestimate is the role that implementing an oil analysis programme plays in improving their bottom line," he says. "An effective oil analysis programme can help you to ensure you purchase the correct quantities of lubricant and use less of it, as well as keeping fewer items in inventory. Furthermore, it optimises your lubrication cycle, from procurement to disposal. It means you use less labour and you experience less downtime."
Ford says oil analysis allows people to understand and manage the mechanical, operational and environmental factors affecting their equipment and oil lifespan. "For example, we've found that one of the biggest problems our customers face is oil contamination, which compromises product effectiveness and increases the rate at which oil degrades, and can ultimately damage equipment," he says. "Regular oil analysis can detect increased levels of contamination before it becomes a problem."
For more information contact Callum Ford, Lubrication Engineers, +27 11 464 1735, callum@lubricationengineers.co.za, www.lubricationengineers.co.za
Further reading:
Smart sensors for motion control
Fourth Quarter 2019, Parker Hannifin - Sales Company South Africa , Other technologies
They can also receive commands and parameter information from the controller and thus adapt to new requirements on a continuous basis. Two-way data flow helps facilitate what can be defined as a true 
...
Read more...
---
Rescue from the sky
Fourth Quarter 2019, Siemens Digital Industries , Editor's Choice, Other technologies
Zipline International designs and builds autonomous flying drones that transport medical supplies in hard to reach regions. The company uses design solutions from Siemens PLM Software. This enables the 
...
Read more...
---
Incremental encoders with optimum flexibility
Fourth Quarter 2019, Countapulse Controls , Other technologies
Hengstler incremental encoders offer users optimum flexibility. With an encoder available for every application, there are over 20 standard models from which to choose, including encoders for solid or 
...
Read more...
---
Food grade lubricants
Fourth Quarter 2019 , Other technologies
Food safety precautions and regulations need to extend to every component in the food and beverages processing environment. This includes the lubricants used in machinery. Callum Ford, national marketing 
...
Read more...
---
Flexible, affordable light crane systems
Fourth Quarter 2019 , Other technologies
Super light, highly flexible and affordable, Demag's KBK light crane systems are easily adaptable to individual lifting requirements. With their modular system they can be combined to create individual 
...
Read more...
---
Electrical window for safe compliance
Fourth Quarter 2019, Comtest , Other technologies
Fluke's new PQ400 electrical measurement window, with a permanently installed interface, gives technicians safe and near instant access to electrical panels for making critical power quality and energy 
...
Read more...
---
Lube oil filters
Fourth Quarter 2019, Hytec Fluid Technology , Other technologies
Power stations, pipelines, and marine engines work hard, with run times of 98% standard in many industries. Winslow lube oil filters from Fleetguard provide engines with contaminant protection and extended 
...
Read more...
---
Solutions for bulk materials handling on mine conveyors
Fourth Quarter 2019 , Other technologies
BLT World offers dependable solutions for specific problems at the transfer points of conveyor systems in bulk materials handling on the mines. One of these is ScrapeTec Trading's German-engineered products, 
...
Read more...
---
Does edge computing have the edge?
Third Quarter 2019, Omron Electronics , Editor's Choice, Other technologies
Implementing artificial intelligence in industrial manufacturing.
Read more...
---
Leak testing for waterproof products
Third Quarter 2019, ATEQ South Africa , Other technologies
For more than forty years, ATEQ has been well-known in the quality testing industry as a company that manufactures highly accurate industrial leak testing instruments. Many applications that ATEQ has 
...
Read more...
---