printer friendly version
Underwater inspection on 12 wheels
1st Quarter 2013
Pneumatic systems & components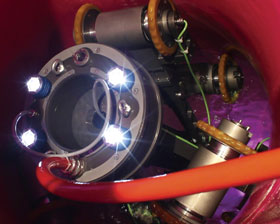 Inspecting flooded pipes in power plants requires skilled, high-precision handling, and robotic vehicles play an important role. In robotics, manipulators enable physical interaction with the robot's surroundings. The seawater manipulator is capable of manoeuvring underwater in pipes, where it can be used to perform inspections with the help of high-performance cameras.
The German company Ibass develops, manufactures and distributes manipulators for various in-pipe applications; these include inspection, grinding, welding, retrieval and suction. The manipulators consist of a driving unit, work module and camera. They are operated electrically and pneumatically and therefore drag along lines behind them. These small robotic vehicles are used in power plants and refineries, as well as by pipe manufacturers and assembly fitters of pipeline systems. "For example, we make perfectly executed welding seams possible during assembly," explains Michael Strasser, managing director of Ibass. RE motors by maxon motor are responsible for the dynamic drive of the robots.
The seawater manipulator developed by Ibass can manoeuvre and inspect pipes with inner diameters of 550 to 780 mm. This pipe diameter range accommodates the axial stroke of the pneumatic cylinder and the deflection of the scissor-type mechanism.
The scissor drive works with a total of 12 wheels, two each per scissor side and drive motor. Their variable contact force gives the vehicle a firm hold, even in coated pipes. For the drive a total of six powerful RE motors are used in combination with planetary gearheads – one per wheel pair. The DC motors are characterised by an efficiency of more than 90%, resulting in low energy consumption and a very high torque. These are important prerequisites for this type of application. The motors furthermore are equipped with ironless windings and neodymium magnets, which enable maximum performance packed into a minimum size.
High motor robustness is vital as the manipulator has to withstand the on-site conditions. It can handle a pressure of up to 2 bar, so can dive up to 20 metres deep. It provides a tractive force of about 2,5 kN and the robot can drive a distance of up to 200 metres into the pipe. The manipulators are equipped with lights at the front and back. At the front, there is a high-quality camera with pan-tilt head and a 10x zoom; at the rear a single-head camera is mounted. From grinding and testing to inspection and retrieval, the seawater manipulator can be fitted with all Ibass work modules and can overcome up to five pipe bends with ease.
The robustness and long service life of the maxon motors were decisive criteria when Ibass chose maxon motors. Motors and gearheads by maxon are not only used to drive the seawater manipulator. The Ibass work modules are also equipped with maxon RE motors, for example for rotation and axial adjustment of the dye penetration units. During the dye penetration test, the inner pipe surface is checked for cracks by means of a special technique.
Other applications of the seawater manipulator include visual inspection of power plant coolant pipes that cannot be emptied. They are also used for applying inner coatings to pipelines, as sealed wheel units are absolutely mandatory for this application. These in-pipe manipulators are important tools, and contribute to safety and reliability in installations such as nuclear power plants and offshore wind parks.
For more information contact Hans Burri, DNH Tradeserve, +27 (0)11 468 2722, hans.burri@dnhtrade.co.za, www.dnhtrade.co.za
Credit(s)
Further reading:
maxon is flying to the sun
First Quarter 2020, DNH Tradeserve , Editor's Choice
The European Space Agency (ESA) wants to study the sun up close. Next month the agency will be launching the Solar Orbiter space probe. Scientists hope that the mission will provide them with new insights 
...
Read more...
---
SMC offers services as well as components
Second Quarter 2020, SMC Corporation South Africa , Pneumatic systems & components
Besides being a leading supplier of industrial automation components, SMC South Africa also offers value-added services. One of these is in-house control panel design and construction. This takes a labour-intensive 
...
Read more...
---
Pneumatic and electric grippers
Second Quarter 2020 , Pneumatic systems & components
Gimatic is a leading global manufacturer of pneumatic and electric grippers for industrial automation. The company specialises in the production of vacuum cups (flat and bellow), pneumatic nippers, air 
...
Read more...
---
Complete vacuum process and industrial automation solutions
Second Quarter 2020 , Pneumatic systems & components
Berntel is introducing several new product ranges through the Bearings International (BI) branch network. These include Ober, an Italian designer and manufacturer of portable pneumatic tools, motors, 
...
Read more...
---
Locally built compressed air dryer
Second Quarter 2020, Artic Driers International , Pneumatic systems & components
The impact of the Covid economy on the compressed air market has left its mark. The ability of importers like Artic Driers to import equipment was severely affected due to massively increased air freight 
...
Read more...
---
Customised containerised compressor
First Quarter 2020 , Pneumatic systems & components
When Rand-Air business development manager, Henry Fourie was faced with a dusty and demanding challenge, he needed to come up with a solution which would address the problem effectively.
Read more...
---
Pneumatic and hydraulic solutions
First Quarter 2020 , Editor's Choice, Pneumatic systems & components
Berntel is expanding its footprint by offering its extensive range of pneumatic products through the Bearings International (BI) branch network. Acquired in 2014 as a complementary company to pneumatic 
...
Read more...
---
Sonic imager for leak detection
First Quarter 2020, Comtest , Pneumatic systems & components
Fluke's new ii900 is a handheld sonic industrial imager that enables maintenance teams to quickly and accurately locate air, steam, gas and vacuum leaks in compressed air systems. The straightforward, 
...
Read more...
---
Proximity sensors for pneumatic and electronic actuation
First Quarter 2020, Parker Hannifin - Sales Company South Africa , Pneumatic systems & components
Parker Hannifin has introduced a new family of proximity sensors for use with pneumatic or electric actuators in a wide range of automation and motion control applications. P8S magnetic cylinder sensors 
...
Read more...
---
Enhancements to Parker's valve portfolio
First Quarter 2020, Parker Hannifin - Sales Company South Africa , Pneumatic systems & components
Parker Hannifin has added an expanded range of features and capabilities to its H Series ISO valve platform with flow ranging from Qn 540 to 5900 Nl/mn. Designed with a new universal manifold, the H Series 
...
Read more...
---