printer friendly version
Advanced care for wind turbine gearboxes
1st Quarter 2014
Other technologies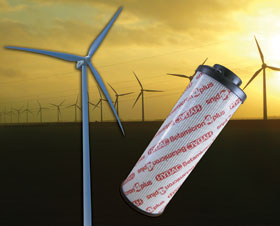 The gearbox is one of the most important components of a wind turbine. The cost of changing a gearbox after a bearing failure can easily add up to R1 800 000 or more. Protecting the gearbox with a state-of-the-art lube and filtration system is a key factor for reliable and profitable operation.
For more than 15 years Hydac has been a leading supplier of lube systems and filtration for wind turbines. The elements of Hydac's most recent filter element series, BN4HX have an increased dirt holding capacity, high beta ratios and a low differential pressure at high flow rates and high viscosity lubricants. This helps maintain oil cleanliness during the whole installation period of the filter element. As a result the differential pressure remains lower for the lifetime of the filter. This reduces the amount of time with open filter bypass, without full filtration.
Many older wind turbines can be fitted with BN4XH filter elements to achieve full protection for the gearbox using the most recent technology. This includes the recommended 2-stage design, where a 50 μ filter provides filtration for situations with open filter bypass. Analysis of used filters has shown that the 50 μm stage is helpful because large contaminants 100 μm are removed by the 50 μm stage. Without the 50 μm stage these would be delivered to the lube contacts in the gearbox.
Filter size extension kits
Various extension kits are available, such as larger filters with the same pore size, which have a longer lifetime, thereby reducing annual filtration costs. Hydac also has upgrade kits with higher micron ratings providing a higher cleanliness level, as well as special filter media. For the removal of non-solid contaminants there is a 3-stage filter option which has an additional stage with partial flow to combine a filter element with low differential pressure and very fine filtration in the partial flow situation.
Desiccant breather
Older turbines especially can benefit from upgrading to a desiccant breather. Hydac's BDE breather uses a combination of two desiccants to achieve a high water capacity and also a high efficiency. Drying the air when the gearbox inhales contributes to keeping the amount of dissolved water in the oil at an acceptably low level. A full pleated air filter element for solid contaminants is included in the BDE breather.
Offline filter upgrades
For online monitoring of gearbox health, an oil condition monitoring upgrade kit can be installed. Hydac has various data acquisition and analysis systems, for example the CMU 1000. The sensor signals can be transmitted either via cable or wireless connection, depending on the local situation. The CMU can support an array of sensors, including particle counting, water, differential pressure and temperature.
This data acquisition system is located in an electrical cabinet. Measured data from a specific wind turbine can also be transmitted by SMS message, either on request or if warning levels are exceeded. Hence maintenance planning for the service personnel is optimised and operation time in damaging operating conditions is minimised. Hydac also offers a remote access, network connected solution with its condition monitoring package, CM Expert.
Sensor array
The sensor array typically includes particle monitoring for wear debris with sensors of the MCS 1000 series. The MCS wear debris monitor can easily be integrated into the inline lubrication circuit in a full flow configuration in many existing turbine designs. By analysing the number and rate of particles in the oil flow, early detection of failures can be achieved. The AS 1000 sensor can be included for monitoring the water content of the oil. This helps identify problems before effects such as sludge, corrosion and bearing fatigue occur.
GW filter monitoring
The GW sensor is easy to install in a filter housing. This allows the detection of reduced functions in the lube and filtration circuit such as open filter bypass, improper flow rate, false or contaminated filter element, or incorrect system pressure.
Wind turbines typically have a 20 year design life. Changing the gearbox prematurely due to a bearing failure or wear is an expensive exercise. Hydac's state of-the-art lube and filtration systems are able to offer the protection needed to avoid these costly problems.
For more information contact Walter Heijboer, Hydac, +27 (0)11 723 9080, walter.heijboer@hydac.com, www.hydac.com
Credit(s)
Further reading:
Schneider Electric brings digital competence to mining applications
First Quarter 2020, Schneider Electric South Africa , Other technologies
Schneider Electric is dedicated to the deployment of digital technologies in mining to address the rising pressures on business sustainability and reduced energy consumption. "The organisation has 
...
Read more...
---
Gearmotors for electrified monorail system
First Quarter 2020 , Other technologies
A leading systems integrator for the automotive industry has adapted a Maxolution electrified monorail system (EMS) and 23 HK Series gear units for overhead trolley systems, from SEW-Eurodrive, for a 
...
Read more...
---
Aluminium profiles for COVID-19 protection screens
First Quarter 2020, Tectra Automation , Other technologies
Rexroth aluminium profiles from Tectra Automation are used to safeguard personnel across a range of industries and numerous applications. The durable composition of these profiles and their adaptability 
...
Read more...
---
3D printing of face masks
First Quarter 2020 , Other technologies
SEW-Eurodrive has joined a nationwide campaign to use 3D printing technology to produce much needed face masks and shields for healthcare workers and first responders. Since the announcement of a national 
...
Read more...
---
Pressure measurement converter for harsh industrial conditions
First Quarter 2020, Instrotech , Other technologies
Instrotech is offering Kobold's PNK pressure measurement converter, used for the electrical remote transmission of pressure. For use in heavy machinery, engines, shipbuilding and automotive engineering, 
...
Read more...
---
Three lubrication myths
First Quarter 2020 , Other technologies
As specialists in lubrication reliability solutions, the team at Lubrication Engineers (LE) South Africa frequently comes up against myths relating to lubricants. "People believe things or are taught 
...
Read more...
---
Top 5 industrial automation trends in 2020
First Quarter 2020 , Other technologies
1. Deploying IIoT edge 2.0 solutions
The edge of IIoT enabled architectures is becoming increasingly important due to their role in digital transformation strategies. Initially focused on delivering 
...
Read more...
---
Food grade chain hoists
First Quarter 2020, Becker Mining South Africa , Other technologies
New to Becker's range of Kito hoists are food grade electric chain hoists, designed for safe lifting applications in contaminant controlled and corrosive processing environments, where pristine cleanliness 
...
Read more...
---
Digital factory revenues to jump to US$375 billion by 2030
First Quarter 2020 , Other technologies
Technology investments in the industrial and manufacturing sector are set to skyrocket, jumping from $59 billion in 2019 to $375 billion in 2030. Including hardware revenues, that figure climbs to over 
...
Read more...
---
Why are half of IIoT deployments failing?
First Quarter 2020 , Other technologies
The global Industrial IIoT business is arriving at a tipping point, with the industry reaching a connectivity milestone next year that will pave the way for market-changing events like the proliferation 
...
Read more...
---