printer friendly version
Do you have a blockchain strategy?
2nd Quarter 2018
News & events
The other day I had some fun looking at Gartner's top megatrends that will enable businesses to survive and thrive in the digital economy. I loved the Hype Cycle for Emerging Technologies. This is a fascinating graph of expectation against time that plots the technologies that are showing promise in delivering a high degree of competitive advantage in the next five to 10 years.
A new one that attracted my attention was 4D printing, where the fourth dimension is time. This will allow us to use advanced materials to print objects that then reshape themselves over time. Imagine furniture that can assemble itself, or pipes that can change their diameter in response to flow rate or fix themselves automatically if they crack or break. Another one was smart dust. This is made up of dust-size wireless microelectromechanical sensors (MEMS) with extraordinary capabilities that can detect everything from light to vibrations. It combines sensing, computing, wireless communication and autonomous power supply within a few millimetres. It is very hard to detect the presence of smart dust and even harder to get rid of it once deployed – the implications are a bit mindblowing. The Hype Cycle graph can be found at https://tinyurl.com/ybsth5qf.
But what really attracted my attention was the IoT technology, blockchain. This was originally created to back the digital currency, bitcoin. It's an open ledger distributed across computers that can permanently record transactions between parties and verify them. This makes digital transactions secure.
It is based on a shared database that is spread across many computers rather than having a central database like in a bank. Transactions are securely encrypted and repeated in many copies of the ledger. Once data is written to this chain it is nearly impossible to change, making it a very secure system for storing digital information. Every point on the network stores the entire chain. This means the data being recorded is transparent to all nodes on the chain, and is encrypted so only those involved in a transaction have access to their digital record. The appeal of blockchain technology is that it creates trust in peer-to-peer transactions, with no need for intermediaries.
The three major advantages of blockchain are transparency, decentralisation and security. Everyone can see what's happening on the chain at all times, and no one person can control a blockchain network. It also creates huge opportunities for data security. The only way to falsify a transaction is to change it on every node in the chain and in every block created since the initial validation. Blockchain can also be used to create smart contracts that carry out the terms of an agreement when specified conditions are met.
Blockchain has so far tended to be seen as just a financial instrument, but for manufacturers the possibilities are nearly endless and it is gaining ground in almost every sector. In the short term, the biggest application is in the supply chain, where it removes the need for the third parties previously required to bring trust to buyer-seller relationships; but its greatest application could well be in cybersecurity to provide an urgently needed way of making smart factories and other IoT networks secure.
In manufacturing, blockchain could be incredibly useful in asset management and minimising downtime. It could be deployed between ERP systems and parts suppliers, using the smart contract to program IoT machines to order replacement parts that arrive just in time for an engineer to install. Combined with predictive analytics, IoT-driven blockchain technology could become a failsafe way to keep factories running.
In one new application, Sterling Consolidated, a supplier of hydraulic and pneumatic seals, is launching a decentralised international marketplace for O-rings. The company has a highly fragmented structure with thousands of distributors but very few suppliers, and says that the O-ring industry lends itself perfectly to utilisation of the blockchain and smart contract technology. It can reduce financing costs and inventory carrying costs for the distributor and create better and faster service for customers.
In another, Air France-KLM is planning to apply blockchain technology to track workflows within its aircraft maintenance systems. Aviation engineers have already modelled an actual hydraulic system failure that could have been avoided if an actuator had been replaced via a blockchain ledger.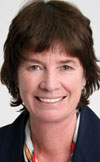 NASA and ESA are also considering potential applications of blockchain for spacecraft missions. Artificial intelligence together with blockchain technologies could make sensor networks in space more efficient and responsive. They are researching how to make hardware in space smarter and more autonomous to improve the automation of space probes in deep space missions still further.
I think I'd better fasten my seatbelt.
Kim Roberts
Editor
Credit(s)
Further reading:
From the editor's desk: Would you like an NFT?
Technews Publishing News & events
One of my favourite light-hearted books is called Fifty Flippen Brilliant South Africans and Elon Musk stands out as one of the giants. He is one of the most iconic inventors and entrepreneurs of our 
...
Read more...
---
Fuchs Lubricants sees major growth in Africa
News & events
Moving to a centralised new head office in Isando, Johannesburg and launching a new unified product brand image in mid-November is all part of a long-term strategy for sustained growth and expansion at 
...
Read more...
---
Hytec Rustenburg establishes permanent site in Marikana
News & events
Hytec Rustenburg has established its first 24/7 satellite mine site at a prominent mine in the North West province. This enables Hytec SA to provide a tailored maintenance programme and stock a selection 
...
Read more...
---
Danfoss acquires Eaton's hydraulics business
Danfoss News & events
Danfoss has officially finalised its $3,3 billion acquisition of Eaton's hydraulics business. The move will see the Danfoss Group grow in size by a third and establish itself as a global leader in mobile 
...
Read more...
---
Festo Didactic helps customers unpack their full learning potential
Festo News & events
Technological changes are continually transforming tasks in companies today. Investment in technologies and machines alone is not enough to ensure success. Festo recognises that skilled employees are 
...
Read more...
---
Engineering Solutions Group achieves Level 2 B-BEEE status
News & events
Invicta Holdings' Engineering Solutions Group (ESG) − distributors of engineering consumables, automotive components, technical services and related solutions − has achieved recognition as a Level 2 contributor 
...
Read more...
---
BMG opens new branch in Maun
News & events
BMG has extended its service in Botswana, with the opening of a new branch in Maun. "BMG now has two dedicated branches in Botswana – one in Gaborone, which was established in 1998 to service and supply 
...
Read more...
---
Fuchs Lubricants achieves top certification
News & events
Fuchs Lubricants South Africa has achieved IATF 16949:2016 certification, which aims at providing improved quality products to automotive customers worldwide. IATF 16949, specified by The International 
...
Read more...
---
Festo's life science webinar on gas handling opens up new horizons
Festo News & events
How piezo technology more efficiently regulates flow rate and pressure.
Read more...
---
Parker Hannifin announces new two-day online oil and gas event
Parker Hannifin - Sales Company South Africa News & events
Parker Hannifin has announced that it will hold an online trade show dedicated to the oil and gas industry, on 6 and 7 October.
Read more...
---