printer friendly version
Are you ready for Industry 5.0?
2nd Quarter 2019
News & events
In this issue of Motion Control we have some stories about collaborative robots from Festo, Metal Work and Cobot. These are launching the manufacturing industry into a whole new world and are a reality in this country too. Just as we are getting used to Industry 4.0, guess what, Industry 5.0 has arrived. At a recent presentation at a SAIMC technical evening the local company, Cobot, demonstrated one from Universal Robots and prompted me to find out more about this new technology.
What Industry 5.0 does is to take the benefits of automation and bring humans back into the picture. It allows people and machines to work together using collaborative robots, or cobots. In a nutshell it is the humanisation of automation. It brings together automated digital processes and the insight and creativity of people. While Industry 4.0 has a mechanised focus, Industry 5.0 is about skilled people and robots working side by side to create specialised products and services. This is making mass personalisation a reality and giving consumers what they really want.
Cobots assist people with manual tasks. Currently they are mainly used for sorting and packing orders, handling heavy or dangerous freight, and other warehousing jobs. They complement human labour rather than replace it. By taking on dangerous, strenuous or repetitive tasks, they are making factories safer and more productive.
Cobots are versatile, easily programmable and safe. If you get in their way they will stop. They can be programmed with a tablet or by just moving their arms – no coding is required. If the cobot is needed in a different part of the factory, it can be easily moved. The latest cobots have position sensors that enable them to react to the presence of a worker in an instant, without the need for the safety cages that protect the traditional heavyweight robot arms.
Today's cobots are built with artificial intelligence and machine learning. With the latest advances in sensor and vision technology they can quickly inspect large numbers of items for flaws, automate the transportation of materials throughout a workplace, and avoid hazards using predictive intelligence.
They can detect abnormal activity in their environment and they comply with the fourth criterion of safe collaboration, which is the limitation of force and power. All cobots have force feedback sensors in their joints which stop their motion in case of an impact. This allows you to run the cobot at full speed and not worry about the potential danger of the power in its arm.
Led by global organisations like Universal Robots, Festo, ABB, Kuka, Fanuc, and Yaskawa, the cobot market has become very competitive. The concept is relatively new. Universal Robots introduced cobots in late 2008, working closely with major automakers like Volkswagen. The machines quickly became popular because of their safety, simplicity and ability to directly work with people. This growth was driven partly by declining prices, which are falling by 3 to 5% a year. Cobots are so new that they account for less than 5% of the $40 billion industrial robot market; but Barclays Capital estimates the market could grow from $100 million last year to $3 billion by 2020.
Many companies cannot automate because of the high cost of traditional robots, but these flexible robots have the potential to revolutionise production, in particular for the smaller companies that account for 70% of global manufacturing. They are a boon to small and medium sized companies that have to compete against larger rivals in low cost markets.
Cobots are becoming a game-changer in a wide range of applications. Factories around the globe such as SEW-Eurodrive's factory in Baden-Württemberg, Germany, have already started using cobots on the shop floor. Here humans work alongside robotic trucks that restock the workstations on the floor. Working with BMW, researchers found that robot-human teams are 85% more productive than either one alone. Cobots are also being used on the Ford Fiesta plant in Germany, where factory workers and cobots are teaming up on its assembly lines to install shock absorbers. In the Amazon fulfilment centre, cobots bring goods to the associates to prepare for shipment, reducing the order fulfilment time from an hour to 15 minutes.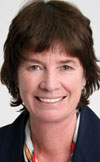 While cobots won't replace the last generation of automation for heavy lifting, they're finding a new place working collaboratively with people. Designed to work with rather than for people, this automation revolution is all about job enhancement, pushing up the power of human labour and adding value to our work – not taking away jobs. Who would have thought that the future of automation is in fact smaller, weaker, slower – and smarter?
Kim Roberts
Editor
Credit(s)
Further reading:
From the editor's desk: Would you like an NFT?
Technews Publishing News & events
One of my favourite light-hearted books is called Fifty Flippen Brilliant South Africans and Elon Musk stands out as one of the giants. He is one of the most iconic inventors and entrepreneurs of our 
...
Read more...
---
Fuchs Lubricants sees major growth in Africa
News & events
Moving to a centralised new head office in Isando, Johannesburg and launching a new unified product brand image in mid-November is all part of a long-term strategy for sustained growth and expansion at 
...
Read more...
---
Hytec Rustenburg establishes permanent site in Marikana
News & events
Hytec Rustenburg has established its first 24/7 satellite mine site at a prominent mine in the North West province. This enables Hytec SA to provide a tailored maintenance programme and stock a selection 
...
Read more...
---
Danfoss acquires Eaton's hydraulics business
Danfoss News & events
Danfoss has officially finalised its $3,3 billion acquisition of Eaton's hydraulics business. The move will see the Danfoss Group grow in size by a third and establish itself as a global leader in mobile 
...
Read more...
---
Festo Didactic helps customers unpack their full learning potential
Festo News & events
Technological changes are continually transforming tasks in companies today. Investment in technologies and machines alone is not enough to ensure success. Festo recognises that skilled employees are 
...
Read more...
---
Engineering Solutions Group achieves Level 2 B-BEEE status
News & events
Invicta Holdings' Engineering Solutions Group (ESG) − distributors of engineering consumables, automotive components, technical services and related solutions − has achieved recognition as a Level 2 contributor 
...
Read more...
---
BMG opens new branch in Maun
News & events
BMG has extended its service in Botswana, with the opening of a new branch in Maun. "BMG now has two dedicated branches in Botswana – one in Gaborone, which was established in 1998 to service and supply 
...
Read more...
---
Fuchs Lubricants achieves top certification
News & events
Fuchs Lubricants South Africa has achieved IATF 16949:2016 certification, which aims at providing improved quality products to automotive customers worldwide. IATF 16949, specified by The International 
...
Read more...
---
Festo's life science webinar on gas handling opens up new horizons
Festo News & events
How piezo technology more efficiently regulates flow rate and pressure.
Read more...
---
Parker Hannifin announces new two-day online oil and gas event
Parker Hannifin - Sales Company South Africa News & events
Parker Hannifin has announced that it will hold an online trade show dedicated to the oil and gas industry, on 6 and 7 October.
Read more...
---