printer friendly version
Are you ready for Industry 5.0?
2nd Quarter 2019
News & events
In this issue of Motion Control we have some stories about collaborative robots from Festo, Metal Work and Cobot. These are launching the manufacturing industry into a whole new world and are a reality in this country too. Just as we are getting used to Industry 4.0, guess what, Industry 5.0 has arrived. At a recent presentation at a SAIMC technical evening the local company, Cobot, demonstrated one from Universal Robots and prompted me to find out more about this new technology.
What Industry 5.0 does is to take the benefits of automation and bring humans back into the picture. It allows people and machines to work together using collaborative robots, or cobots. In a nutshell it is the humanisation of automation. It brings together automated digital processes and the insight and creativity of people. While Industry 4.0 has a mechanised focus, Industry 5.0 is about skilled people and robots working side by side to create specialised products and services. This is making mass personalisation a reality and giving consumers what they really want.
Cobots assist people with manual tasks. Currently they are mainly used for sorting and packing orders, handling heavy or dangerous freight, and other warehousing jobs. They complement human labour rather than replace it. By taking on dangerous, strenuous or repetitive tasks, they are making factories safer and more productive.
Cobots are versatile, easily programmable and safe. If you get in their way they will stop. They can be programmed with a tablet or by just moving their arms – no coding is required. If the cobot is needed in a different part of the factory, it can be easily moved. The latest cobots have position sensors that enable them to react to the presence of a worker in an instant, without the need for the safety cages that protect the traditional heavyweight robot arms.
Today's cobots are built with artificial intelligence and machine learning. With the latest advances in sensor and vision technology they can quickly inspect large numbers of items for flaws, automate the transportation of materials throughout a workplace, and avoid hazards using predictive intelligence.
They can detect abnormal activity in their environment and they comply with the fourth criterion of safe collaboration, which is the limitation of force and power. All cobots have force feedback sensors in their joints which stop their motion in case of an impact. This allows you to run the cobot at full speed and not worry about the potential danger of the power in its arm.
Led by global organisations like Universal Robots, Festo, ABB, Kuka, Fanuc, and Yaskawa, the cobot market has become very competitive. The concept is relatively new. Universal Robots introduced cobots in late 2008, working closely with major automakers like Volkswagen. The machines quickly became popular because of their safety, simplicity and ability to directly work with people. This growth was driven partly by declining prices, which are falling by 3 to 5% a year. Cobots are so new that they account for less than 5% of the $40 billion industrial robot market; but Barclays Capital estimates the market could grow from $100 million last year to $3 billion by 2020.
Many companies cannot automate because of the high cost of traditional robots, but these flexible robots have the potential to revolutionise production, in particular for the smaller companies that account for 70% of global manufacturing. They are a boon to small and medium sized companies that have to compete against larger rivals in low cost markets.
Cobots are becoming a game-changer in a wide range of applications. Factories around the globe such as SEW-Eurodrive's factory in Baden-Württemberg, Germany, have already started using cobots on the shop floor. Here humans work alongside robotic trucks that restock the workstations on the floor. Working with BMW, researchers found that robot-human teams are 85% more productive than either one alone. Cobots are also being used on the Ford Fiesta plant in Germany, where factory workers and cobots are teaming up on its assembly lines to install shock absorbers. In the Amazon fulfilment centre, cobots bring goods to the associates to prepare for shipment, reducing the order fulfilment time from an hour to 15 minutes.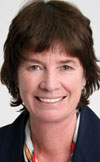 While cobots won't replace the last generation of automation for heavy lifting, they're finding a new place working collaboratively with people. Designed to work with rather than for people, this automation revolution is all about job enhancement, pushing up the power of human labour and adding value to our work – not taking away jobs. Who would have thought that the future of automation is in fact smaller, weaker, slower – and smarter?
Kim Roberts
Editor
Credit(s)
Further reading:
BI launches new e-commerce platform
News & events
Bearings International (BI) is entering the fast-growing realm of e-commerce by expanding its current website to provide more detailed information. "The aim is to create a 24/7 access experience for 
...
Read more...
---
TUKS campus taken over by robots!
RS Components SA News & events
Several teams of third-year engineering students took to the track for the ultimate robot showdown as the highly anticipated annual TUKS Robot Race Day took place at the campus recently. Now in its 
...
Read more...
---
From the editor's desk: Killer science and alternative energy
Technews Publishing News & events
I couldn't resist watching The World Industrial Reporter's video on Ten Scientists Killed By Their Own Experiments. Some of them would have deserved the Darwin Award for taking themselves out of the 
...
Read more...
---
Bosch Rexroth SA celebrates women in hydraulics
News & events
Bosch Rexroth South Africa is committed to social investment and the advancement of all its employees, breaking down barriers to create a diverse and dynamic workplace. This upcoming Women's Day presents 
...
Read more...
---
ABB's lifeline to unemployed graduate
News & events
When a kind stranger took a photograph of Momelezi Sifumba standing at a busy roadside with a cardboard sign stating: 'Help Me to Find a Job' and posted it on LinkedIn, little did the unemployed graduate 
...
Read more...
---
Port and rail upgrades essential for SA
News & events
Bearings International (BI) has welcomed the assertion by President Cyril Ramaphosa in his State of the Nation address on 10 February that the economy cannot grow without efficient ports and railways. 
...
Read more...
---
From the editor's desk: Making sense of the metaverse
Technews Publishing News & events
It wasn't so long ago that nobody had heard of IIoT. Then the hype began and now it's an integral part of the manufacturing environment. Recently I've been hearing more and more about the metaverse 
...
Read more...
---
Innovation for sustainable agriculture
News & events
Panasonic Industry has announced the Gold sponsorship of ETH Zurich's Robotic Weeding System (Rowesys) project and will assist the student team with engineering know-how, as well as components and products 
...
Read more...
---
New head office and warehouse for Fuchs Lubricants
News & events
The new head office and warehouse for Fuchs Lubricants South Africa is on track to be completed this month. The company is investing over R250 million in the expansion at its existing location in Isando, 
...
Read more...
---
Bosch Rexroth Africa Development appoints Tanzanian distributor
News & events
Bosch Rexroth Africa Development has appointed a Tanzanian company as its in-country distributor. Transec is a general mining equipment supplier with an established countrywide presence. In line with 
...
Read more...
---