printer friendly version
From the editor's desk: The reality of augmented reality
Third Quarter 2019
News & events
Augmented reality (AR) in various forms has been around for a while, think Pokemon, but its application on the factory floor is only now starting to take off. At the Electra Mining Expo I had a chance to experience this on the Siemens stand, and I really thought I was going to fall off the edge of a platform. This prompted me to take a further look, and I discovered that AR is set to disrupt the manufacturing industry – the potential benefits are huge.
So what is AR? It's a live view of a physical, real-world environment, supplemented by computer-generated sensory input like sound, video, graphics or GPS data, using a device such as a smartphone or headset goggles, to enhance the user's real-world experience. And how does AR differ from virtual reality (VR)? The answer is that AR enhances the real world while VR offers an escape from it. Both technologies will eventually change our lives just like smartphones have done. Here are some existing and potential applications.
Maintenance
Fluid power is a proven and trusted technology. Small improvements will still occur, but radical changes in the basics are unlikely. AR is an opportunity to take this robust technology and build on it with innovative ideas. For example in remote areas machine downtime is a costly problem. Hydraulics manufacturers are exploring AR to give maintenance technicians instant support from experts. A new AR tool from Bosch Rexroth allows field technicians to work with a service expert easily, through the use of a smartphone or a head-mounted camera and headphones, allowing them to visualise the health of the machine and remotely troubleshoot problems.
Airbus is using an AR application to give assembly workers access to complete 3D models of each aircraft under production. This has been used on the A380 and A35 production lines to check the integrity of structural brackets that hold hydraulics in place. Lift manufacturer, Thyssenkrupp is using Microsoft's HoloLens technology as a service tool. Technicians can visualise and identify problems ahead of a job, and have remote, hands-free access to expert technical information when on site.
Complex assembly
Modern manufacturing involves putting together hundreds and thousands of pieces in complex assemblies very quickly. AR allows technicians constant access to diagrams, schematics and work orders, right at the edge of their field of view, compared with glancing back and forth between the workpiece and a pdf with instructions. They can visualise the part and the assembly details through 3D hologram instructions. With over 200 km worth of wiring in every new 747-8 Freighter, Boeing is combining the power of voice with AR. Using Skylight wearable technology, technicians assembling complex wiring harnesses interact with the software on smart glasses using voice commands, remaining hands-free to perform their task. With no room for error, Boeing has cut wiring production time by 25% and reduced error rates effectively to zero.
Training
You can deliver advanced training together with actual parts and assemblies, combining execution with learning. Previously Lockheed took years to assemble a finished F-35 aeroplane. Using HoloLens technology, engineers cut the time required by 30% with advanced learning, which involved representation of every step in the process; and GE Aviation leverages voice to interact with the AR app, Skylight on Glass – integrated with a WiFi-enabled torque wrench – to tighten B-nuts on jet engines, with 12% efficiency improvement.
Quality assurance
A pilot programme running at a Porsche assembly plant in Germany has technicians using AR as a tool in the quality assurance process. The idea is that quality professionals can take photos of parts or assemblies on vehicles under inspection, and then compare those images to ones provided by the company's suppliers via an overlay.
Logistics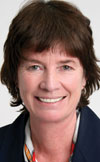 Kim Roberts (Editor)
In warehouse organisation and order fulfilment, employees could tap into a connected system that tells them exactly where products and goods are, allowing them to work at a much faster pace. DHL is testing mobile AR systems where employees use smart glasses that greatly increase productivity and reduce errors. With exponential growth in e-commerce, the company recently announced plans to expand efforts in AR, robotics, process automation and IoT in its facilities.
HoloLens2 is already out. At $3500 it's a bit beyond my budget, but it's designed for the workplace. I'm thinking that work is going to be a whole lot more fun than it was when I first started on the factory floor.
Kim Roberts
Editor
Credit(s)
Further reading:
BI launches new e-commerce platform
News & events
Bearings International (BI) is entering the fast-growing realm of e-commerce by expanding its current website to provide more detailed information. "The aim is to create a 24/7 access experience for 
...
Read more...
---
TUKS campus taken over by robots!
RS Components SA News & events
Several teams of third-year engineering students took to the track for the ultimate robot showdown as the highly anticipated annual TUKS Robot Race Day took place at the campus recently. Now in its 
...
Read more...
---
From the editor's desk: Killer science and alternative energy
Technews Publishing News & events
I couldn't resist watching The World Industrial Reporter's video on Ten Scientists Killed By Their Own Experiments. Some of them would have deserved the Darwin Award for taking themselves out of the 
...
Read more...
---
Bosch Rexroth SA celebrates women in hydraulics
News & events
Bosch Rexroth South Africa is committed to social investment and the advancement of all its employees, breaking down barriers to create a diverse and dynamic workplace. This upcoming Women's Day presents 
...
Read more...
---
ABB's lifeline to unemployed graduate
News & events
When a kind stranger took a photograph of Momelezi Sifumba standing at a busy roadside with a cardboard sign stating: 'Help Me to Find a Job' and posted it on LinkedIn, little did the unemployed graduate 
...
Read more...
---
Port and rail upgrades essential for SA
News & events
Bearings International (BI) has welcomed the assertion by President Cyril Ramaphosa in his State of the Nation address on 10 February that the economy cannot grow without efficient ports and railways. 
...
Read more...
---
From the editor's desk: Making sense of the metaverse
Technews Publishing News & events
It wasn't so long ago that nobody had heard of IIoT. Then the hype began and now it's an integral part of the manufacturing environment. Recently I've been hearing more and more about the metaverse 
...
Read more...
---
Innovation for sustainable agriculture
News & events
Panasonic Industry has announced the Gold sponsorship of ETH Zurich's Robotic Weeding System (Rowesys) project and will assist the student team with engineering know-how, as well as components and products 
...
Read more...
---
New head office and warehouse for Fuchs Lubricants
News & events
The new head office and warehouse for Fuchs Lubricants South Africa is on track to be completed this month. The company is investing over R250 million in the expansion at its existing location in Isando, 
...
Read more...
---
Bosch Rexroth Africa Development appoints Tanzanian distributor
News & events
Bosch Rexroth Africa Development has appointed a Tanzanian company as its in-country distributor. Transec is a general mining equipment supplier with an established countrywide presence. In line with 
...
Read more...
---