printer friendly version
From the editor's desk: The reality of augmented reality
Third Quarter 2019
News & events
Augmented reality (AR) in various forms has been around for a while, think Pokemon, but its application on the factory floor is only now starting to take off. At the Electra Mining Expo I had a chance to experience this on the Siemens stand, and I really thought I was going to fall off the edge of a platform. This prompted me to take a further look, and I discovered that AR is set to disrupt the manufacturing industry – the potential benefits are huge.
So what is AR? It's a live view of a physical, real-world environment, supplemented by computer-generated sensory input like sound, video, graphics or GPS data, using a device such as a smartphone or headset goggles, to enhance the user's real-world experience. And how does AR differ from virtual reality (VR)? The answer is that AR enhances the real world while VR offers an escape from it. Both technologies will eventually change our lives just like smartphones have done. Here are some existing and potential applications.
Maintenance
Fluid power is a proven and trusted technology. Small improvements will still occur, but radical changes in the basics are unlikely. AR is an opportunity to take this robust technology and build on it with innovative ideas. For example in remote areas machine downtime is a costly problem. Hydraulics manufacturers are exploring AR to give maintenance technicians instant support from experts. A new AR tool from Bosch Rexroth allows field technicians to work with a service expert easily, through the use of a smartphone or a head-mounted camera and headphones, allowing them to visualise the health of the machine and remotely troubleshoot problems.
Airbus is using an AR application to give assembly workers access to complete 3D models of each aircraft under production. This has been used on the A380 and A35 production lines to check the integrity of structural brackets that hold hydraulics in place. Lift manufacturer, Thyssenkrupp is using Microsoft's HoloLens technology as a service tool. Technicians can visualise and identify problems ahead of a job, and have remote, hands-free access to expert technical information when on site.
Complex assembly
Modern manufacturing involves putting together hundreds and thousands of pieces in complex assemblies very quickly. AR allows technicians constant access to diagrams, schematics and work orders, right at the edge of their field of view, compared with glancing back and forth between the workpiece and a pdf with instructions. They can visualise the part and the assembly details through 3D hologram instructions. With over 200 km worth of wiring in every new 747-8 Freighter, Boeing is combining the power of voice with AR. Using Skylight wearable technology, technicians assembling complex wiring harnesses interact with the software on smart glasses using voice commands, remaining hands-free to perform their task. With no room for error, Boeing has cut wiring production time by 25% and reduced error rates effectively to zero.
Training
You can deliver advanced training together with actual parts and assemblies, combining execution with learning. Previously Lockheed took years to assemble a finished F-35 aeroplane. Using HoloLens technology, engineers cut the time required by 30% with advanced learning, which involved representation of every step in the process; and GE Aviation leverages voice to interact with the AR app, Skylight on Glass – integrated with a WiFi-enabled torque wrench – to tighten B-nuts on jet engines, with 12% efficiency improvement.
Quality assurance
A pilot programme running at a Porsche assembly plant in Germany has technicians using AR as a tool in the quality assurance process. The idea is that quality professionals can take photos of parts or assemblies on vehicles under inspection, and then compare those images to ones provided by the company's suppliers via an overlay.
Logistics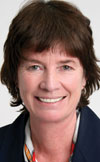 Kim Roberts (Editor)
In warehouse organisation and order fulfilment, employees could tap into a connected system that tells them exactly where products and goods are, allowing them to work at a much faster pace. DHL is testing mobile AR systems where employees use smart glasses that greatly increase productivity and reduce errors. With exponential growth in e-commerce, the company recently announced plans to expand efforts in AR, robotics, process automation and IoT in its facilities.
HoloLens2 is already out. At $3500 it's a bit beyond my budget, but it's designed for the workplace. I'm thinking that work is going to be a whole lot more fun than it was when I first started on the factory floor.
Kim Roberts
Editor
Credit(s)
Further reading:
From the editor's desk: Would you like an NFT?
Technews Publishing News & events
One of my favourite light-hearted books is called Fifty Flippen Brilliant South Africans and Elon Musk stands out as one of the giants. He is one of the most iconic inventors and entrepreneurs of our 
...
Read more...
---
Fuchs Lubricants sees major growth in Africa
News & events
Moving to a centralised new head office in Isando, Johannesburg and launching a new unified product brand image in mid-November is all part of a long-term strategy for sustained growth and expansion at 
...
Read more...
---
Hytec Rustenburg establishes permanent site in Marikana
News & events
Hytec Rustenburg has established its first 24/7 satellite mine site at a prominent mine in the North West province. This enables Hytec SA to provide a tailored maintenance programme and stock a selection 
...
Read more...
---
Danfoss acquires Eaton's hydraulics business
Danfoss News & events
Danfoss has officially finalised its $3,3 billion acquisition of Eaton's hydraulics business. The move will see the Danfoss Group grow in size by a third and establish itself as a global leader in mobile 
...
Read more...
---
Festo Didactic helps customers unpack their full learning potential
Festo News & events
Technological changes are continually transforming tasks in companies today. Investment in technologies and machines alone is not enough to ensure success. Festo recognises that skilled employees are 
...
Read more...
---
Engineering Solutions Group achieves Level 2 B-BEEE status
News & events
Invicta Holdings' Engineering Solutions Group (ESG) − distributors of engineering consumables, automotive components, technical services and related solutions − has achieved recognition as a Level 2 contributor 
...
Read more...
---
BMG opens new branch in Maun
News & events
BMG has extended its service in Botswana, with the opening of a new branch in Maun. "BMG now has two dedicated branches in Botswana – one in Gaborone, which was established in 1998 to service and supply 
...
Read more...
---
Fuchs Lubricants achieves top certification
News & events
Fuchs Lubricants South Africa has achieved IATF 16949:2016 certification, which aims at providing improved quality products to automotive customers worldwide. IATF 16949, specified by The International 
...
Read more...
---
Festo's life science webinar on gas handling opens up new horizons
Festo News & events
How piezo technology more efficiently regulates flow rate and pressure.
Read more...
---
Parker Hannifin announces new two-day online oil and gas event
Parker Hannifin - Sales Company South Africa News & events
Parker Hannifin has announced that it will hold an online trade show dedicated to the oil and gas industry, on 6 and 7 October.
Read more...
---