printer friendly version
From the editor's desk: What's driving 4IR?
Fourth Quarter 2019
News & events
When the fourth industrial revolution (4IR) first came onto our radar, and it wasn't that long ago, there was mainly a focus on the technology, backed up by a couple of killer apps like condition monitoring. This was followed by a large amount of hype, with more speculation going on than real progress. It appears to me that this megatrend is becoming more mature. Recently there has been more of an emphasis on the contribution of people to making 4IR work. For example Motion Control has run features on cobots, with people and robots working alongside each other. This has led to a debate on the attributes needed to make it in 4IR.
I recently attended a fascinating talk by Kobus Neethling, who has six degrees in creativity (I don't think you can get more qualified than that). He outlined the essential skills you need to thrive in 4IR, and creativity was high on the list. The other ones he described were complex problem solving, critical thinking, people management, emotional intelligence (the ability to read people's emotions and react accordingly), decision-making, service orientation, negotiation and cognitive flexibility. Whew! "Don't make yesterday better," he said. "You have to create a whole new tomorrow."
The World Economic Forum (WEF) has called the driving force for 4IR a 'fusion of technologies that is blurring the lines between the physical, digital and biological spheres.' It says that by 2020 creative thinking will be third on the list of the most important skills needed to survive and thrive in 4IR. The top three skills needed will be complex problem solving, critical thinking and creativity. These are qualities where algorithms and robots can't compete with humans.
But these skills are out there. A great example is the story about South African engineer, Neo Hutiri, who won the Africa Prize for Engineering Innovation founded by the Royal Academy for Engineering. This is for a smart locker system designed to dispense medicine to patients with chronic conditions; and I love Elon Musk's 'fail fast, then fix' motto. His SpaceX Crew Dragon capsule is aiming to take humans, not just cargo, to the international space station in the first quarter of 2020.
Companies are also using 4IR creatively on the service side, and we are hearing about servitisation, equipment-as-a-service, subscription and pay-per-use. Traditional technology-focused businesses are moving into service. With increasingly complex, high-tech equipment, customers need their equipment dealers for service expertise, and servitisation is reinventing the manufacturing business model. Manufacturers are selling an entire field service support system around a product. This means they don't have to rely on equipment sales only but can create new revenue streams.
Basically the machines capture data and analyse it to identify patterns and predict problems, creating insights that can increase uptime and decrease service costs. This package of equipment and services is then offered as a per-use or recurring fee in a subscription. Servitisation decreases the cost of owning a machine. It combines service costs into a monthly fee. It can guarantee constant machine uptime. By renting equipment rather than buying it, customers can shift capex costs to opex costs. This leads to improvements in taxes, support infrastructure and a machine's lifecycle.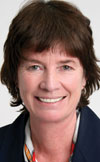 Kim Roberts, Editor
An example of servitisation is Rolls-Royce's aeroplane engine programme. Customers pay a set amount of money based on the number of hours the plane is flown. In return, Rolls-Royce repairs, replaces broken parts, and modifies and monitors the engine remotely. This new package creates a long-term relationship with its customers and is bringing in more than 50% of its revenue. This innovative approach shows the power that creativity and imagination have to let loose the potential of 4IR. Harvesting data is just square one, and even analysing that data with state-of-the-art technology is basic. The real business outcomes are when you put those insights into motion in new ways that benefit both companies and customers.
We have become used to being in a state of flux as economic systems stagnate, people migrate and leadership gaps widen. Talk about the future reflects uncertainty rather than clarity. Governments and industries are often unsure of exactly what 4IR means for the future, while people try to adjust to increasingly complex and automated ways of life. The WEF says that creativity thrives in three conditions: when we apply and combine old ideas in new ways, when we feel enough pressure and incentive to encourage flexible thinking, and when we don't get too comfortable.
These are skills that can help us rise to these challenges. According to a recent PwC Global Industry 4.0 survey: "The biggest challenge for industrial leaders isn't technology, it's the people."
Further reading:
BI launches new e-commerce platform
News & events
Bearings International (BI) is entering the fast-growing realm of e-commerce by expanding its current website to provide more detailed information. "The aim is to create a 24/7 access experience for 
...
Read more...
---
TUKS campus taken over by robots!
RS Components SA News & events
Several teams of third-year engineering students took to the track for the ultimate robot showdown as the highly anticipated annual TUKS Robot Race Day took place at the campus recently. Now in its 
...
Read more...
---
From the editor's desk: Killer science and alternative energy
Technews Publishing News & events
I couldn't resist watching The World Industrial Reporter's video on Ten Scientists Killed By Their Own Experiments. Some of them would have deserved the Darwin Award for taking themselves out of the 
...
Read more...
---
Bosch Rexroth SA celebrates women in hydraulics
News & events
Bosch Rexroth South Africa is committed to social investment and the advancement of all its employees, breaking down barriers to create a diverse and dynamic workplace. This upcoming Women's Day presents 
...
Read more...
---
ABB's lifeline to unemployed graduate
News & events
When a kind stranger took a photograph of Momelezi Sifumba standing at a busy roadside with a cardboard sign stating: 'Help Me to Find a Job' and posted it on LinkedIn, little did the unemployed graduate 
...
Read more...
---
Port and rail upgrades essential for SA
News & events
Bearings International (BI) has welcomed the assertion by President Cyril Ramaphosa in his State of the Nation address on 10 February that the economy cannot grow without efficient ports and railways. 
...
Read more...
---
From the editor's desk: Making sense of the metaverse
Technews Publishing News & events
It wasn't so long ago that nobody had heard of IIoT. Then the hype began and now it's an integral part of the manufacturing environment. Recently I've been hearing more and more about the metaverse 
...
Read more...
---
Innovation for sustainable agriculture
News & events
Panasonic Industry has announced the Gold sponsorship of ETH Zurich's Robotic Weeding System (Rowesys) project and will assist the student team with engineering know-how, as well as components and products 
...
Read more...
---
New head office and warehouse for Fuchs Lubricants
News & events
The new head office and warehouse for Fuchs Lubricants South Africa is on track to be completed this month. The company is investing over R250 million in the expansion at its existing location in Isando, 
...
Read more...
---
Bosch Rexroth Africa Development appoints Tanzanian distributor
News & events
Bosch Rexroth Africa Development has appointed a Tanzanian company as its in-country distributor. Transec is a general mining equipment supplier with an established countrywide presence. In line with 
...
Read more...
---