printer friendly version
The eight technologies that will transform manufacturing
3rd Quarter 2018 Editor's Choice Other technologies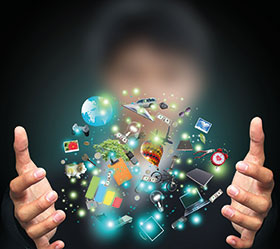 In a recent report, ABI Research, a market-foresight advisory firm providing strategic guidance on the most compelling transformative technologies, outlines how technologies fit together with each other in smart manufacturing. The report identifies eight such transformative technologies:
• Additive manufacturing (AM).
• Artificial intelligence (AI) and machine learning (ML).
• Augmented reality (AR).
• Blockchain.
• Digital twins.
• Edge intelligence.
• Industrial Internet of Things (IIoT) platforms.
• Robotics.
The manufacturing sector has already seen increased adoption of IIoT platforms and edge intelligence. Over the next 10 years, manufacturers will start to piece together the other new technologies that will eventually lead to more dynamic factories less dependent on fixed assembly lines and immobile assets. Each step in this transformation will make plants and their workers more productive.
"Manufacturers want technologies they can implement now without disrupting their operations," says Pierce Owen, principal analyst at ABI Research. "They will change the way their employees perform jobs with technology if it will make them more productive, but they have no desire to rip out their entire infrastructure to try something new. This means technologies that can leverage existing equipment and infrastructure, such as edge intelligence, have the most immediate opportunity.
The transition towards a lights-out factory has started, but such a major disruption will require an overhaul of workforces, IT architecture, physical facilities and equipment and full integration of dozens of new technologies, including connectivity, additive manufacturing, drones, mobile collaborative robotics, IIoT platforms and AI.
IIoT platforms must support many of these other technologies to better integrate them with the enterprise and each other. Those that can connect and support equipment from multiple manufacturers, such as PTC Thingworx and Telit deviceWISE, will last.
After decades of producing little more than prototypes, the AM winter has ended and new growth has sprung up. GE placed significant bets on AM by acquiring Arcam and Concept laser in 2016, and Siemens announced an AM platform in April 2018. Other leading AM specialists include EOS, Stratasys, HP and 3D Systems.
ML capabilities and simulation software have made digital twins extremely useful for product development, production planning, product-aaS, asset monitoring and performance optimisation. Companies with assets that they cannot easily inspect regularly will significantly benefit from exact, 3D digital twins, and companies that manufacture high value assets should offer digital twin monitoring as a service for new revenue streams. Innovative vendors in digital twins and simulation software include PTC, SAP, Siemens, and ANSYS.
The above technologies have already started to converge, and robotics provide a physical representation of this convergence. Robotics use AI and computer vision and connect to IIoT platforms where they have digital twins. This connectivity and AI will increase in importance as more cobots join the assembly line and work alongside humans. The robotics vendors that can integrate the most deeply with other transformative technologies have the biggest opportunity. Such vendors include the likes of ABB, KUKA, Fanuc, Universal Robots, Rethink Robotics and Yaskawa.
"The vendors that open up their technologies and integrate with both existing equipment and infrastructure and other new transformative technologies will carve out a share of this growing opportunity. Implementation will go step by step over multiple decades, but ultimately how we produce goods will change drastically from what we see today," concludes Owen.
For more information contact Deborah Petrara, ABI Research, +1 516 624 2558, pr@abiresearch.com, www.abiresearch.com
Further reading:
Smart sensors for motion control
Fourth Quarter 2019, Parker Hannifin - Sales Company South Africa , Other technologies
They can also receive commands and parameter information from the controller and thus adapt to new requirements on a continuous basis. Two-way data flow helps facilitate what can be defined as a true 
...
Read more...
---
Addressing evolving hydraulics challenges
Fourth Quarter 2019 , Editor's Choice, Hydraulic systems & components
Using materials science and design technologies, Gates' engineers come up with innovative hydraulic hose solutions for ever-changing needs and challenges.
Read more...
---
Control for additive manufacturing
Fourth Quarter 2019, Beckhoff Automation , Editor's Choice, Electrical switching & drive systems & components
Colossus plans to manufacture large functional or decorative objects such as outdoor furniture and ornaments with a new 3D printer that processes recycled plastics, and this creates further special 
...
Read more...
---
On the way towards fully electrified mining machines
Fourth Quarter 2019, Parker Hannifin - Sales Company South Africa , Editor's Choice, Electrical switching & drive systems & components
The more time humans spend working in mining conditions, and near mining vehicles, the more likely they are to be injured, contract illnesses or die in accidents. According to the UN's International 
...
Read more...
---
The Bloodhound
Fourth Quarter 2019, Bloodhound Technologies , Editor's Choice, News & events
The Bloodhound project is back on track. The British team developing a car capable of reaching 1600 kmph is in South Africa for several weeks of high-speed testing on the dry desert track at Hakskeenpan 
...
Read more...
---
Robot with air-water actuators has fluid motion
Fourth Quarter 2019 , Editor's Choice, Robotics & Mechatronics
Hydraulics and pneumatics are widely used for power transmission: hydraulics for moving heavy loads with highly controlled motion, and pneumatics for lighter loads and rapid, repetitive motions. Many 
...
Read more...
---
Future-proof chair lift system
Fourth Quarter 2019, Siemens Digital Industries , Editor's Choice, Electrical switching & drive systems & components
At Snow Space, a winter sports resort near Salzburg, Bergbahnen Wagrain operates the Sonntagskogelbahn 2, a chair lift for taking skiing enthusiasts to the piste. New innovative drive technology guarantees 
...
Read more...
---
Rescue from the sky
Fourth Quarter 2019, Siemens Digital Industries , Editor's Choice, Other technologies
Zipline International designs and builds autonomous flying drones that transport medical supplies in hard to reach regions. The company uses design solutions from Siemens PLM Software. This enables the 
...
Read more...
---
Does edge computing have the edge?
Third Quarter 2019, Omron Electronics , Editor's Choice, Other technologies
Implementing artificial intelligence in industrial manufacturing.
Read more...
---
Underwater robot with a unique fin
Third Quarter 2019, Festo , Editor's Choice, Robotics & Mechatronics
Swimming like the natural model
The longitudinal fins of the polyclad and the cuttlefish extend from the head to the tail along their backs, their undersides or the two sides of their torsos. To 
...
Read more...
---