printer friendly version
Taking hydraulics to a new level
4th Quarter 2018 Editor's Choice Other technologies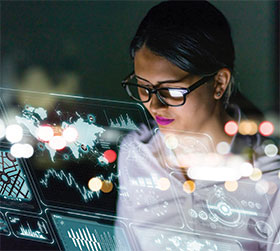 Not so long ago, only the largest OEMs could afford to develop complex proprietary control systems. But the recent introduction of versatile digital ecosystems connecting electronic control hardware and software to the cloud will be a game changer for mobile hydraulic machinery and equipment manufacturers.
By empowering design engineers with real-time access to the most sophisticated data collection and monitoring capabilities, such systems are enabling OEMs to customise electro-hydraulic control parameters to meet highly specific application requirements.
This levelling of the playing field is catalysing a new era of mobile machine and equipment design innovation, as OEMs across industries, tiers and geographies develop customised solutions that digitally integrate their customers' hydraulic and machine controls with IIoT.
Whether managing a fleet of transport trucks, utility vehicles, refuse collection truck, or complex construction, agricultural and mining machinery, the ability to conduct real-time monitoring of vehicle functions and operator performance enables increased productivity, improved customer satisfaction, improved operator safety, optimised energy and fuel efficiency, the ability to track performance variables continually, the ability to selectively share data across distribution and supply channels and comprehensive reporting for analysis and improvement.
Now imagine adding to these benefits the ability to custom modify from a remote location onboard programs, software releases, alerts and notifications, as well as specific system parameters such as operating ranges. Today's mobile IIoT systems enable OEM and/or user-based control system designers and technicians to respond rapidly to ever-changing application requirements, providing enterprises with a strong competitive advantage.
Today's mobile IIoT ecosystems securely monitor, access and adjust operational parameters via laptop, tablet or cellphone anywhere the Internet is available, rapidly delivering functional adaptations and improvements to fleet managers, engineers, call centre operators, technicians, and administrators across the channel as required.
Next generation mobile IIoT systems are highly user configurable, which means both control functions and interfaces can be customised to match specific customer needs. Operational parameters and controls are easily adjusted to improve the efficiency of the equipment and of related business operations. Interface details such as colours and the types and designs of freestanding or display-based controls can be customised to match each customer's branding requirements.
Anywhere mobile equipment is used, no matter how vast the regions in which that equipment is deployed, mobile IIoT systems offer an opportunity for higher levels of productivity improvement and cost efficiency. Across all markets, mobile IIoT systems are expediting the time to market of cost-saving operational improvements.
The hardware components of smart gateways are designed to withstand punishing industrial and outdoor environments. When new equipment installs are adopted, previously existing vehicles can typically be retrofitted to connect to the IIoT. Electronic control systems are compatible with a wide range of intelligent components, including hydraulic pumps, accumulators, cylinders, filters, tubing, fittings, power units and valves.
Data is aggregated into customisable reports that identify trends and anomalies, enabling operation engineers and technicians to adjust system functionality with the ultimate goal of improving productivity and the efficiency of business operations.
Perhaps the most significant benefit of remote configurability and Internet-based data access is the downstream effect on innovation. Enterprise software connecting machines to the cloud is accelerating the collection and analysis of data, leading to new insights that not only improve the competitiveness of individual market players, but raise the performance bar on entire industries.
Imagine mining sites where near instant access to troubleshooting data triggers alerts and shutdowns, saving lives. Imagine how the improved flexibility and responsiveness afforded by remote control might enable engineers to experiment with micro-repositionings of a single sensor to ensure the fastest possible identification of wear factors for continual improvements in uptime. Imagine the ongoing analysis of millions of operator performance profiles, enabling OEMs to go to market with next generation ergonomic improvements for greater in-the-cab efficiency and reduced operator injury.
The complex mechanical, electronic and hydraulic systems used by mobile equipment and machinery, when supported by digital ecosystems, are expected to usher in a new era of mobile solution innovation. For the first time, mobile equipment OEMs and their customers have immediate access to large and robust collections of data which, upon analysis, can be quickly acted upon to improve functional efficiencies, operator wellness and productivity.
Today's motion control enterprises are leading the way towards a new era of safer, cleaner, more efficient and more reliable mobile equipment performance.
Read the full story at http://motioncontrol.co.za/+parker1
For more information contact Lisa de Beer, Parker Hannifin SA, +27 11 961 0700, lisa.debeer@parker.com, www.parker.com/za
Credit(s)
Further reading:
Proximity sensors for pneumatic and electronic actuation
First Quarter 2020, Parker Hannifin - Sales Company South Africa , Pneumatic systems & components
Parker Hannifin has introduced a new family of proximity sensors for use with pneumatic or electric actuators in a wide range of automation and motion control applications. P8S magnetic cylinder sensors 
...
Read more...
---
Enhancements to Parker's valve portfolio
First Quarter 2020, Parker Hannifin - Sales Company South Africa , Pneumatic systems & components
Parker Hannifin has added an expanded range of features and capabilities to its H Series ISO valve platform with flow ranging from Qn 540 to 5900 Nl/mn. Designed with a new universal manifold, the H Series 
...
Read more...
---
Smart sensors for motion control
Fourth Quarter 2019, Parker Hannifin - Sales Company South Africa , Other technologies
They can also receive commands and parameter information from the controller and thus adapt to new requirements on a continuous basis. Two-way data flow helps facilitate what can be defined as a true 
...
Read more...
---
Addressing evolving hydraulics challenges
Fourth Quarter 2019 , Editor's Choice, Hydraulic systems & components
Using materials science and design technologies, Gates' engineers come up with innovative hydraulic hose solutions for ever-changing needs and challenges.
Read more...
---
Control for additive manufacturing
Fourth Quarter 2019, Beckhoff Automation , Editor's Choice, Electrical switching & drive systems & components
Colossus plans to manufacture large functional or decorative objects such as outdoor furniture and ornaments with a new 3D printer that processes recycled plastics, and this creates further special 
...
Read more...
---
On the way towards fully electrified mining machines
Fourth Quarter 2019, Parker Hannifin - Sales Company South Africa , Editor's Choice, Electrical switching & drive systems & components
The more time humans spend working in mining conditions, and near mining vehicles, the more likely they are to be injured, contract illnesses or die in accidents. According to the UN's International 
...
Read more...
---
The Bloodhound
Fourth Quarter 2019, Bloodhound Technologies , Editor's Choice, News & events
The Bloodhound project is back on track. The British team developing a car capable of reaching 1600 kmph is in South Africa for several weeks of high-speed testing on the dry desert track at Hakskeenpan 
...
Read more...
---
Robot with air-water actuators has fluid motion
Fourth Quarter 2019 , Editor's Choice, Robotics & Mechatronics
Hydraulics and pneumatics are widely used for power transmission: hydraulics for moving heavy loads with highly controlled motion, and pneumatics for lighter loads and rapid, repetitive motions. Many 
...
Read more...
---
Future-proof chair lift system
Fourth Quarter 2019, Siemens Digital Industries , Editor's Choice, Electrical switching & drive systems & components
At Snow Space, a winter sports resort near Salzburg, Bergbahnen Wagrain operates the Sonntagskogelbahn 2, a chair lift for taking skiing enthusiasts to the piste. New innovative drive technology guarantees 
...
Read more...
---
Rescue from the sky
Fourth Quarter 2019, Siemens Digital Industries , Editor's Choice, Other technologies
Zipline International designs and builds autonomous flying drones that transport medical supplies in hard to reach regions. The company uses design solutions from Siemens PLM Software. This enables the 
...
Read more...
---