printer friendly version
Pneumatic and hydraulic solutions
First Quarter 2020 Editor's Choice Pneumatic systems & components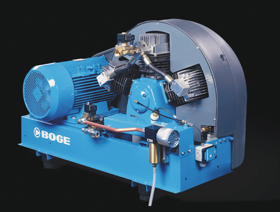 Berntel is expanding its footprint by offering its extensive range of pneumatic products through the Bearings International (BI) branch network. Acquired in 2014 as a complementary company to pneumatic and hydraulic automation solutions provider Ernest Lowe, Berntel expands the Hudaco Group's industrial offering in pneumatic, hydraulic, vacuum, process and automation solutions. It also manufactures its own pneumatic cylinders, as well as designing, building, and commissioning control systems, including PLC programming.
In addition, Berntel represents a range of well-known brands, such as JELPC, JORC Industrial (condensate drain management), VMECA (water-free units), Belef (actuation), Ober (air tools, air motors, and automation), Piab (vacuum technology), and BOGE (compressors and dryers). Target markets are food and beverage, automotive, general industry, sugar, pulp and paper, OEMs, machine builders, and agriculture.
Looking to 2020 GM, Neil Champion reveals that Berntel will introduce its latest Ober agency, an Italian designer and manufacturer of portable pneumatic tools, motors, automated machinery, and systems for drilling, tapping, threading and screwing, including power screwdrivers with electronic torque control. Another new agency is BOGE, a German producer of compressors for over 110 years. The Piab agency has also extended Berntel's offering into smart vacuum solutions. BI's smart solutions range from the efficient generation of clean, dry compressed air to condensate drain management, pneumatic, vacuum, process, and industrial components, and designing and programming control systems with PLC integration. Being part of the broader Hudaco Group allows BI to leverage synergies across a broad range of companies, meaning it can offer a complete product basket through its extensive branch network countrywide.
For more information contact Bearings International, +27 11 899 0000, info@bearings.co.za, www.bearings.co.za
Further reading:
maxon drives are heading to the Red Planet
Third Quarter 2020, DNH Tradeserve , Editor's Choice
NASA is sending its fifth rover to Mars. Its main mission is to collect soil samples that will be analysed on Earth at a later time. The rover will also carry a helicopter that will perform the first flights on the Red Planet. maxon's precision DC and BLDC motors will be used for numerous mission-critical tasks.
Read more...
---
The new mobility: how sensors control the cobots of the future
Third Quarter 2020, SICK Automation Southern Africa , Editor's Choice
The ongoing development of small, powerful and flexibly positionable robots that can collaborate with humans is progressing in leaps and bounds. Sensors from SICK Automation are an important component. 
...
Read more...
---
Innovative mobile robots
Third Quarter 2020, Omron Electronics , Editor's Choice
Tailor-made mobile robotics revolutionise human-machine collaboration in the automotive industry.
Read more...
---
From the editor's desk: The future is calling
Third Quarter 2020, Technews Publishing , Editor's Choice
The move to level 2 has brought a feeling of renewal. At last we can start thinking ahead and contemplating the future in this new digital world. SAFPA for one has taken the leap, and has engaged an association 
...
Read more...
---
Milling machines for the aircraft industry
Third Quarter 2020, Beckhoff Automation , Editor's Choice, Electrical switching & drive systems & components
In aircraft construction, exceptional component quality and precision are crucial. However sheet-metal aircraft parts are often very large, making machining and handling problematic. Harmuth CNC-Frästechnik 
...
Read more...
---
The role of hydraulics and pneumatics in smart mining technologies
Third Quarter 2020 , Editor's Choice, Pneumatic systems & components
A Bosch Rexroth South Africa perspective.
Read more...
---
Rethinking pneumatic technology for the factories of the future
Third Quarter 2020, Parker Hannifin Sales Company South , Editor's Choice, Pneumatic systems & components
As manufacturing continues its rapid journey to digitalisation, one must ask, what will become of conventional technologies? Take pneumatics for example, which remains based on the age old principle of 
...
Read more...
---
Do all wireless solutions solve real industry problems?
Third Quarter 2020, Festo South Africa , Editor's Choice, Pneumatic systems & components
Wireless technology makes use of devices that allow us to communicate without using cables or wires and it plays a role in solving complex engineering problems. With this platform machines can communicate 
...
Read more...
---
The future of collaborative robots
Third Quarter 2020, Omron Electronics , Editor's Choice, Robotics & Mechatronics
Collaborative robots (cobots) that can work safely in the same environment as people have an important role in enabling flexible manufacturing and creating a competitive advantage for companies. A new 
...
Read more...
---
Moving into 2020 with Festo digitalised products
Second Quarter 2020, Festo South Africa , Editor's Choice
HoloLens, mobile phones, 3D printing and smart glasses – the gadgets that captured the public imagination in the blockbuster movie 'Back to the Future' over 30 years ago have now become a reality, all 
...
Read more...
---