printer friendly version
Digital factory revenues to jump to US$375 billion by 2030
First Quarter 2020
Other technologies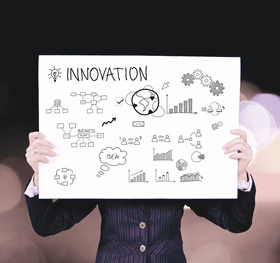 Technology investments in the industrial and manufacturing sector are set to skyrocket, jumping from $59 billion in 2019 to $375 billion in 2030. Including hardware revenues, that figure climbs to over US$1 trillion, according to data from global tech market advisory firm, ABI Research.
Manufacturing is in the midst of a major digital revolution and is investing in Industrial Internet of Things (IIoT) technologies like Artificial Intelligence (AI), Augmented Reality (AR), robotics (AGVS, AMRs) and cloud-based simulation and modelling. "The transformative shift toward Industry 4.0 technologies and the broader field of software-defined manufacturing (SDM) presents a massive opportunity for a wide range of technology providers and implementers," says Ryan Martin, principal analyst at ABI Research.
Intelligently connected hardware represents the largest share of revenue, growing from $200 billion in 2019 to a staggering $800 billion in 2030, but will diminish in proportion as associated software and services take hold. After hardware, data and analytic services is the fastest-growing segment in terms of revenue generation, reaching more than $185 billion in 2030, up from just $11 billion in 2019. "As the amount of custom code required to deploy new solutions on the factory floor drops, data and analytic service revenue growth in smart manufacturing will accelerate," Martin explains.
Machine tools, asset tracking and connected PLCs will experience the most growth in terms of connected service revenue over the next 10 years. By 2030, machine tools such as 3D printers, computer numerical control (CNC) machines, lathes, mills and industrial drills, will grow in revenues to $134 billion; asset tracking will reach $78 billion, and Connected Programmable Logic Controllers (PLCs) will hit $40 billion. According to Martin, "Industry 4.0 is creating millions of new end points that need to be interconnected. However, the existing infrastructure can't support it, which is creating an opportunity for connectivity experts and providers to step in."
Currently, there are 260 million digital factory connections, with 230 million of those connections made via a fixed line. But, by 2023, a vast number of the 5,5 billion digital factory connections will be wireless. "This is driven by the rise in newly connected endpoints, including sensors, mobile robots (AGVs, AMRs), advanced asset tracking (RTLS), condition-based monitoring, and predictive maintenance applications," says Martin.
The leading industries driving these revenues overall include automotive, heavy machinery, food, beverage, tobacco products and electronics. And, although Industry 4.0 is a global phenomenon, roughly half of the global revenue opportunities will be concentrated in China and the United States, followed by Germany and Japan. Furthermore, the United States leads the way in most industries such as automotive, while China leads in nonmetallic machinery.
"There is a long and compelling list of digital transformation technologies and pilot projects that are now graduating to the factory floor. The companies and production environments embracing these opportunities have quickly seen the benefits and want to scale, rather than risk falling behind," concludes Martin.
For more information contact Deborah Petrara, ABI Research, +44 203 326 0140, petrara@abiresearch.com, www.abiresearch.com
Further reading:
Pressure measurement converter for harsh industrial conditions
First Quarter 2020, Instrotech , Other technologies
Instrotech is offering Kobold's PNK pressure measurement converter, used for the electrical remote transmission of pressure. For use in heavy machinery, engines, shipbuilding and automotive engineering, 
...
Read more...
---
Three lubrication myths
First Quarter 2020 , Other technologies
As specialists in lubrication reliability solutions, the team at Lubrication Engineers (LE) South Africa frequently comes up against myths relating to lubricants. "People believe things or are taught 
...
Read more...
---
Top 5 industrial automation trends in 2020
First Quarter 2020 , Other technologies
1. Deploying IIoT edge 2.0 solutions
The edge of IIoT enabled architectures is becoming increasingly important due to their role in digital transformation strategies. Initially focused on delivering 
...
Read more...
---
Food grade chain hoists
First Quarter 2020, Becker Mining South Africa , Other technologies
New to Becker's range of Kito hoists are food grade electric chain hoists, designed for safe lifting applications in contaminant controlled and corrosive processing environments, where pristine cleanliness 
...
Read more...
---
Why are half of IIoT deployments failing?
First Quarter 2020 , Other technologies
The global Industrial IIoT business is arriving at a tipping point, with the industry reaching a connectivity milestone next year that will pave the way for market-changing events like the proliferation 
...
Read more...
---
How real is augmented reality?
First Quarter 2020, Absolute Perspectives , Other technologies
The early morning air was cold when we arrived at the mine for an underground visit. Our hosts were keen to show us the practical challenges of the drilling and blasting operation, and the many ways in 
...
Read more...
---
Switched interlocked socket range
First Quarter 2020, Powermite - Div. of Hudaco Trading , Other technologies
Powermite's range of plastic switched interlocked sockets form part of a new series of cutting edge Gen 2 plastic industrial plugs and connectors which are poised to raise the bar for efficiency, versatility 
...
Read more...
---
Universal industrial Ethernet absolute encoder
First Quarter 2020, Vepac Electronics , Other technologies
Do you use different protocols on your machines or carry out repairs and don't always know what to expect? With Vepac's WDGA universal IE encoder you are completely flexible. You do not have to worry 
...
Read more...
---
Protecting with lubrication
First Quarter 2020 , Other technologies
Proper lubrication is essential to the correct functioning of mechanical equipment and ensures its longevity. "Even over-lubricating is problematic as it causes grease churning and overheating, which 
...
Read more...
---
Diagnostic videoscope for maintenance
First Quarter 2020, Comtest , Other technologies
Industrial inspections require a powerful, high resolution videoscope that clearly displays the condition of internal equipment components. High resolution videoscopes allow industrial maintenance teams 
...
Read more...
---