printer friendly version
Protecting with lubrication
First Quarter 2020
Other technologies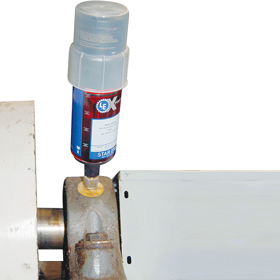 Proper lubrication is essential to the correct functioning of mechanical equipment and ensures its longevity. "Even over-lubricating is problematic as it causes grease churning and overheating, which can eventually damage a machine's motor coils or windings," says Callum Ford, national marketing manager at Lubrication Engineers (LE). "We advise customers to use the minimum quantity lubrication at the correct interval to protect equipment, minimise costs and ultimately optimise their businesses."
LE's Xport battery powered grease gun with clear grease tube is especially useful for lubricating hard to reach areas or equipment that requires frequent or large scale lubrication. "We estimate that 60 to 80% of bearing failures are lubricant related, including problems caused by grease cross-contamination," says Ford. "The grease gun allows for easy and 100% accurate visual identification, eliminates cross-contamination and enhances existing lubrication reliability programmes."
For larger scale applications, Ford suggests LE's single point lubrication systems, which are essentially microcomputer lubricators. "With our range of top-quality Xport Perma single point applicators, customers can ensure they deliver precise, timed lubrication without the need for time-consuming manual lubricant application," he says. "The exact greasing quantity and regreasing intervals for each bearing can be easily calculated and managed by the MQL schedule. In addition, the RFID system helps customers to track, monitor and fix lubrication-related issues during routine inspections, thus simplifying and improving their plant maintenance."
Single point lubricators remove the uncertainty in greasing intervals and grease volumes on each bearing, as well as ensuring no lubrication point is missed during inspection. They enable easy tracking of bearing problems and ultimately reduce maintenance costs.
For more information contact Callum Ford, Lubrication Engineers, +27 11 464 1735, callum@lubricationengineers.co.za, www.lubricationengineers.co.za
Further reading:
Pressure measurement converter for harsh industrial conditions
First Quarter 2020, Instrotech , Other technologies
Instrotech is offering Kobold's PNK pressure measurement converter, used for the electrical remote transmission of pressure. For use in heavy machinery, engines, shipbuilding and automotive engineering, 
...
Read more...
---
Three lubrication myths
First Quarter 2020 , Other technologies
As specialists in lubrication reliability solutions, the team at Lubrication Engineers (LE) South Africa frequently comes up against myths relating to lubricants. "People believe things or are taught 
...
Read more...
---
Top 5 industrial automation trends in 2020
First Quarter 2020 , Other technologies
1. Deploying IIoT edge 2.0 solutions
The edge of IIoT enabled architectures is becoming increasingly important due to their role in digital transformation strategies. Initially focused on delivering 
...
Read more...
---
Food grade chain hoists
First Quarter 2020, Becker Mining South Africa , Other technologies
New to Becker's range of Kito hoists are food grade electric chain hoists, designed for safe lifting applications in contaminant controlled and corrosive processing environments, where pristine cleanliness 
...
Read more...
---
Digital factory revenues to jump to US$375 billion by 2030
First Quarter 2020 , Other technologies
Technology investments in the industrial and manufacturing sector are set to skyrocket, jumping from $59 billion in 2019 to $375 billion in 2030. Including hardware revenues, that figure climbs to over 
...
Read more...
---
Why are half of IIoT deployments failing?
First Quarter 2020 , Other technologies
The global Industrial IIoT business is arriving at a tipping point, with the industry reaching a connectivity milestone next year that will pave the way for market-changing events like the proliferation 
...
Read more...
---
How real is augmented reality?
First Quarter 2020, Absolute Perspectives , Other technologies
The early morning air was cold when we arrived at the mine for an underground visit. Our hosts were keen to show us the practical challenges of the drilling and blasting operation, and the many ways in 
...
Read more...
---
Switched interlocked socket range
First Quarter 2020, Powermite - Div. of Hudaco Trading , Other technologies
Powermite's range of plastic switched interlocked sockets form part of a new series of cutting edge Gen 2 plastic industrial plugs and connectors which are poised to raise the bar for efficiency, versatility 
...
Read more...
---
Universal industrial Ethernet absolute encoder
First Quarter 2020, Vepac Electronics , Other technologies
Do you use different protocols on your machines or carry out repairs and don't always know what to expect? With Vepac's WDGA universal IE encoder you are completely flexible. You do not have to worry 
...
Read more...
---
Diagnostic videoscope for maintenance
First Quarter 2020, Comtest , Other technologies
Industrial inspections require a powerful, high resolution videoscope that clearly displays the condition of internal equipment components. High resolution videoscopes allow industrial maintenance teams 
...
Read more...
---