printer friendly version
Control Techniques drives double production
January 2011 Electrical switching & drive systems & components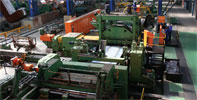 Macsteel sells steel and value-added steel products. As part of the company's production process, a FIMI heavy gauge cutting and shearing line cuts steel to length in thicknesses up to 12 mm. A new flying cut-to-length installation on a heavy gauge steel production line has doubled line throughput, reduced downtime and improved accuracy. The control system for this demanding task was a suite of 24 AC and DC drives designed by Control Techniques.
This was achieved with a flying shear that followed the line speed of the steel as the cut was made, avoiding stopping and starting of the line and maximising productivity. When the time came for an electrical and control upgrade of the system, Macsteel specified tighter tolerances on cut lengths as well as high reliability in order to cut machine down-time.
Before the upgrade, the machine had a throughput which was inadequate. As a major user of Control Techniques drives, Macsteel approached the local Control Techniques Drive Centre, knowing the company's experience in the steel industry and proven record on flying shear and cut-to-length systems in the steel industry worldwide. Local expertise, on-site support and stock-holding of spares was a further factor in their choice.
The system proposed by Control Techniques comprised a total of 24 drives which were housed in an eight metre suite of cubicles with three new control desks. The main desk had full line control on an 8,4 inch colour touch screen with graphics. The drives included a 340 kW/900 A Mentor DC drive for the leveller, 150 kW/ 420 A Mentor DC drives for the straightener and edge trimmer, and 75 k/210 A DC drives for the flying shear itself. 20 Unidrive SP AC drives were provided for other duties on the line, such as conveyors and run-out table.
The whole system was designed by Control Techniques and the panels were built at the company's Gauteng Drive Centre. Macsteel installed the system from drawings supplied by Control Techniques, after which the machine was fully commissioned by Control Techniques engineers.
The program for the FIMI line was written by Control Techniques software engineers using the company's software tool, Sypt Pro. A master/follower control philosophy was incorporated, with the leveller being the 'master' of the line. All drives on the line were connected using Control Techniques' high-speed network CT-Net, allowing extensive data collection as well as fault diagnosis.
Now the machine is capable of running at 2X faster and can accelerate, in absolute synchronism, from stop to full speed in under two seconds! The result? The upgraded FIMI machine has doubled its line speed. Downtime has been all but eliminated, increasing monthly throughput further thanks to the ultra-reliability of the Control Techniques AC and DC drives. What is more, Macsteel has reported that accuracies have improved well within the very tight tolerances specified and Macsteel is so delighted with the result that further orders on rotary knife applications have already been placed with the South African Drive Centre.
The Mentor digital drive encompasses a wide power range from 25 to 1850 amps in single or four-quadrant format. It has good systems potential and can be programmed locally using the main control panel, or remotely using serial communications. The powerful plug-in application coprocessor, MD29, gives the Mentor local intelligence, programmed in this case using the SYPT Pro and CT Net fieldbus communications interface.
For more information contact Hans Burri, DNH Tradeserve, +27 (0)11 468 2722, hans.burri@dnhtrade.co.za, www.dnhtrade.co.za
Credit(s)
Further reading:
maxon is flying to the sun
First Quarter 2020, DNH Tradeserve , Editor's Choice
The European Space Agency (ESA) wants to study the sun up close. Next month the agency will be launching the Solar Orbiter space probe. Scientists hope that the mission will provide them with new insights 
...
Read more...
---
Integrated drive technology for optimised machine design
Second Quarter 2020, Beckhoff Automation , Editor's Choice, Electrical switching & drive systems & components
In this way, the power electronics are relocated to the machine, reducing space requirements in control cabinets to just a single coupling module. In addition, decentralised distribution modules and the 
...
Read more...
---
More intelligent drive systems
Second Quarter 2020, Siemens Digital Industries , Electrical switching & drive systems & components
Siemens has developed a concept study that demonstrates the integration of a Sinamics drive system to the Siemens Industrial Edge platform. In future, it will be possible to perform high frequency data 
...
Read more...
---
Meeting the needs of the mining industry
Second Quarter 2020, Varispeed (Div. of Hudaco Trading) , Electrical switching & drive systems & components
Both above and below ground, Varispeed keeps the interests of its customers top of mind, all the time. The company was recently approached by a platinum mine to assist with a robust application. Three 
...
Read more...
---
ZEST Weg to offer geared motors
Second Quarter 2020, Zest WEG Group Africa , Electrical switching & drive systems & components
A new range of WEG geared motors will soon be available to customers in South Africa and the rest of the continent from Zest WEG. The WEG WG20 range is a natural extension of the company's offering in 
...
Read more...
---
Decentralised electric drives from Festo
Second Quarter 2020, Festo , Electrical switching & drive systems & components
The Festo Simplified Motion electric drive series combines the simplicity of pneumatics with the advantages of electric automation to ensure that your machines are faster and better connected. It includes 
...
Read more...
---
Electrohydrostatic pump unit
Second Quarter 2020, MOOG , Electrical switching & drive systems & components
MOOG has launched a new generation electrohydrostatic pump Unit (EPU) that helps machine builders and end-users derive the combined benefits of both hydraulic and electric actuation. The EPU is at the 
...
Read more...
---
Gearmotors for electrified monorail system
Second Quarter 2020, SEW-Eurodrive , Editor's Choice, Electrical switching & drive systems & components
A leading systems integrator for the automotive industry has adapted a Maxolution electrified monorail system (EMS) and 23 HK Series gear units for overhead trolley systems from SEW-Eurodrive for a major 
...
Read more...
---
Electromechanical motion products for today's machines
Second Quarter 2020, Parker Hannifin - Sales Company South Africa , Electrical switching & drive systems & components
Stroke capacity
Among the fundamental questions to ask is: Does the actuator offer various stroke lengths as standard? A product using a ball or leadscrew drive is commonly restricted to stroke lengths 
...
Read more...
---
Save energy costs with VFDs
Second Quarter 2020, ElectroMechanica , Electrical switching & drive systems & components
Customers can realise significant savings on their total energy costs by replacing older motor starters with energy-efficient Delta variable frequency drives (VFDs), distributed locally by ElectroMechanica 
...
Read more...
---