printer friendly version
3D printing of face masks
1 April 2020 Other technologies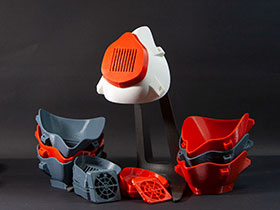 SEW-Eurodrive has joined a nationwide campaign to use 3D printing technology to produce much needed face masks and shields for healthcare workers and first responders. Since the announcement of a national lockdown to flatten the curve of the Covid-19 pandemic in South Africa, there has been a global shortage of such critical personal protective equipment (PPE).
The initiative was organised by 3D printing solutions provider Additive Manufacturing Solutions (AMS), with managing director Bernhard Vogt calling on all companies and individuals equipped with such technology to join the campaign. To date, the initiative has produced an astonishing 15 000 face shields to meet the needs of private healthcare providers such as Netcare and the Department of Health.
Vogt says he was inspired to mobilise local 3D printing resources in the race to provide much needed PPE after Europe embarked upon a similar initiative. "Only after South Africa's cases started to escalate after the national lockdown was implemented did the dire need for such gear become apparent."
SEW-Eurodrive, which has a state-of-the-art 3D printer in its design department, responded to the rallying cry, and an engineer is printing masks from the safety of his home. The project is being overseen by the design and engineering departments.
"Not only do we adhere to all of the lockdown regulations and stipulations, but are making a positive and practical contribution to keeping healthcare workers and first-line responders safe so they can carry on with their important roles," says MD, Raymond Obermeyer.
"These are difficult times for the entire country. When we heard of the initiative being spearheaded by AMS, it was an ideal opportunity for us to showcase both our design and engineering capabilities in support of such an essential cause," he explains.
"This is an excellent example of the values that underpin our company. We do not stand back in the face of any challenge, but rather take the initiative to come up with viable solutions. While the rest of our employees are working securely from home, they do so in the knowledge that SEW-Eurodrive is playing a critical role in keeping us all safe by ensuring that the people at the frontline of the battle against the spread of the Covid-19 pandemic in South Africa are protected at all times," Obermeyer concludes.
For more information contact Jana Klut, SEW-Eurodrive, +27 11 248 7000, jklut@sew.co.za, www.sew-eurodrive.co.za
Further reading:
Schneider Electric brings digital competence to mining applications
First Quarter 2020, Schneider Electric South Africa , Other technologies
Schneider Electric is dedicated to the deployment of digital technologies in mining to address the rising pressures on business sustainability and reduced energy consumption. "The organisation has 
...
Read more...
---
Gearmotors for electrified monorail system
First Quarter 2020 , Other technologies
A leading systems integrator for the automotive industry has adapted a Maxolution electrified monorail system (EMS) and 23 HK Series gear units for overhead trolley systems, from SEW-Eurodrive, for a 
...
Read more...
---
Aluminium profiles for COVID-19 protection screens
First Quarter 2020, Tectra Automation , Other technologies
Rexroth aluminium profiles from Tectra Automation are used to safeguard personnel across a range of industries and numerous applications. The durable composition of these profiles and their adaptability 
...
Read more...
---
Pressure measurement converter for harsh industrial conditions
First Quarter 2020, Instrotech , Other technologies
Instrotech is offering Kobold's PNK pressure measurement converter, used for the electrical remote transmission of pressure. For use in heavy machinery, engines, shipbuilding and automotive engineering, 
...
Read more...
---
Three lubrication myths
First Quarter 2020 , Other technologies
As specialists in lubrication reliability solutions, the team at Lubrication Engineers (LE) South Africa frequently comes up against myths relating to lubricants. "People believe things or are taught 
...
Read more...
---
Top 5 industrial automation trends in 2020
First Quarter 2020 , Other technologies
1. Deploying IIoT edge 2.0 solutions
The edge of IIoT enabled architectures is becoming increasingly important due to their role in digital transformation strategies. Initially focused on delivering 
...
Read more...
---
Food grade chain hoists
First Quarter 2020, Becker Mining South Africa , Other technologies
New to Becker's range of Kito hoists are food grade electric chain hoists, designed for safe lifting applications in contaminant controlled and corrosive processing environments, where pristine cleanliness 
...
Read more...
---
Digital factory revenues to jump to US$375 billion by 2030
First Quarter 2020 , Other technologies
Technology investments in the industrial and manufacturing sector are set to skyrocket, jumping from $59 billion in 2019 to $375 billion in 2030. Including hardware revenues, that figure climbs to over 
...
Read more...
---
Why are half of IIoT deployments failing?
First Quarter 2020 , Other technologies
The global Industrial IIoT business is arriving at a tipping point, with the industry reaching a connectivity milestone next year that will pave the way for market-changing events like the proliferation 
...
Read more...
---
How real is augmented reality?
First Quarter 2020, Absolute Perspectives , Other technologies
The early morning air was cold when we arrived at the mine for an underground visit. Our hosts were keen to show us the practical challenges of the drilling and blasting operation, and the many ways in 
...
Read more...
---