printer friendly version
Hydraulic pumps with higher flow
Second Quarter 2020
Hydraulic systems & components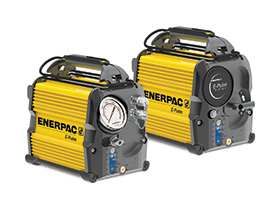 BMG has recently launched a new range of portable hydraulic electric Enerpac E-pulse pumps, which are critical to all 700 bar operating hydraulic systems. These E-pulse pumps have intelligent auto-cycle functionality and an efficient power to weight ratio, to ensure dependable operation and high productivity in challenging industrial applications.
E-Pulse pumps, with a compact design and well organised components, are fitted with a smart, brushless DC motor and controller that automatically varies the speed to maximise flow at any pressure.
"Our new lightweight Enerpac pumps are able to provide power to various 700 bar hydraulic cylinders, nut cutters and torque wrenches quickly and efficiently. E-Pulse pumps are able to operate hydraulic tools as fast as pumps with motors larger than 0,75 kW. These pumps are currently the only hydraulic torque wrench pumps on the market with intelligent auto-cycle functionality and are the only pumps available that allow an operator to vary the speed between 25% and 100% of full speed," says Enerpac product manager, Chantelle Janse van Rensburg. "E-Pulse hydraulic electric pumps have an adjustable speed dial which allows the operator to adjust the speed to suit the specific task, ensuring precise control of large and small hydraulic cylinders and nut cutters, as well as quick and safe completion of work."
For bolting applications, the operator can set the pressure and operate the torque wrench pump in either 'manual' or 'auto-cycle' mode. The intelligent auto-cycle function enables press-and-release actuation to the cycle wrench until final torque is achieved, significantly improving completion speed in every application.
The E-pulse range features a new interactive pendant that delivers visual and tactile feedback, as well as programming and diagnostic status to the operator. The IP67-rated pendant, with protection against the ingress of dust and water, can be stored in the handle of the pump and is secured via a magnet. Operation, programming and diagnostics status are communicated to the operator through yellow, green and red light emitting diodes (LED) as well as vibration pulses. Fault codes indicate any issues related to voltage, temperature and button malfunction, or if professional service is required.
The new E-series pump range is a high-performance pump, with a 63 kW direct-drive motor, has a six-piston block design that provides even flow and smooth operation of connected tools. Various models are available, with a choice of five valves: 3/2 jog, 4/3 jog, 3/2 dump-and-hold, 3/2 dump and 4/2 torque wrench. Flow at rated pressure is 520 ml/min, with a maximum operating pressure of 690 bar.
Additional features include a 24 V DC power regulator, built-in thermal protection, a 7 metre pendant cord on the torque wrench pump and a 3 metre pendant cord on the other four pumps. All models in this range are fitted with a convenient cord management system.
BMG's E-series pumps feature an IP54-rated durable aluminium housing which encloses the system components for maximum protection and easy service accessibility. These torque wrench pumps are fitted with an Enerpac Speed-D-Coupler pre-calibrated (calibration certificate included), 10 cm gauge and feature an integrated heat exchanger that cools the pump during operation. System components are enclosed for added protection and housing fins provide heat dissipation. Other features include impact absorbing, vibration dampening feet and an integrated roll-cage design.
This system has been designed for easy access to components during maintenance procedures. The pump has an oil level indicator, convenient oil fill port as well as automatic breather which needs no adjustment. Draining of oil is not required for pump element maintenance.
BMG's range of Enerpac high-pressure hydraulic equipment ensures quick, safe and dependable operation in many industries, including mining, oil and gas and power generation, as well as infrastructure and manufacturing.
For more information contact Chantelle Janse van Rensburg, BMG, +27 11 620 1606, chantellej@bmgworld.net, www.bmgworld.net
Credit(s)
Further reading:
HydraForce electro-proportional valves
Second Quarter 2021, Bearing Man Group T/A BMG , Hydraulic systems & components
BMG supplies a wide range of HydraForce electro-proportional valves, which are suitable for use in many applications in agriculture, construction, materials handling, fluid conveyance, mining and quarrying. 
...
Read more...
---
Breathers and spin-on elements
Second Quarter 2021, Bearing Man Group T/A BMG , Hydraulic systems & components
BMG's fluid technology filtration solutions comprise a wide range of fluid power components and systems, which are supported by the team's broad technical capabilities to ensure fluids operate within 
...
Read more...
---
BMG contributes to YES programme
Second Quarter 2021, Bearing Man Group T/A BMG , News & events
BMG – part of the Engineering Solutions Group (ESG) of Invicta Holdings – is participating in South Africa's Youth Employment Service (YES) Programme, which is a joint initiative between the government 
...
Read more...
---
In-field valve positioner
Second Quarter 2021, Comtest, Comtest , Hydraulic systems & components
Valves, the actuators that move them, and the electronic circuits that control them, are all subject to the effects of ageing soon after they are installed. The valve seat wears not only from the repeated 
...
Read more...
---
Forklift products and technologies
Second Quarter 2021, Parker Hannifin - Sales Company South Africa , Hydraulic systems & components
The lift truck industry is growing not only in volume, but in sophistication. The demand for friendly interfaces, predictable performance, increased productivity, IIoT connectivity and environmental safety 
...
Read more...
---
Proportional flow control valve
Second Quarter 2021, Axiom Hydraulics , Hydraulic systems & components
Sun Hydraulics has released the company's first solenoid-operated, three-way proportional flow control valve as part of the expanding line of FLeX Series valves. The patent-pending, compact FREP combines 
...
Read more...
---
Power transmission solutions in the mining sector
Second Quarter 2021, Bearing Man Group T/A BMG , Electrical switching & drive systems & components
BMG's range of Tsubaki back stop cam clutches, which is suitable for high or low speed applications, meets the requirements of current mining legislation and has many critical features not found in conventional 
...
Read more...
---
Swagefast lockbolt pins and collars
Second Quarter 2021, Bearing Man Group T/A BMG , Other technologies
BMG's locally manufactured Swagefast lockbolt pins and collars ensure increased productivity and reliability in heavy duty, high vibration applications, especially where structural integrity is critical 
...
Read more...
---
High pressure hydraulic pumps
Second Quarter 2021, Axiom Hydraulics , Hydraulic systems & components
Axiom Hydraulics has the agency for the Eckerle range of high pressure hydraulic pumps. The Eckerle product line comprises gap compensated internal gear pumps for industrial, mobile and automotive markets. 
...
Read more...
---
Lubrication-free roller chain
First Quarter 2021, Bearing Man Group T/A BMG , Shaft power components
BMG's extensive range of Tsubaki chain products encompasses the Lambda lubrication-free roller chain series, which has been designed for industries where clean working environments are required and where 
...
Read more...
---