printer friendly version
SMC offers services as well as components
Second Quarter 2020
Pneumatic systems & components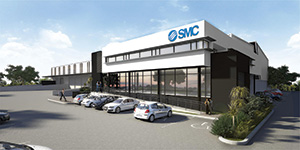 Besides being a leading supplier of industrial automation components, SMC South Africa also offers value-added services. One of these is in-house control panel design and construction. This takes a labour-intensive and time-consuming task away from customers who are not in the business of panel design and construction.
The local and international SMC production departments offer dedicated design facilities using the latest CAD package and have vast experience in panel layout and design. During the consultation process, all the panel requirements are captured and loaded as a unique project onto an internal project management system, EPICS. This system creates a project that manages customer data, drawings, communication, quotes and any other relevant information, and allocates a unique project number that can be accessed at any time during and after completion of the project. Each panel is given a unique part number that can be reordered at any time, and will be an exact replica of the original. Another important aspect is the correspondence log, which stores all communication between the sales engineer, the sales engineering department (SEG) and the local or international production department. The idea is to create a centralised database of all projects that can be accessed by any of the SMC subsidiaries worldwide. Project workflow is as follows:
1. Sales engineer captures information from the customer.
2. Sales engineer creates a project using EPICS and forwards on to the SEG.
3. SEG verifies project information and feasibility.
4. Project is sent to the production department.
5. Drawings are created and budget prices loaded.
6. Sales engineer presents drawings to the customer.
7. Drawings are accepted or modified as requested.
8. Signed drawings are loaded onto the project.
9. Official pricing is loaded onto the system.
10. Panel goes into production.
During production, strict control is adhered to, ensuring the high-quality workmanship customers have come to expect from SMC. All completed panels are tested, checked against the final specifications and packaged for dispatch. Industries supported include automotive, packaging, pharmaceutical, mining, food and beverage, OEMs, and water and wastewater.
Other services offered by SMC South Africa include customised cylinders, local valve terminal and air service unit configuration and production, airline audits, and expert consultation on any of over 12 000 products.
Further reading:
Highly flexible pick and place with digitised pneumatics from Festo
First Quarter 2021, Festo , Pneumatic systems & components
A wide range of products, functions and complete solution packages are integrated into the Festo Motion Terminal. One of these products is Motion Apps, which heralds a new Industry 4.0 era. Motion Apps 
...
Read more...
---
Smart positioners of the future
First Quarter 2021 , Pneumatic systems & components
SMC's new range of smart positioners was designed to pair perfectly with a variety of process control valves and actuators.
Read more...
---
Locally built air dryers for hospitals
Fourth Quarter 2020, Artic Driers International , Pneumatic systems & components
Artic Driers recently partnered with an NGO (non-governmental organisation) called Save-P to develop a locally designed compressed air dryer and filter bank providing breathing-quality air for hospitals 
...
Read more...
---
Efficient pneumatic performance with multifunctional sensor
Fourth Quarter 2020, SICK Automation Southern Africa , Pneumatic systems & components
SICK Automation's recently introduced multifunctional FTMg (flow thermal meter for gases) flow sensor detects pneumatic system leakages well before pressure loss causes machine failure. It is engineered 
...
Read more...
---
Festo Motion Terminal VTEM bolsters productivity
Third Quarter 2020, Festo , Pneumatic systems & components
The world's first valve to be controlled by apps.
Read more...
---
SMC launches wireless valve bank in SA
Third Quarter 2020 , Pneumatic systems & components
In response to customer demand for a reliable communication system, which could limit the number of cables needed to communicate between multiple valve banks/field sensors and a PLC, a wireless communication 
...
Read more...
---
The role of hydraulics and pneumatics in smart mining technologies
Third Quarter 2020 , Editor's Choice, Pneumatic systems & components
A Bosch Rexroth South Africa perspective.
Read more...
---
Quick, easy leak detection
Third Quarter 2020, SKF South Africa , Pneumatic systems & components
Compressed air production is an integral part of manufacturing plants but it is also one of the largest energy consumers. Air leaks amplify the load on a compressor, leading to higher electricity consumption 
...
Read more...
---
Rethinking pneumatic technology for the factories of the future
Third Quarter 2020, Parker Hannifin - Sales Company South Africa , Editor's Choice, Pneumatic systems & components
As manufacturing continues its rapid journey to digitalisation, one must ask, what will become of conventional technologies? Take pneumatics for example, which remains based on the age old principle of 
...
Read more...
---
SA-built air dryer for food and beverage
Third Quarter 2020, Artic Driers International , Pneumatic systems & components
The SA Series of air dryer offers an ideal solution for cleaning and drying compressed air for any food and beverage operation.
Read more...
---