printer friendly version
Locally built compressed air dryer
Second Quarter 2020
Pneumatic systems & components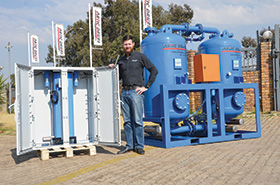 The impact of the Covid economy on the compressed air market has left its mark. The ability of importers like Artic Driers to import equipment was severely affected due to massively increased air freight costs, along with a slowdown at docks due to reduced staff levels. "This situation will not change for many months," says Artic Driers International CEO, Allen Cockfield.
Artic is an essential service supplier, so its operations have continued at a reduced capacity. To compensate, Artic has developed Pro Bono, a totally locally made low dewpoint air dryer rig for breathing air systems, that can be used in a Covid emergency hospital unit.
"The project was challenging but interesting, especially the design of a variety of filter casings to be built locally for these sets." adds Cockfield. "It was a logical progression from what we have been doing quietly for the last 12 months. Artic has built a large number of low dewpoint heatless adsorption air dryers of different sizes for a range of clients in widely different industries."
Due to the Covid-related transport and freight restraints, the new SA series of dryers has only now been officially released. The range will provide clients with shorter lead times than imported units. The units are less expensive, and most importantly they use local materials, labour and suppliers. Ranging from 3 to 42 m3/min at pressures up to 15 bar, the SA series will suit the needs of the majority of Artic's clients. The smaller modular HDD series dryers less than 3 m3/min will continue to be imported from Malaysia.
The SA series of dryers is conservatively designed and based on 30 years of Artic Driers experience. Long contact times and larger than normal desiccant loads mean that the dryer can provide -40⁰C PDP compressed air for a manufacturing plant or a medical facility with ease. Heavy-duty design and construction, along with simple controls, have been deliberately included to ensure reliability and ease of maintenance on site.
The IP45 panel has a simple adjustable timer sequence. The control panel timing sequences can be changed easily on site if needed. Another feature is the use of an optional dewpoint probe to display drying performance in the straight timer mode, or the dryer can be controlled by the same probe and the timing cycles can be prolonged, thereby reducing compressed air purge losses.
These features do not result in a high cost of ownership. Prices are competitive and well balanced. "This fact is borne out by the number of dryers currently in the build programme for clients," concludes Cockfield.
For more information contact Allen Cockfield, Artic Driers International, +27 11 420 0274, allen@articdriers.co.za, www.articdriers.co.za
Credit(s)
Further reading:
Compressed air purity analyser
Second Quarter 2021, Artic Driers International , Pneumatic systems & components
Compressed air treatment using filters and dryers is an effective barrier to airline contamination. Until recently, auditing the compressed air quality in a system was difficult, but clients and professional 
...
Read more...
---
Critical compressed air on platinum mine
Second Quarter 2021 , Pneumatic systems & components
The mining industry is a vital cog in the economic workings of South Africa, in particular platinum mines, of which the country has significant reserves, that are among the largest worldwide. Yet, if 
...
Read more...
---
Tectra Automation contracted for PG Bison's MFB press upgrade
Second Quarter 2021, Tectra Automation , Pneumatic systems & components
Tectra Automation has provided all the pneumatic and vacuum equipment required for the installation and commissioning of PG Bison's sixth melamine-faced board (MFB) press. The press, which came online 
...
Read more...
---
Festo at the heart of absolute automation
Second Quarter 2021, Festo , Pneumatic systems & components
Festo is renowned as one of the leading pneumatic automation suppliers. Over the years, the company has also set the pace in both Process and Electric Automation. This is backed by its proven record of 
...
Read more...
---
Highly flexible pick and place with digitised pneumatics from Festo
First Quarter 2021, Festo , Pneumatic systems & components
A wide range of products, functions and complete solution packages are integrated into the Festo Motion Terminal. One of these products is Motion Apps, which heralds a new Industry 4.0 era. Motion Apps 
...
Read more...
---
Smart positioners of the future
First Quarter 2021 , Pneumatic systems & components
SMC's new range of smart positioners was designed to pair perfectly with a variety of process control valves and actuators.
Read more...
---
Locally built air dryers for hospitals
Fourth Quarter 2020, Artic Driers International , Pneumatic systems & components
Artic Driers recently partnered with an NGO (non-governmental organisation) called Save-P to develop a locally designed compressed air dryer and filter bank providing breathing-quality air for hospitals 
...
Read more...
---
Efficient pneumatic performance with multifunctional sensor
Fourth Quarter 2020, SICK Automation Southern Africa , Pneumatic systems & components
SICK Automation's recently introduced multifunctional FTMg (flow thermal meter for gases) flow sensor detects pneumatic system leakages well before pressure loss causes machine failure. It is engineered 
...
Read more...
---
Festo Motion Terminal VTEM bolsters productivity
Third Quarter 2020, Festo , Pneumatic systems & components
The world's first valve to be controlled by apps.
Read more...
---
SMC launches wireless valve bank in SA
Third Quarter 2020 , Pneumatic systems & components
In response to customer demand for a reliable communication system, which could limit the number of cables needed to communicate between multiple valve banks/field sensors and a PLC, a wireless communication 
...
Read more...
---