printer friendly version
E-Motion on the bike
1 August 2020 Editor's Choice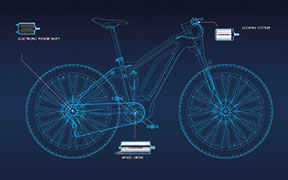 The bicycle is a part of locomotion culture in Germany. Over 97% of people in Germany can ride a bike. They use bicycles not only for bike tours in their free time but also on a daily basis for shopping or commuting to work. Due to rising petrol costs and the constantly congested roads at peak times, residents of large cities in particular see the bicycle as a true alternative to the automobile. Faulhaber drives are installed here in various components.
Bike sharing gains ground
One doesn't need to own a bike in order to use one. Especially in cities, a bicycle can today be hired quickly and easily. This saves the cost of purchasing and maintaining a bike and minimises the risk of theft. The rider also enjoys health benefits and helps to reduce CO2 emissions. Sustainability is another advantage of bike sharing worth mentioning: the rate of use is approximately four times higher than an individually used bike.
Locking systems by Faulhaber
To organise the use of hire bikes, bike sharing providers rely on drives from Faulhaber. For the locking systems, small Faulhaber gear motors are installed in the front fork. Depending on the usage system, the bike sharers can then hire a bicycle at fixed hire stations or even without a station using a smartphone app. There are now various bike hire companies that offer bicycles as well as pedal electric cycles (pedelecs) at their stations.
Riding with a tailwind
A pedelec assists its riders with an electric motor. The degree of assistance can be set individually and is dependent on the pedal force or cadence of the rider. A bicycle with electric assist is legally equivalent to a regular bicycle. Riders therefore require neither a licence plate nor a driving licence. The pedelec market has grown significantly in Europe since 2008. In 2016, 1,6 million such bicycles were sold. Germany leads the market in this sector.
Bicycle drive systems from Schönaich
Basically, a pedelec functions as follows: a sensor registers that the rider is pedalling and passes this information on to the controller. As a control unit, the controller regulates the battery and ensures that it sends the required current to the motor. As soon as current flows, the pedal assistance of the pedelec engages.
Used as the drive system for pedelecs, Faulhaber motors ensure the optimum drive. Because the motors from Schönaich are very small in spite of their high performance, they can be installed so cleverly that the pedelec cannot even be recognised as such from the outside. The 3274 … BP4 brushless DC-servomotor, in combination with a planetary gearhead, is integrated into the frame and the corresponding battery is disguised as a water bottle. This variant of an electrically assisted bicycle achieves a peak of 330 watts for a duration of approximately five minutes at a time.
Getting into gear
DC-micromotors of the 1524/1724SR series also ensure the right drive when shifting gears on the bicycle – both with standard bicycles as well as with pedelecs. Electronic shifting systems guarantee efficient riding and increase comfort and safety. At the same time, they reduce wear on the shifting components. Gear shifting is performed with the help of the small servomotors.
Outlook
The future of the bicycle remains exciting, as further electronic components will change cycling. What direction that could take is demonstrated, for example, by the SmartFaraday Pedal project, developed by a team of students in the Faculty of Engineering at the University of Freiburg. This intelligent bicycle pedal offers a number of functions that help cyclists track their journeys – from performance and route tracking to theft reporting and even an interface for Internet and smartphone. The students won the Cosima competition with this project in 2017. One of their main sponsors is Faulhaber.
Credit(s)
Further reading:
From the editor's desk: Life after coal
Fourth Quarter 2020 , Editor's Choice
Renewable energy has been around for a while. But as attractive as the concept might have been, the hard reality was always that it just did not make economic sense. I remember not so many years ago doing 
...
Read more...
---
Evolved drive systems
Third Quarter 2020, Horne Technologies , Electrical switching & drive systems & components
Drive specialist Faulhaber has once again demonstrated its competence as a system provider and has extended its BXT flat motor series by adding corresponding gearheads and integrated encoders as well 
...
Read more...
---
maxon drives are heading to the Red Planet
Third Quarter 2020, DNH Tradeserve , Editor's Choice
NASA is sending its fifth rover to Mars. Its main mission is to collect soil samples that will be analysed on Earth at a later time. The rover will also carry a helicopter that will perform the first flights on the Red Planet. maxon's precision DC and BLDC motors will be used for numerous mission-critical tasks.
Read more...
---
The new mobility: how sensors control the cobots of the future
Third Quarter 2020, SICK Automation Southern Africa , Editor's Choice
The ongoing development of small, powerful and flexibly positionable robots that can collaborate with humans is progressing in leaps and bounds. Sensors from SICK Automation are an important component. 
...
Read more...
---
Innovative mobile robots
Third Quarter 2020, Omron Electronics , Editor's Choice
Tailor-made mobile robotics revolutionise human-machine collaboration in the automotive industry.
Read more...
---
From the editor's desk: The future is calling
Third Quarter 2020 , Editor's Choice
The move to level 2 has brought a feeling of renewal. At last we can start thinking ahead and contemplating the future in this new digital world. SAFPA for one has taken the leap, and has engaged an association 
...
Read more...
---
Milling machines for the aircraft industry
Third Quarter 2020, Beckhoff Automation , Editor's Choice, Electrical switching & drive systems & components
In aircraft construction, exceptional component quality and precision are crucial. However sheet-metal aircraft parts are often very large, making machining and handling problematic. Harmuth CNC-Frästechnik 
...
Read more...
---
The role of hydraulics and pneumatics in smart mining technologies
Third Quarter 2020 , Editor's Choice, Pneumatic systems & components
A Bosch Rexroth South Africa perspective.
Read more...
---
Rethinking pneumatic technology for the factories of the future
Third Quarter 2020, Parker Hannifin - Sales Company South Africa , Editor's Choice, Pneumatic systems & components
As manufacturing continues its rapid journey to digitalisation, one must ask, what will become of conventional technologies? Take pneumatics for example, which remains based on the age old principle of 
...
Read more...
---
Do all wireless solutions solve real industry problems?
Third Quarter 2020, Festo South Africa , Editor's Choice, Pneumatic systems & components
Wireless technology makes use of devices that allow us to communicate without using cables or wires and it plays a role in solving complex engineering problems. With this platform machines can communicate 
...
Read more...
---