printer friendly version
Quick, easy leak detection
Third Quarter 2020
Pneumatic systems & components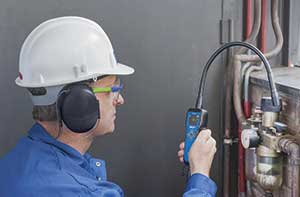 Compressed air production is an integral part of manufacturing plants but it is also one of the largest energy consumers. Air leaks amplify the load on a compressor, leading to higher electricity consumption and up to 30% loss of total compressed air production capacity.
SKF's TKSU 10 ultrasonic leak detector can quickly and accurately identify leakages in compressed air and vacuum systems, delivering substantial savings for end-users by minimising energy costs. Suited for all industries using compressed air, this ingenious device is ideal for paper and chemical industries, as well as workshops with air-driven power tools.
The ultrasound measurement sensor makes it possible to identify leaks in pneumatic brake systems, vacuum systems, pressurised gas storage and steam traps, even from a distance and in noisy environments. The flexible probe makes it possible to find leaks in hard to reach areas.
A built-in colour OLED display shows the measured ultrasound noise from leaking air, enabling leaks to be quantified and repairs prioritised. The ultrasonic leak detector can operate efficiently in harsh conditions, including extreme temperatures ranging from –10 to 50°C.
"The TKSU 10 works like a microphone, but is only sensitive to high frequency ultrasound which is not audible to the human ear," explains product manager, Eddie Martens. "This is translated into an audible sound or frequency through a passive industrial noise reduction headset worn by the operator." The lightweight, hand-held instrument is extremely user friendly, requiring no operator training.
For more information contact Samantha Joubert, SKF South Africa, +27 11 821 3500, samantha.joubert@skf.com, www.skf.com
Credit(s)
Further reading:
Compressed air purity analyser
Second Quarter 2021, Artic Driers International , Pneumatic systems & components
Compressed air treatment using filters and dryers is an effective barrier to airline contamination. Until recently, auditing the compressed air quality in a system was difficult, but clients and professional 
...
Read more...
---
Critical compressed air on platinum mine
Second Quarter 2021 , Pneumatic systems & components
The mining industry is a vital cog in the economic workings of South Africa, in particular platinum mines, of which the country has significant reserves, that are among the largest worldwide. Yet, if 
...
Read more...
---
Tectra Automation contracted for PG Bison's MFB press upgrade
Second Quarter 2021, Tectra Automation , Pneumatic systems & components
Tectra Automation has provided all the pneumatic and vacuum equipment required for the installation and commissioning of PG Bison's sixth melamine-faced board (MFB) press. The press, which came online 
...
Read more...
---
Festo at the heart of absolute automation
Second Quarter 2021, Festo , Pneumatic systems & components
Festo is renowned as one of the leading pneumatic automation suppliers. Over the years, the company has also set the pace in both Process and Electric Automation. This is backed by its proven record of 
...
Read more...
---
SKF bearings help Mars Rover collect rock
Second Quarter 2021, SKF South Africa , Editor's Choice, Shaft power components
Enabling the Mars Rover's core operations in the harsh environment on Mars are Kaydon RealiSlim thin-section ball bearings, designed and manufactured by SKF at the company's global thin-section bearing 
...
Read more...
---
Grease injector for harsh applications
Second Quarter 2021, SKF South Africa , Electrical switching & drive systems & components
The new SKF Lincoln SL-6 injector has been designed for ease-of-use and low maintenance, with outstanding leak protection and service life, even with harsh extreme pressure greases. The SL-6 can easily 
...
Read more...
---
Counting their chickens before they hatch
First Quarter 2021, SKF South Africa , Shaft power components
The introduction of food line (blue line) bearing units by SKF, in collaboration with its Authorised Distributor, Bearing Services (BSA) Polokwane, has reduced downtime and increased plant reliability 
...
Read more...
---
Highly flexible pick and place with digitised pneumatics from Festo
First Quarter 2021, Festo , Pneumatic systems & components
A wide range of products, functions and complete solution packages are integrated into the Festo Motion Terminal. One of these products is Motion Apps, which heralds a new Industry 4.0 era. Motion Apps 
...
Read more...
---
Smart positioners of the future
First Quarter 2021 , Pneumatic systems & components
SMC's new range of smart positioners was designed to pair perfectly with a variety of process control valves and actuators.
Read more...
---
Hybrid bearings for wind farm
Fourth Quarter 2020, SKF South Africa , Shaft power components
SKF's Renewables Segment team was instrumental in securing an order for the supply of three hybrid bearings which deliver improved reliability and uptime for a customer operating a wind farm in the Western 
...
Read more...
---