printer friendly version
SA-built air dryer for food and beverage
Third Quarter 2020
Pneumatic systems & components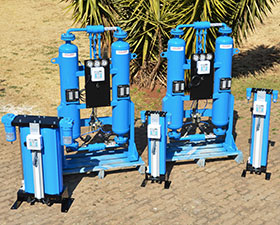 Compressed air systems on food and beverage plants face many challenges. The production lines require consistent high-quality compressed air for packaging equipment, labelling systems and normal pneumatic operations. In some plants, the packaging of frozen food is done at low temperatures within freezer rooms. This demands that the compressed air is dried to sub-zero levels to ensure the water content is almost zero. This prevents freeze-ups in the pneumatic packaging equipment.
The water present in the compressed air, together with other contaminants such as compressor oils and airborne solids, must be removed prior to being fed into the distribution system. Failure to treat the compressed air system effectively will lead to downtime and equipment failure, or even worse, contamination of the product.
Conservative construction and design
The SA Series of heatless desiccant pressure swing dryers is built by South Africans for South Africa. "The range embodies a simple, robust design. Long contact times and larger than normal desiccant loads mean that the dryer provides -40⁰C PDP compressed air with ease for any food and beverage manufacturing plant," says Allen Cockfield, CEO of Artic Driers International. "The heavy-duty design and construction, along with simple controls, ensure reliability and ease of maintenance on site."
The design includes the use of two patented shuttle valves that provide reliable switching, directing the compressed air from one vessel to the other every four minutes. The two simple air-operated angle seat valves control desorption air flow to atmosphere with almost zero back pressure. "Low back pressure is essential to ensure efficient desorption of the desiccant used in the drying process," explains Cockfield.
Fully adjustable timing system
The timing control system is fully adjustable. Adjustments are provided for the drying cycle as well as the repressurisation cycle. The controller also features a dew point digital indicator should dew point monitoring be required. The same controller and optional dew point probe, can, at a flick of a switch, control the timing sequence to reduce purge air losses. The timer system can control up to five solenoid valves, making it an ideal retrofit parts item for almost any brand of air dryer.
The impact of Covid-19
Cockfield adds that the import of equipment has been severely affected due to massively increased air freight costs, along with a slowdown at the country's docks due to reduced staff levels. This situation will not change for many months.
"The launch of the SA Series Dryers this year was a logical continuation of what we have been quietly doing for the past year," he continues. "Artic has built a large number of differentsized low dew point heatless adsorption air dryers for a range of clients in different industries, including the food and beverage industry."
The range has shorter lead times than imported units, is cost-effective and most importantly, uses local materials, labour and suppliers. Ranging from 3 to 42 m3/min at pressure up to 13 bar, it suits most clients' needs. These design features do not translate into high cost of ownership. Purchase prices are competitive. This is supported by the number of dryers currently in the build program for clients.
R Class refrigeration air dryers
For less demanding compressed air systems, the R Class range of refrigeration air dryers is a great alternative. The R Class is a cost-effective and reliable air dryer using plate and bar nano-coated aluminium heat exchangers. It is fitted with a monitoring system, not a dryer controller − a subtle but important distinction. If a controller fails, it will often stop the dryer. A dryer with a monitoring system may develop a fault, but this does not stop the dryer working, it merely shows a fault. For clients with continuous production this is a major advantage.
Core competence and aftercare
With over 25 years of experience on all the major brands. Artic's service crews support the R Class and other brands countrywide. These products, along with an extremely broad range of high-end coalescing filters, automatic condensate drains and mufflers, have provided clients with long-term solutions for the past 30 years and will continue to do so for decades to come.
Credit(s)
Further reading:
Highly flexible pick and place with digitised pneumatics from Festo
First Quarter 2021, Festo , Pneumatic systems & components
A wide range of products, functions and complete solution packages are integrated into the Festo Motion Terminal. One of these products is Motion Apps, which heralds a new Industry 4.0 era. Motion Apps 
...
Read more...
---
Smart positioners of the future
First Quarter 2021 , Pneumatic systems & components
SMC's new range of smart positioners was designed to pair perfectly with a variety of process control valves and actuators.
Read more...
---
Locally built air dryers for hospitals
Fourth Quarter 2020, Artic Driers International , Pneumatic systems & components
Artic Driers recently partnered with an NGO (non-governmental organisation) called Save-P to develop a locally designed compressed air dryer and filter bank providing breathing-quality air for hospitals 
...
Read more...
---
Efficient pneumatic performance with multifunctional sensor
Fourth Quarter 2020, SICK Automation Southern Africa , Pneumatic systems & components
SICK Automation's recently introduced multifunctional FTMg (flow thermal meter for gases) flow sensor detects pneumatic system leakages well before pressure loss causes machine failure. It is engineered 
...
Read more...
---
Festo Motion Terminal VTEM bolsters productivity
Third Quarter 2020, Festo , Pneumatic systems & components
The world's first valve to be controlled by apps.
Read more...
---
SMC launches wireless valve bank in SA
Third Quarter 2020 , Pneumatic systems & components
In response to customer demand for a reliable communication system, which could limit the number of cables needed to communicate between multiple valve banks/field sensors and a PLC, a wireless communication 
...
Read more...
---
The role of hydraulics and pneumatics in smart mining technologies
Third Quarter 2020 , Editor's Choice, Pneumatic systems & components
A Bosch Rexroth South Africa perspective.
Read more...
---
Quick, easy leak detection
Third Quarter 2020, SKF South Africa , Pneumatic systems & components
Compressed air production is an integral part of manufacturing plants but it is also one of the largest energy consumers. Air leaks amplify the load on a compressor, leading to higher electricity consumption 
...
Read more...
---
Rethinking pneumatic technology for the factories of the future
Third Quarter 2020, Parker Hannifin - Sales Company South Africa , Editor's Choice, Pneumatic systems & components
As manufacturing continues its rapid journey to digitalisation, one must ask, what will become of conventional technologies? Take pneumatics for example, which remains based on the age old principle of 
...
Read more...
---
Do all wireless solutions solve real industry problems?
Third Quarter 2020, Festo South Africa , Editor's Choice, Pneumatic systems & components
Wireless technology makes use of devices that allow us to communicate without using cables or wires and it plays a role in solving complex engineering problems. With this platform machines can communicate 
...
Read more...
---