printer friendly version
Addressing the challenges of food grade lubrication
First Quarter 2021
Other technologies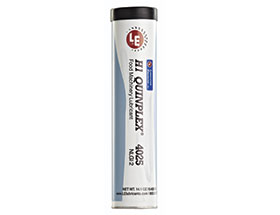 Keeping food processing equipment well lubricated can be a challenge. Callum Ford, national marketing manager at Lubrication Engineers (LE), outlines the challenges associated with the lubrication of food processing equipment and explains how to address these challenges.
He says that a significant challenge in keeping food processing equipment lubricated is temperature. High temperatures can speed up the oxidation of greases and oils; and a low temperature, such as in a refrigerated area, can result in wear on equipment due to channelling of the lubricant or the presence of condensation.
Moisture is a danger to the effectiveness of lubrication. Hygiene requirements in food production mean that the presence of water and steam is required, but this can wash out or cause the deterioration of lubricants, resulting in corrosion or rust. Another challenge is the presence of chemicals in the food itself or in the cleaning process. Yet another challenge is the heavy workload of food processing equipment, with machines running up to 24 hours per day. During high volume operation, greases and oils become highly liquid or may thicken and harden, thereby losing efficacy.
"Our synthetic H1 lubricant is not only rated food grade, but can also operate in a wide temperature range and withstand washing due to our exclusive Quinplex additive, which is a tackifier that keeps the lubricant in place," explains Ford. "Attention to detail in cleaning and maintenance, combined with the use of LE's high grade Quinplex food machinery lubricants, will ensure more durable and effective lubricant use and a longer equipment life."
For more information contact Callum Ford, Lubrication Engineers, +27 11 464 1735, callum@lubricationengineers.co.za, www.lubricationengineers.co.za
Further reading:
Gimatic's modular design philosophy
Second Quarter 2021, Gimatic , Other technologies
All vacuum pumps, cartridges, suspensions, suction cups and accessories have been designed to combine with a range of mounting elements and extrusions.
Read more...
---
World-first sensor platform for mobile machines
Second Quarter 2021, Instrotech , Other technologies
However dire or adverse the conditions are, mobile machines must work reliably under the harshest of conditions, including heat, cold, shock, vibration, water, mud or dust.       To ensure uninterrupted 
...
Read more...
---
Lubrication filter carts for flushing systems
Second Quarter 2021 , Other technologies
When a lubricant becomes contaminated it affects the entire machinery system, which then needs to be flushed to prevent further damage to costly equipment. Lubrication Engineers (LE) offers a solution 
...
Read more...
---
Swagefast lockbolt pins and collars
Second Quarter 2021, Bearing Man Group T/A BMG , Other technologies
BMG's locally manufactured Swagefast lockbolt pins and collars ensure increased productivity and reliability in heavy duty, high vibration applications, especially where structural integrity is critical 
...
Read more...
---
Robust ergonomic cable extension reels
First Quarter 2021 , Other technologies
Powermite's range of robust cable extension reels is packed with features to provide customers with reliable, robust and safe performance. The Gen 2 plastic XREEL series is manufactured from Polyamide 
...
Read more...
---
Gas generators power equivalent of 52 000 homes
First Quarter 2021 , Other technologies
With increased demand for low carbon power generation, industries need alternative energy sources to reduce their carbon footprint while maintaining reliable and robust performance. To meet this need, 
...
Read more...
---
Advanced filtration solutions
First Quarter 2021 , Other technologies
Fibertex Nonwovens, a leading global manufacturer of nonwovens and performance-based materials, has developed advanced filtration solutions including pleated, needlepunch, spunlace and thermally bonded 
...
Read more...
---
Lubricant for high temperatures
First Quarter 2021 , Other technologies
Lubrication Engineers (LE) has developed the 1250 Almasol High Temperature Lubricant, which has one of the highest temperature capabilities of any grease thickener available in the industry. It is designed 
...
Read more...
---
Addressing the new normal in food manufacturing
Fourth Quarter 2020, Omron Electronics , Other technologies
Food and beverage companies can now set the course for the time after Covid-19 using automation to boost competitiveness and productivity. Manufacturers should focus their resources on four market driven perspectives: workforce, product quality, flexibility and sustainability.
Read more...
---
Belt tracker for guiding conveyor belts
Fourth Quarter 2020 , Other technologies
BLT World's comprehensive range of bulk materials handling equipment includes conveyor components, designed to enhance productivity, minimise downtime and extend the service life of conveyor systems. 
...
Read more...
---