printer friendly version
The future of automation
First Quarter 2021 Editor's Choice Electrical switching & drive systems & components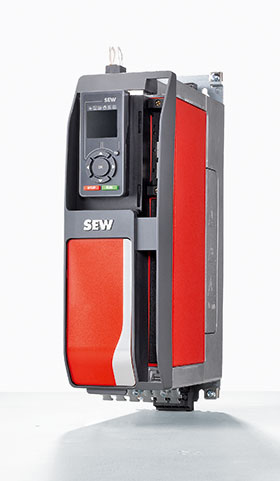 Drive specialist, SEW-EURODRIVE, is stepping into the future with its latest innovation, the MOVI-C automation system. Ready for Industry 4.0, this is the company's next generation of automation technology, Generation C. It provides a complete automation solution from one source, from planning and commissioning through to operation and diagnostics software, electronic control and monitoring devices, mechanical drives, and gearmotors.
MOVI-C comprises four components: MOVISUITE engineering software, MOVI-C Controller control technology, MOVIDRIVE inverter technology, and MOVIGEAR, MOVIMOT decentralised drive technology comprising the company's flagship range of mechatronic drives – which includes gear units, motors, electric cylinders, brakes, built-in encoders and diagnostic units. Together these components form one end-to-end modular automation system and can be combined to suit any bus topology.
Maxolution engineer, Dylan Enslin, says that a key change from SEW-EURODRIVE's Generation B range is the uniformity of the look and feel of these newly developed products and software across the range, which, building on previous generations, greatly improves the user interface. "The new MOVI-C designs are different but the actual interface is the same across the range. They also have a whole lot of new features, and will be phased in gradually, starting with the popular sizes," he explains. "In essence, MOVI-C combines the advantages of decentralised installation – saving space and lowering costs – with the flexibility of SEW-EURODRIVE's modular portfolio."
Free communication across topologies
All components of a MOVI-C system can be fully integrated into any automation design, fieldbus topology or network standard. There is complete freedom of configuration, as MOVI-C is compatible with protocols from Profibus and Industrial Ethernet through to Modbus. "With Generation C, Profinet is included as an onboard option on the decentralised products," adds Enslin. "This has opened doors and is a huge benefit to customers as it simplifies the installation and programming."
MOVI-C applications can draw on a variety of configurations. Examples are single-axis automation in materials transportation; motion control in multiple column hoists, tripod mechanics and robots; module automation in packing and processing machines and complex transportation tasks; and functionality as an EtherCAT motion slave in series machines with numerous axes and kinematic calculation in high level PLC, with EtherCAT CiA402 also available as an integration option.
Functional safety
SEW-EURODRIVE's MOVISAFE safety cards have made functional safety an integral part of all MOVI-C inverter applications. Higher level safety functions are achieved by inserting an option card connecting to the inverter technology – encoder, communication and STO. Costs are thus reduced to only the function actually needed. Enslin says that this is a vast improvement on Generation B and makes it easier to get a machine up and running quickly in the event of a breakdown.
Faster and simpler
The MOVISUITE engineering software allows quicker and simpler planning, commissioning, operation and diagnostics, reducing costs for users while improving usability. MOVI-C Controller allows more freedom for parameterisation, with less programming and centralised data management for greater simplicity – thanks to the ready-standardised MOVIKIT software modules. The end result is reduced cost and complexity.
Single-cable technology with a digital encoder for synchronous and asynchronous AC motors is another big improvement. Now only one hybrid cable is required for the data and power connection between the frequency inverter and electric motor. A further innovation is the new digitaL MOVILINK DDI data interface, which sends performance, brake and diagnostic data from the motor.
Customisation for clients
"What this means for our clients is that everything looks completely new, but is simpler, easier and more user-friendly. The revamped software has been optimised, with improved electronics on the component level," Enslin explains. "With Generation C we have improved control, higher efficiency and more features, as well as added flexibility in applications. Everything is modular and decentralised. Our aim is to service customers more efficiently and effectively, and be able to provide each with a fully modular and customisable solution."
The road ahead
"Looking to the future, SEW-EURODRIVE has embarked on an exciting new project – the construction of a new R200 million head office and factory to accommodate its phenomenal growth. The approximately 25 000 m2 building is situated alongside the company's existing 5000 m2 headquarters in Johannesburg . "We are on track to take occupation in early 2022," he adds.
The high-tech facility will accommodate existing assembly plants, as well as the new MOVI-C facility, in order to improve efficiencies and contain costs. The factory will be automated, with state-of-the-art equipment ready for Industry 4.0.
"SEW-EURODRIVE is very fortunate to be diversified, with markets spanning mining, food and beverage, and automotive, so we can still function no matter the challenge. These figures tell the story and put our growth into perspective," Enslin concludes.
MOVI-C, MOVISUITE, MOVIDRIVE, MOVIGEAR and MOVIMOT are registered brand names of SEW-EURODRIVE.
Credit(s)
Further reading:
The best of hydraulics meets the advantages of electric
Parker Hannifin - Sales Company South Africa Editor's Choice Hydraulic systems & components
Electrification is not new. The difference is the convergence of three powerful forces: stricter governmental regulations; ESG initiatives by the top companies in the world; and TCO. As adoption 
...
Read more...
---
Advanced drive solution for the automotive industry
SEW-EURODRIVE Electrical switching & drive systems & components
Most South African motor vehicle plants also export into international markets, which means they must all adopt world-class manufacturing processes using state-of-the-art equipment. SEW-EURODRIVE 
...
Read more...
---
The world's lightest electric mountain bike
DNH Tradeserve Editor's Choice Electrical switching & drive systems & components
The barely noticeable additional weight of the maxon drive of only 3,5 kg, in combination with superior carbon technology from Thömus, delivers a ride that feels as natural on the trail as on the 
...
Read more...
---
The strength of your machine is defined by its pivot joints
Bearing Man Group T/A BMG Editor's Choice Shaft power components
"Through Nord-Lock's advanced Expander System, which consists of a comprehensive range of components, BMG specialists are able to supply the correct pivot to prevent the problems that lug wear causes 
...
Read more...
---
Common myths about machine safety
Omron Electronics Editor's Choice Other technologies
The consequences of inadequate machine safety practices can be severe, and there are many misunderstandings that put facilities and their employees at risk. Omron assesses and evaluates over 3000 machines 
...
Read more...
---
Hägglunds Fusion: the power of one
Editor's Choice Electrical switching & drive systems & components
Hägglunds Fusion provides unbeatable torque from zero speed and includes built-in torque limitation. This enables the machine to start, stop and reverse as often as needed to serve low-power applications, 
...
Read more...
---
Expanding the market for Dura-Bar
Axiom Hydraulics Editor's Choice Hydraulic systems & components
Dura-Bar is the largest producer of 5 to 66 cm diameter iron bar in the world. The company is unique in the industry in creating the iron bar stock in a horizontal, continuous casting process without 
...
Read more...
---
Saving energy and protecting the impact on the environment
Editor's Choice Pneumatic systems & components
In the first quarter of 2022, short-term gas prices on the largest European exchange were five times higher than the 2021 average, and future markets are pricing European gas at up to three times its 2021 levels 
...
Read more...
---
Ultra-compact robot-based cake production with PC control
Beckhoff Automation Editor's Choice
"Baking Baumkuchen requires advanced skills and experience from the confectioner," says Mr Matsumoto, managing director of Juchheim's central plant. "However, if the oven's parameters can be captured 
...
Read more...
---
The advantages of robotics and simulation for your business
Editor's Choice Robotics & Mechatronics
The more complex your business is, the more room there is for innovation. At the same time, innovation cannot come at the cost of efficiency, quality and output levels. According to Von Fintel, this is 
...
Read more...
---