printer friendly version
Gimatic expands product range with launch of vacuum product offering
First Quarter 2021
News & events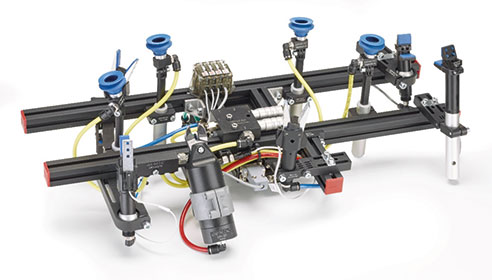 Suction cups, vacuum pumps, sensors, and related accessories allow Gimatic's customers to handle different objects in various industrial sectors with low energy consumption and reduced downtime. Gimatic is a business within Barnes Group's Automation strategic business unit.
The Gimatic VG range of suction cups consists of about 900 products and includes high-quality materials such as double-hardness polyurethane, silicone (available in the FDA-compliant version for direct handling of unpackaged food), hydrogenated nitrile butadiene rubber (HNBR), and nitrile butadiene rubber (NBR). These synthetic rubbers are free of paint-wetting impairment substances (PWIS), making them ideal in applications where any contamination of the material must be avoided. Thanks to suction cup models suitable for the most demanding applications, the design guarantees a secure grip on uneven surfaces such as those of snacks and packaged bars. Gimatic suction cups are divided into 18 product families, each with specific characteristics that make them suitable for the packaging, food, pharma, plastic, metal sheet, wood, glass, and automotive sectors.
The EJ range of cartridges and vacuum pumps consists of approximately 150 different items divided into 8 product families. Gimatic cartridges are available in 3 sizes, each offered in 3 different versions. They are extremely efficient, compact, and lightweight and allow integration onboard the machine – right where the vacuum is required – thus maximizing the gripping system's performance and reducing its energy consumption. Gimatic vacuum pumps include manifolds in aluminum or POM and are capable of integrating additional functions such as the automatic release of the object being handled without additional solenoid valves. In addition to suspensions, ball joints, and vacuum actuators, the range of vacuum products includes release systems, vacuum switches of different types that can be easily integrated on Gimatic vacuum pumps, and accessories such as vacuum filters.
Further reading:
BI launches new e-commerce platform
News & events
Bearings International (BI) is entering the fast-growing realm of e-commerce by expanding its current website to provide more detailed information. "The aim is to create a 24/7 access experience for 
...
Read more...
---
TUKS campus taken over by robots!
RS Components SA News & events
Several teams of third-year engineering students took to the track for the ultimate robot showdown as the highly anticipated annual TUKS Robot Race Day took place at the campus recently. Now in its 
...
Read more...
---
From the editor's desk: Killer science and alternative energy
Technews Publishing News & events
I couldn't resist watching The World Industrial Reporter's video on Ten Scientists Killed By Their Own Experiments. Some of them would have deserved the Darwin Award for taking themselves out of the 
...
Read more...
---
Bosch Rexroth SA celebrates women in hydraulics
News & events
Bosch Rexroth South Africa is committed to social investment and the advancement of all its employees, breaking down barriers to create a diverse and dynamic workplace. This upcoming Women's Day presents 
...
Read more...
---
ABB's lifeline to unemployed graduate
News & events
When a kind stranger took a photograph of Momelezi Sifumba standing at a busy roadside with a cardboard sign stating: 'Help Me to Find a Job' and posted it on LinkedIn, little did the unemployed graduate 
...
Read more...
---
Port and rail upgrades essential for SA
News & events
Bearings International (BI) has welcomed the assertion by President Cyril Ramaphosa in his State of the Nation address on 10 February that the economy cannot grow without efficient ports and railways. 
...
Read more...
---
From the editor's desk: Making sense of the metaverse
Technews Publishing News & events
It wasn't so long ago that nobody had heard of IIoT. Then the hype began and now it's an integral part of the manufacturing environment. Recently I've been hearing more and more about the metaverse 
...
Read more...
---
Innovation for sustainable agriculture
News & events
Panasonic Industry has announced the Gold sponsorship of ETH Zurich's Robotic Weeding System (Rowesys) project and will assist the student team with engineering know-how, as well as components and products 
...
Read more...
---
New head office and warehouse for Fuchs Lubricants
News & events
The new head office and warehouse for Fuchs Lubricants South Africa is on track to be completed this month. The company is investing over R250 million in the expansion at its existing location in Isando, 
...
Read more...
---
Bosch Rexroth Africa Development appoints Tanzanian distributor
News & events
Bosch Rexroth Africa Development has appointed a Tanzanian company as its in-country distributor. Transec is a general mining equipment supplier with an established countrywide presence. In line with 
...
Read more...
---