printer friendly version
Gimatic expands product range with launch of vacuum product offering
First Quarter 2021
News & events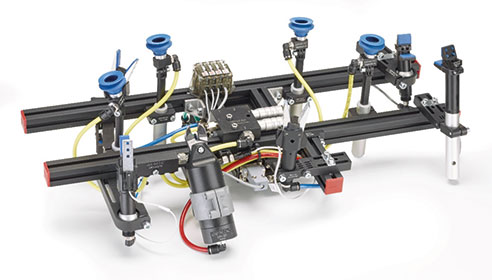 Suction cups, vacuum pumps, sensors, and related accessories allow Gimatic's customers to handle different objects in various industrial sectors with low energy consumption and reduced downtime. Gimatic is a business within Barnes Group's Automation strategic business unit.
The Gimatic VG range of suction cups consists of about 900 products and includes high-quality materials such as double-hardness polyurethane, silicone (available in the FDA-compliant version for direct handling of unpackaged food), hydrogenated nitrile butadiene rubber (HNBR), and nitrile butadiene rubber (NBR). These synthetic rubbers are free of paint-wetting impairment substances (PWIS), making them ideal in applications where any contamination of the material must be avoided. Thanks to suction cup models suitable for the most demanding applications, the design guarantees a secure grip on uneven surfaces such as those of snacks and packaged bars. Gimatic suction cups are divided into 18 product families, each with specific characteristics that make them suitable for the packaging, food, pharma, plastic, metal sheet, wood, glass, and automotive sectors.
The EJ range of cartridges and vacuum pumps consists of approximately 150 different items divided into 8 product families. Gimatic cartridges are available in 3 sizes, each offered in 3 different versions. They are extremely efficient, compact, and lightweight and allow integration onboard the machine – right where the vacuum is required – thus maximizing the gripping system's performance and reducing its energy consumption. Gimatic vacuum pumps include manifolds in aluminum or POM and are capable of integrating additional functions such as the automatic release of the object being handled without additional solenoid valves. In addition to suspensions, ball joints, and vacuum actuators, the range of vacuum products includes release systems, vacuum switches of different types that can be easily integrated on Gimatic vacuum pumps, and accessories such as vacuum filters.
For more information contact Ray Williams, Gimatic South Africa, +27 78 741 5186, r.williams@gimatic.com, www.gimatic.com
Further reading:
Obituary: Steven James Meyer
January 1957 - January 2022
Technews Publishing News & events
It is with deep sadness and shock that we announce the sudden death of SA Instrumentation & Control Editor, Steven Meyer. Steven joined Technews in October 2007 in the position of Deputy Editor. His 
...
Read more...
---
From the editor's desk: Would you like an NFT?
Technews Publishing News & events
One of my favourite light-hearted books is called Fifty Flippen Brilliant South Africans and Elon Musk stands out as one of the giants. He is one of the most iconic inventors and entrepreneurs of our 
...
Read more...
---
Fuchs Lubricants sees major growth in Africa
News & events
Moving to a centralised new head office in Isando, Johannesburg and launching a new unified product brand image in mid-November is all part of a long-term strategy for sustained growth and expansion at 
...
Read more...
---
Hytec Rustenburg establishes permanent site in Marikana
News & events
Hytec Rustenburg has established its first 24/7 satellite mine site at a prominent mine in the North West province. This enables Hytec SA to provide a tailored maintenance programme and stock a selection 
...
Read more...
---
Danfoss acquires Eaton's hydraulics business
Danfoss News & events
Danfoss has officially finalised its $3,3 billion acquisition of Eaton's hydraulics business. The move will see the Danfoss Group grow in size by a third and establish itself as a global leader in mobile 
...
Read more...
---
Festo Didactic helps customers unpack their full learning potential
Festo News & events
Technological changes are continually transforming tasks in companies today. Investment in technologies and machines alone is not enough to ensure success. Festo recognises that skilled employees are 
...
Read more...
---
Engineering Solutions Group achieves Level 2 B-BEEE status
News & events
Invicta Holdings' Engineering Solutions Group (ESG) − distributors of engineering consumables, automotive components, technical services and related solutions − has achieved recognition as a Level 2 contributor 
...
Read more...
---
BMG opens new branch in Maun
News & events
BMG has extended its service in Botswana, with the opening of a new branch in Maun. "BMG now has two dedicated branches in Botswana – one in Gaborone, which was established in 1998 to service and supply 
...
Read more...
---
Fuchs Lubricants achieves top certification
News & events
Fuchs Lubricants South Africa has achieved IATF 16949:2016 certification, which aims at providing improved quality products to automotive customers worldwide. IATF 16949, specified by The International 
...
Read more...
---
Festo's life science webinar on gas handling opens up new horizons
Festo News & events
How piezo technology more efficiently regulates flow rate and pressure.
Read more...
---