printer friendly version
IoT communication without batteries
First Quarter 2021 Editor's Choice Other technologies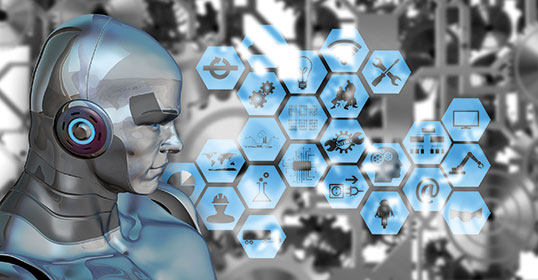 When we talk about IoT, we often gloss over the fact that all these interconnected things need batteries and electronics to carry out the job of collecting and processing data while they're communicating with one another; and many of the objects we would like to connect are made from plastic and do not have electronics embedded into them.
Now researchers at the University of Washington have devised a way of using 3D printed plastic to create objects that communicate with smartphones or other Wi-Fi devices without the need for batteries or electronics. It employs battery-less chips that transmit their bits by either reflecting or not reflecting a Wi-Fi router's signals. With this kind of backscattering, a device communicates by modulating its reflection of the Wi-Fi signal in the space.
The challenge with existing Wi-Fi backscatter systems is that they require multiple electronic components, including RF switches that can toggle between reflective and non-reflective states, digital logic that controls the switch to encode the appropriate data, as well as a power source/harvester that powers all these electronic components.
The University of Washington team has leveraged this Wi-Fi backscatter technology to 3D geometry and created easy to print wireless devices using commodity 3D printers. To achieve this, the researchers built non-electronic and printable analogues for each of these electronic components using plastic filaments and integrated them into a single computational design.
The researchers are making their CAD models available to 3D printing enthusiasts so they can create their own IoT objects. The designs include a battery-free slider that controls music volume, a button that automatically orders more cornflakes from an e-commerce website and a water sensor that sends an alarm to your phone when it detects a leak. "We are using mechanism actuation to transmit information wirelessly from these plastic objects," explains associate professor, Shyam Gollakota.
The researchers have leveraged mechanical motion to provide the power for their objects. For instance, when someone opens a detergent bottle, the mechanical motion of unscrewing the top provides the power for it to communicate data. "We translate this mechanical motion into changes in antenna reflections to communicate data," said Gollakota. "Say there is a Wi-Fi transmitter sending signals. These signals reflect off the plastic object; we can control the amount of reflections arriving from this plastic object by modulating it with the mechanical motion."
To ensure that the plastic objects can reflect Wi-Fi signals, the researchers employ composite plastic filament materials with conductive properties. These take the form of plastic with copper and graphene filings. "These allow us to use off-the-shelf 3D printers to print these objects but also ensure that when there is an ambient Wi-Fi signal in the environment, these plastic objects can reflect them by designing an appropriate antenna using these composite plastics," he added.
Once the reflective material was created, the next challenge for the researchers was to communicate the collected data. The researchers ingeniously translated the 0 and 1 bits of traditional electronics by encoding these bits as 3D printed plastic gears. A 0 and 1 bit are encoded with the presence and absence of tooth on the gear, respectively. These gears reflect the Wi-Fi signal differently, depending on whether they are transmitting a 1 bit or a 0 bit. 
"The way to think of it is that you have two parts of an antenna," explained Gollakota. "As the gear moves, and depending on whether we are using a 0 bit or a 1 bit, we connect or disconnect the two disjointed parts of the antenna. This changes the reflections as seen by a wireless receiver."
In this arrangement, the mechanical nature of many sensors and widgets are leveraged to power the backscatter design. "We have computational designs that use push-buttons to harvest energy from user interaction as well as a combination of circular plastic springs to store energy," added Gollakota.
While the researchers envision a fairly broad commercial market for the technology, Gollakota suggested that e-commerce websites could tell how a user might be interacting with the objects they sell. This could send an alert that a container, for example, needs a refill. The researchers demonstrated a prototype of a detergent bottle that could report when it is empty. This technology could also be used in point-of-care medical situations, such as tracking when a pill bottle is opened or closed, or how much insulin-pen usage occurs.
Gollakota added: "We have showed that we can not only send wireless data, but also store information about how the object was used outside the wireless range, and this information can be uploaded by the push of a button when the person comes into the range of the base station."
For more information visit https://tinyurl.com/yokv4mmk
Further reading:
A very smart material
Second Quarter 2021 , Editor's Choice, Electrical switching & drive systems & components
Shape memory materials (SMMs) are strong, lightweight materials that have the ability to recover their original shape after being deformed if a stimulus is applied. They can be programmed to remember 
...
Read more...
---
The benefits of collaborative robots
Second Quarter 2021, SMC Corporation South Africa , Editor's Choice, Robotics & Mechatronics
While robotics led the way for the rapid growth of automation, cobots are the democratisation of robotics technology. They eliminate the cost and complex programming that robots usually require while providing much greater flexibility.
Read more...
---
Fast, safe transport on the factory floor
Second Quarter 2021, Omron Electronics , Editor's Choice
The Philips site in Klagenfurt produces over 23 million linear cutting elements for hair and beard trimmers each year. These beard trimmers use lift-and-trim technology: the beard hair is first lifted 
...
Read more...
---
SKF bearings help Mars Rover collect rock
Second Quarter 2021, SKF South Africa , Editor's Choice, Shaft power components
Enabling the Mars Rover's core operations in the harsh environment on Mars are Kaydon RealiSlim thin-section ball bearings, designed and manufactured by SKF at the company's global thin-section bearing 
...
Read more...
---
Hacking for a difference
Second Quarter 2021, RS Components SA , Editor's Choice, News & events
The annual Geekulcha Hackathon recently saw more than 100 coders, developers and programmers challenge each other in an online contest.The event has become a highlight in the African developer world. 
...
Read more...
---
Energy efficiency in the chemical industry
Second Quarter 2021, Danfoss , Editor's Choice
Danfoss has widespread experience and expertise in refrigeration and in controlling the speed of AC motors in all main chemicals sectors: petrochemicals, basic inorganics, polymers, specialty and 
...
Read more...
---
Mars helicopter makes history
Second Quarter 2021, DNH Tradeserve , Editor's Choice
This is the first time in the history of powered, unmanned spaceflight that a device has flown in a controlled manner on another planet – with the help of DC motors from maxon motor. The helicopter flew 
...
Read more...
---
Land Cruiser wet brakes for mining
First Quarter 2021, Axiom Hydraulics , Editor's Choice, Hydraulic systems & components
Unfortunately, the vehicle's OEM brakes are not built for mining; they compromise safety while suffering frequent and expensive maintenance. Simply put, the brakes were never designed for use in the highly 
...
Read more...
---
PC-based control technology for next-generation telescope
First Quarter 2021, Beckhoff Automation , Editor's Choice, Electrical switching & drive systems & components
Key factors were the advantages of EtherCAT for site-wide real-time communication connecting all telescope functions. Various embedded PCs and AM8000 servomotors were also tested and specified, among 
...
Read more...
---
Surfing back to Earth
First Quarter 2021, Horne Technologies , Editor's Choice, Electrical switching & drive systems & components
How did life actually form on Earth? Even today this question still has not been definitively answered. There are, however, signs that asteroids or comets played an important role. In the search for additional 
...
Read more...
---