printer friendly version
Helping farmers free up energy
First Quarter 2021
Electrical switching & drive systems & components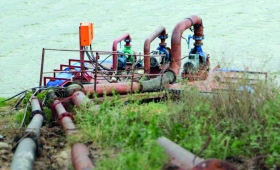 In recent years, South African energy security has been constrained, while also being recognised by the Development Bank of Southern Africa as a water-scarce country. The importance of energy efficiency in assisting with adequate irrigation is of paramount importance.
Danfoss, together with engineering components provider BMG, an authorised DrivePro service partner of Danfoss, supplied a commercial maize farmer with the technology required to combat challenges around electricity sufficiency. This resulted in more effective irrigation and increased production capacity. This initiative has since been followed by other commercial farmers in the wider area.
The challenge was to free up existing electricity supply to increase production capacity. Danfoss country sales manager, Sydney Govender, says, "A joint Danfoss-BMG collaboration assisted a commercial maize farmer in Barkly West to tackle the hurdles posed by an inadequate energy supply, which could not be increased by other means. The region in which the farm is situated receives little rainfall throughout the year, making effective irrigation supremely important for successful crop yield."
"Pumping and irrigation were the largest consumers of power on this maize-producing farm," says BMG electronics manager, Mick Baugh. "The project required assisting the farmer, who was limited by a power supply of only 200 kVA, to significantly reduce the cost of irrigation per hectare. Additionally, the farmer wanted to expand his crop production to include pecan nuts, but was unable to because of these limitations. The cost of irrigation per hectare therefore needed to be reduced, and the limited power supply needed to be used more efficiently."
At the outset of the project, one of the pump sets supplied five centre pivots and some orchards as follows:
• The first pump set consisted of 1 x 37 kW, 1 x 22 kW and 2 x 11 kW pumps.
• This equated to an installed power of 81 kW, with an absorbed power of 75 kW, which meant that the pump set drew a current of ±150 A.
• Additionally, the pumps were started by star/delta starters, and the only form of flow control was valves.
The solution was the installation of Danfoss variable speed drives on all pump sets. "In this case, the energy shortage was the farmer's main concern, with costs being a secondary consideration. We were therefore looking to free up the existing electricity supply in order to use it elsewhere and thereby increase production capacity. The use of variable speed drives on a pump set was the perfect solution to provide the benefits required," explains Govender.
The proposal was as follows:
• To install Danfoss VLT Aqua Drive FC 202 variable speed drives on all pumps.
• To control these pumps by means of pressure transducers set to match the varying demands of the different irrigation scenarios that presented themselves.
• To stop using the valves as a means to limit flow, as this was highly inefficient.
Danfoss VLT Aqua Drive FC 202 variable speed drives, which offer additional energy savings when compared with most traditional variable speed drive controls, have been designed for water and wastewater applications, including irrigation. These variable speed drives were fitted to all pumps in this installation and controlled by pressure transducers that were set to match the varying demands of different irrigation requirements. The only peripheral component required was a pressure transducer. Pump controllers and valves were not necessary for flow control in this system.
"There were a number of reasons why BMG chose these particular Danfoss solutions," adds Baugh. "For example, a notable feature of the drives is the inclusion of a soft start/stop facility, which prevents water hammer on starting and stopping the pumps, thus reducing the possibility of burst pipes." Wear and tear on couplings, pumps and pipes is also reduced. Furthermore, the drives are available from BMG in IP55 enclosures, which do not require dedicated panels for mounting, and this eliminates the need for the additional cooling and ventilation measures normally required to extract heat during operation. With closed loop controllers, the only piece of peripheral equipment required is a pressure transducer, no pump controller is necessary.
After the installation of the variable speed drives and programming the set point to 2,8 bar, the Danfoss-BMG team was able to run this same pump set with an absorbed power of 51 kW, a saving of 24 kW or 50 A. It is noteworthy that the farmer began with a set of three variable speed drives on three pumps and, because of the energy saving, he eventually installed variable speed drives on every pump on his farm.
"At the last count there were over 20 variable speed drives on the farm, with a projected annual power saving of 155 491 kW," says Baugh. "After the installation of variable speed drives on all pump sets, the power supply is used more efficiently, resulting in expansion of the farmer's supply of maize and improved crop production, which now also includes pecan nuts."
The project was conducted under the umbrella of BMG's Boer Slim/Smart Farming agricultural initiative, which has been operating for six years, assisting farmers throughout southern Africa with the selection, installation and operation of new electromechanical systems. These projects are designed to improve efficiencies, reduce energy consumption and minimise maintenance requirements.
In another project that operated along similar lines, Danfoss and BMG assisted a tobacco farmer who wanted to accelerate his tobacco drying process and expand crop production, but was also restricted by power supply limitations. After the installation of Danfoss electronic variable speed drives, this farmer was able to run 22 tobacco drying containers at once, where previously he could only run and alternate between nine. As a result, the farmer has more than doubled his crop production output. Furthermore, there are no more noticeable voltage dips when the process is started up, and wear and tear on mechanical components is reduced. Production is also now less labour-intensive, which additionally reduces costs.
"Maize is South Africa's most important field crop, being both a staple food for many of its citizens, as well as making a significant contribution to the economy," notes Govender. At the same time, the country's maize exports are generally inconsistent over time due to uneven surplus levels from one year to the next. To compete more effectively in global markets, South Africa has to reduce its logistics and production costs. This, however, is difficult while the country's power grid remains constrained at the macroeconomic level.
The featured Danfoss/BMG initiatives provide an illustration of how assisting two farmers has helped to free up energy, which could then be channelled elsewhere in order to increase productivity. If the farming sector could follow this example, it could assist individual farmers, while simultaneously allowing them to play their own incremental role in improving the macroeconomics of the country while the electricity supply continues to be constrained.
For more information contact Sydney Govender, Danfoss South Africa, +27 11 785 7603, govenders@danfoss.com, www.danfoss.co.za
Credit(s)
Further reading:
A very smart material
Second Quarter 2021 , Editor's Choice, Electrical switching & drive systems & components
Shape memory materials (SMMs) are strong, lightweight materials that have the ability to recover their original shape after being deformed if a stimulus is applied. They can be programmed to remember 
...
Read more...
---
Siemens controls for vaccine production
Second Quarter 2021, Siemens Digital Industries , Electrical switching & drive systems & components
The biotechnology company, BioNTech, converted an existing facility in Marburg, Germany for the production of the Covid-19 vaccine in a record time with assistance from Siemens. Through collaboration 
...
Read more...
---
Control automation excellence
Second Quarter 2021 , Electrical switching & drive systems & components
SEW-EURODRIVE's MOVI-C® is a unique automation control system that sets a new benchmark in control automation, embracing Industry 4.0 technology. Part of the company's innovative Generation C advanced 
...
Read more...
---
Taking soft-starters to the next level
Second Quarter 2021, Zest WEG Group Africa , Electrical switching & drive systems & components
The new WEG SSW900 soft-starters are the ideal choice for complete motor control and protection. These units allow quick and simple access to application information and configuration settings in any 
...
Read more...
---
Product-specific packaging with PC-based control
Second Quarter 2021, Beckhoff Automation , Electrical switching & drive systems & components
Kern in Konolfingen, Switzerland, is a family business founded more than 70 years ago and originally rose to success with enveloping machines. However, the market for enveloping machines is declining. 
...
Read more...
---
Total drive solution for iron ore project
Second Quarter 2021 , Electrical switching & drive systems & components
Bauer Geared Motors recently delivered a total drive solution including five large-sized 750 kW industrial gearboxes and two 185 kW units for the Tippler upgrade project at the Saldanha Iron Ore Export 
...
Read more...
---
Flameproof switchgear
Second Quarter 2021, Becker Mining South Africa , Electrical switching & drive systems & components
Becker Mining South Africa's Energy Distribution division manufactures customised switchgear, designed for the efficient distribution of electrical power, energy co-generation, rectification and traction.  
...
Read more...
---
Power transmission solutions in the mining sector
Second Quarter 2021, Bearing Man Group T/A BMG , Electrical switching & drive systems & components
BMG's range of Tsubaki back stop cam clutches, which is suitable for high or low speed applications, meets the requirements of current mining legislation and has many critical features not found in conventional 
...
Read more...
---
Energy efficiency in the chemical industry
Second Quarter 2021, Danfoss , Editor's Choice
Danfoss has widespread experience and expertise in refrigeration and in controlling the speed of AC motors in all main chemicals sectors: petrochemicals, basic inorganics, polymers, specialty and 
...
Read more...
---
High efficiency motors and drives can combat climate change
Second Quarter 2021 , Electrical switching & drive systems & components
According to the International Energy Agency (IEA), industry accounts for 37% of global energy use and some 30% of global energy is consumed in buildings. While mostly hidden from public view, electric 
...
Read more...
---