printer friendly version
Keeping your lifting equipment on track
First Quarter 2021
Other technologies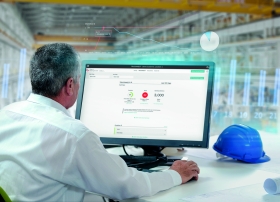 Lifting equipment applied at mining sites is a major Capex expenditure, and one that has to reflect a positive return on investment for mining companies. Preventive maintenance scheduling plays a crucial role in ensuring that the financial and operational costs of crane equipment for a mining operation are valid. Konecranes, a leading supplier of cranes for mining environments, offers customers servicing schedules with online portal access that shows tangible benefits from the implementation of forward-looking maintenance and inspection processes.
"A variety of cranes are used at mining sites, from furnace cranes, slag and coal cranes, underground cranes to basic workshop cranes, and they all need to work efficiently and comply with safety regulations. Additionally, the current economic climate renders downtime of operations a minus on the audit scorecard," said managing director, Emil Berning. "We at Konecranes are aware that crane equipment needs to fulfil operational requirements to their fullest, and at the safest and most cost-efficient levels, while enhancing the crane's lifespan. This is why the specialised preventive maintenance and servicing agreements offered by Konecranes are globally respected and deliver the benefits our customers expect."
Scheduled preventive crane maintenance and servicing increases the equipment's output, maintains its efficiency and operational safety, enhances its lifespan and lowers basic running costs. Scheduled servicing and preventive maintenance agreements offer the customer monthly, quarterly and annual servicing and inspections. The results of the inspections are presented in report form to the customer, and the 'health' status of their cranes can be viewed via the yourKonecranes online portal. This portal enables customers to see what maintenance has been conducted, and what parts have been serviced or replaced. It lists all data for forthcoming servicing inspections and gives customers a concise and clear overview of crane performance as well as whether operator error has impacted in any way on the crane's production efficiencies.
Berning added: "Scheduling crane inspections and implementing our recommendations can add between eight to ten years to the lifespan of the crane. There are elements of cranes that have a critical safety impact if they are not inspected regularly, for example braking, gearbox and rope systems. Similarly, if, for example, crane reliability reports show the crane is lifting weights above what it was originally commissioned for, it is important to examine the crane components and assess whether the crane is suitable for additional load performance. The key is to ensure the crane is safe to operate at all times and that its operational components are safety compliant. Safety is everything in crane systems from Konecranes."
All Konecranes technicians utilise Siebel Light In Mobile (SLIM) devices, a new mobility tool which works online, or offline with synchronisation, that allows service technicians to review service requests and then record their work on their smartphone and review it with the customer. Konecranes servicing is also supported by its Mainman software platform. It provides a more intelligent and responsive customer care offering, and greater visibility to equipment and service history.
Improving the safety and productivity of customers' operations is the key objective of servicing and preventive maintenance agreements with Konecranes. The company's Lifecycle Care approach offers customers the highest in lifecycle value, maximising productivity uptime and minimising downtime costs.
A systematic risk and recommendation method of evaluation and consultative planning and review processes not only drives continuous improvement in safety and productivity, but also builds the trust required between the customer and Konecranes technicians.
Inspections and preventive maintenance identify risks and improvement opportunities and support compliance; predictive maintenance utilises condition monitoring, advanced inspections and data analytics to predict component or equipment failure; corrective maintenance and retrofits address safety and productivity issues and capitalise on improvement opportunities; consultation services guide decision making, uncover critical issues and maximise return on investment; modernisation services prolong the economic service life of equipment whilst new equipment and spare parts are on hand for when new equipment is deemed essential.
"At the end of the day, we want our customers to know that their equipment operates cost efficiently, optimally and most importantly of all safely. Servicing and preventive maintenance scheduling is the key to meeting all three of these criteria," concluded Berning.
For more information contact Emil Berning, Konecranes, newtechnology.za@konecranes.com, www.konecranes.com
Further reading:
Gimatic's modular design philosophy
Second Quarter 2021, Gimatic , Other technologies
All vacuum pumps, cartridges, suspensions, suction cups and accessories have been designed to combine with a range of mounting elements and extrusions.
Read more...
---
World-first sensor platform for mobile machines
Second Quarter 2021, Instrotech , Other technologies
However dire or adverse the conditions are, mobile machines must work reliably under the harshest of conditions, including heat, cold, shock, vibration, water, mud or dust.       To ensure uninterrupted 
...
Read more...
---
Lubrication filter carts for flushing systems
Second Quarter 2021 , Other technologies
When a lubricant becomes contaminated it affects the entire machinery system, which then needs to be flushed to prevent further damage to costly equipment. Lubrication Engineers (LE) offers a solution 
...
Read more...
---
Swagefast lockbolt pins and collars
Second Quarter 2021, Bearing Man Group T/A BMG , Other technologies
BMG's locally manufactured Swagefast lockbolt pins and collars ensure increased productivity and reliability in heavy duty, high vibration applications, especially where structural integrity is critical 
...
Read more...
---
Addressing the challenges of food grade lubrication
First Quarter 2021 , Other technologies
Keeping food processing equipment well lubricated can be a challenge. Callum Ford, national marketing manager at Lubrication Engineers (LE), outlines the challenges associated with the lubrication of 
...
Read more...
---
Robust ergonomic cable extension reels
First Quarter 2021 , Other technologies
Powermite's range of robust cable extension reels is packed with features to provide customers with reliable, robust and safe performance. The Gen 2 plastic XREEL series is manufactured from Polyamide 
...
Read more...
---
Gas generators power equivalent of 52 000 homes
First Quarter 2021 , Other technologies
With increased demand for low carbon power generation, industries need alternative energy sources to reduce their carbon footprint while maintaining reliable and robust performance. To meet this need, 
...
Read more...
---
Advanced filtration solutions
First Quarter 2021 , Other technologies
Fibertex Nonwovens, a leading global manufacturer of nonwovens and performance-based materials, has developed advanced filtration solutions including pleated, needlepunch, spunlace and thermally bonded 
...
Read more...
---
Lubricant for high temperatures
First Quarter 2021 , Other technologies
Lubrication Engineers (LE) has developed the 1250 Almasol High Temperature Lubricant, which has one of the highest temperature capabilities of any grease thickener available in the industry. It is designed 
...
Read more...
---
Addressing the new normal in food manufacturing
Fourth Quarter 2020, Omron Electronics , Other technologies
Food and beverage companies can now set the course for the time after Covid-19 using automation to boost competitiveness and productivity. Manufacturers should focus their resources on four market driven perspectives: workforce, product quality, flexibility and sustainability.
Read more...
---