printer friendly version
Control automation excellence
Second Quarter 2021
Electrical switching & drive systems & components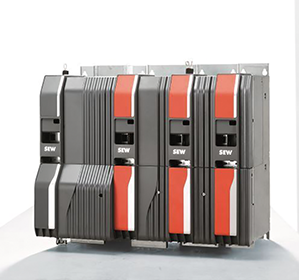 SEW-EURODRIVE's MOVI-C® is a unique automation control system that sets a new benchmark in control automation, embracing Industry 4.0 technology. Part of the company's innovative Generation C advanced technology, MOVI-C® offers controller control technology throughout the entire automation process, from planning and commissioning through to operations and diagnostics.
The technology offers customers an advanced modular automation system, which provides the highest levels in machine and system automation excellence through decentralised drive and control technologies. It reduces costs while improving useability with less complexity.
The Generation C range differs in respect to its Generation B predecessor, with the main change being uniformity of look and feel and decentralised technology.
Maxolution engineer, Dylan Enslin, says that MOVI-C® is a new and improved version of the current generation technology. It offers similar parameters, but gives a significantly improved user interface and experience. Better efficiency, improved controls, simplified installation and programming all offer the customer significant control improvements.
"Software in the Generation C range has been optimised with improved electronics at a component level. With everything now modular and decentralised, we can offer our customers greater flexibility in applications and a far more efficient and effective solution. We are dedicated to the supply of advanced Industry 4.0 technology, which offers great improvements in terms of software, overload capacities and communication protocols such as Ethercat CiA402. MOVI-C® represents just that," he continues.
MOVI-C® comprises four modules: MOVISUITE® engineering software, MOVIC-C® controller control technology, MOVIDRIVE® inverter and safety technology and MOVIGEAR® and MOVIMOT® decentralised drive technology, which can be utilised in various configurations.
Enslin adds that interchangeable electronics between MOVIMOT® and MOVIGEAR® reduce spare part requirements held at the plant and that MOVIMOT® Flexible is able to run closed loop synchronous servo motors, which is useful for dynamic applications which require positioning and de-centralised inverters.
SEW-EURODRIVE's one cable technology is a highlight of the MOVI-C® control automation solution as it offers a single cable technology with a digital encoder for synchronous and asynchronous motors. One hybrid cable is installed for the data connection between the frequency inverter and electric motor, simplifying the process further with a uniform plug connector.
With electronic nameplate information and fully integrated digital motor encoders in various designs, the one hybrid cable is of an exceptionally robust and high performance design, with the coaxial data cable making it suitable for cables of up to 200 metres. A further new feature is the new digital MOVILINK® DDI data interface, which sends performance, brake and diagnostic data from the motor and both safe and non-safe encoder data.
MOVIGEAR® lowers costs through its state-of-the-art, space saving, decentralised drive and automation system that SEW-EURODRIVE offers as an all-in-one unit. The built-in Profinet communications protocol reduces the need for extra topology and extra wiring through its compact design. The new MOVIGEAR® is also energy efficient and comes with an IE5 rating. Additionally, all gear units, motors, electric components as well as built-in encoders and diagnostic units are housed in the all-in-one unit, giving the ability to quickly and easily start up machinery in engineering plants.
"Cutting costs and saving energy are important considerations when operating plant and machinery. Decentralised installation concepts are based on modularising and standardising components and functions, whilst integrating intelligent control solutions directly in the drive technology and/or on the machine or plant module. MOVI-C® is the way forward, it is the solution that SEW-EURODRIVE believes is the new benchmark" adds Enslin.
The MOVI-C® solution is due to be launched in the next two years, but various automotive manufacturers have expressed interest in this technology to be incorporated into their local plants, having seen benefits such as shorter installation/commissioning timeframes and simplified turnkey solutions in the event of plant breakdown.
"SEW-EURODRIVE is focused on growing Industry 4.0 ready products that are capable of intelligently connecting and networking to enable more efficient operations. Ultimately, it is about ensuring greater efficiencies and better productivity for our customers," concludes Enslin.
For more information contact Jana Klut, SEW-EURODRIVE, +27 11 248 7000, jklut@sew.co.za, www.sew-eurodrive.co.za
Further reading:
A very smart material
Second Quarter 2021 , Editor's Choice, Electrical switching & drive systems & components
Shape memory materials (SMMs) are strong, lightweight materials that have the ability to recover their original shape after being deformed if a stimulus is applied. They can be programmed to remember 
...
Read more...
---
Siemens controls for vaccine production
Second Quarter 2021, Siemens Digital Industries , Electrical switching & drive systems & components
The biotechnology company, BioNTech, converted an existing facility in Marburg, Germany for the production of the Covid-19 vaccine in a record time with assistance from Siemens. Through collaboration 
...
Read more...
---
Taking soft-starters to the next level
Second Quarter 2021, Zest WEG Group Africa , Electrical switching & drive systems & components
The new WEG SSW900 soft-starters are the ideal choice for complete motor control and protection. These units allow quick and simple access to application information and configuration settings in any 
...
Read more...
---
Product-specific packaging with PC-based control
Second Quarter 2021, Beckhoff Automation , Electrical switching & drive systems & components
Kern in Konolfingen, Switzerland, is a family business founded more than 70 years ago and originally rose to success with enveloping machines. However, the market for enveloping machines is declining. 
...
Read more...
---
Total drive solution for iron ore project
Second Quarter 2021 , Electrical switching & drive systems & components
Bauer Geared Motors recently delivered a total drive solution including five large-sized 750 kW industrial gearboxes and two 185 kW units for the Tippler upgrade project at the Saldanha Iron Ore Export 
...
Read more...
---
Flameproof switchgear
Second Quarter 2021, Becker Mining South Africa , Electrical switching & drive systems & components
Becker Mining South Africa's Energy Distribution division manufactures customised switchgear, designed for the efficient distribution of electrical power, energy co-generation, rectification and traction.  
...
Read more...
---
Power transmission solutions in the mining sector
Second Quarter 2021, Bearing Man Group T/A BMG , Electrical switching & drive systems & components
BMG's range of Tsubaki back stop cam clutches, which is suitable for high or low speed applications, meets the requirements of current mining legislation and has many critical features not found in conventional 
...
Read more...
---
High efficiency motors and drives can combat climate change
Second Quarter 2021 , Electrical switching & drive systems & components
According to the International Energy Agency (IEA), industry accounts for 37% of global energy use and some 30% of global energy is consumed in buildings. While mostly hidden from public view, electric 
...
Read more...
---
New motors for servo drive system
Second Quarter 2021, Siemens Digital Industries , Electrical switching & drive systems & components
Siemens is adding new servo motors to its Sinamics S210 single cable servo drive system. Designed for use in the pharmaceutical and food industries, the Simotics S-1FS2 is a motor version with a stainless 
...
Read more...
---
Grease injector for harsh applications
Second Quarter 2021, SKF South Africa , Electrical switching & drive systems & components
The new SKF Lincoln SL-6 injector has been designed for ease-of-use and low maintenance, with outstanding leak protection and service life, even with harsh extreme pressure greases. The SL-6 can easily 
...
Read more...
---