printer friendly version
BMG contributes to YES programme
Second Quarter 2021
News & events
BMG – part of the Engineering Solutions Group (ESG) of Invicta Holdings – is participating in South Africa's Youth Employment Service (YES) Programme, which is a joint initiative between the government and private sector. This aims to create one million work opportunities for unemployed black youth and transform their lives. "Through this inspiring YES Programme, BMG is helping to uplift the lives of 52 young candidates from disadvantaged communities by providing work experience and mentorship for a 12-month period," explains Lizette Bestbier, group organisation development manager for ESG. "We believe that the business sector has a responsibility to help solve the escalating problem of youth employment."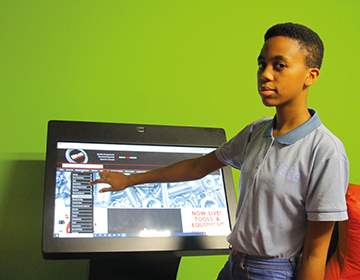 Chantel Mhula, marketing assistant, demonstrating to the team how to navigate the BMG Online e-commerce platform.
The programme offers young people a bridging opportunity between school and the world of work, nurturing the leadership capabilities that are so essential for business success and individual achievement. By providing the opportunity for young people to gain work experience, mentoring and training, BMG equips them with the necessary skills and business ethos for a successful future. "The BMG team has always enjoyed a culture of learning and knowledge sharing, which is why this uplifting programme is a perfect fit with our need to develop commercial skills and nurture personal development. We are very pleased with the high calibre of our trainees and are impressed with their willingness and passion to participate and succeed in this important learning journey," she concludes.
Credit(s)
Further reading:
BI launches new e-commerce platform
News & events
Bearings International (BI) is entering the fast-growing realm of e-commerce by expanding its current website to provide more detailed information. "The aim is to create a 24/7 access experience for 
...
Read more...
---
TUKS campus taken over by robots!
RS Components SA News & events
Several teams of third-year engineering students took to the track for the ultimate robot showdown as the highly anticipated annual TUKS Robot Race Day took place at the campus recently. Now in its 
...
Read more...
---
Integrated bearing assemblies for tough applications
Bearing Man Group T/A BMG Shaft power components
BMG's comprehensive range of NSK bearings extends from precision miniature bearings used in machine tools and electronics applications to giant-sized bearings for steel and mining industries. Included 
...
Read more...
---
The strength of your machine is defined by its pivot joints
Bearing Man Group T/A BMG Editor's Choice Shaft power components
"Through Nord-Lock's advanced Expander System, which consists of a comprehensive range of components, BMG specialists are able to supply the correct pivot to prevent the problems that lug wear causes 
...
Read more...
---
From the editor's desk: Killer science and alternative energy
Technews Publishing News & events
I couldn't resist watching The World Industrial Reporter's video on Ten Scientists Killed By Their Own Experiments. Some of them would have deserved the Darwin Award for taking themselves out of the 
...
Read more...
---
Bosch Rexroth SA celebrates women in hydraulics
News & events
Bosch Rexroth South Africa is committed to social investment and the advancement of all its employees, breaking down barriers to create a diverse and dynamic workplace. This upcoming Women's Day presents 
...
Read more...
---
ABB's lifeline to unemployed graduate
News & events
When a kind stranger took a photograph of Momelezi Sifumba standing at a busy roadside with a cardboard sign stating: 'Help Me to Find a Job' and posted it on LinkedIn, little did the unemployed graduate 
...
Read more...
---
Port and rail upgrades essential for SA
News & events
Bearings International (BI) has welcomed the assertion by President Cyril Ramaphosa in his State of the Nation address on 10 February that the economy cannot grow without efficient ports and railways. 
...
Read more...
---
Are counterfeit bearings a growing concern in South Africa?
Bearing Man Group T/A BMG Shaft power components
The incidence of counterfeit bearings is definitely on the increase in South Africa. In fact, the Hawks team recently discovered a large quantity of fake bearings valued at over R5 million stored in a 
...
Read more...
---
Drive-based predictive maintenance solutions
Bearing Man Group T/A BMG Electrical switching & drive systems & components
BMG's NORD predictive maintenance solutions offer fast, efficient and comprehensive evaluation of analogue and digital data, to enhance the operational efficiency and safety of machines. The intelligent 
...
Read more...
---