printer friendly version
SKF bearings help Mars Rover collect rock
Second Quarter 2021 Editor's Choice Shaft power components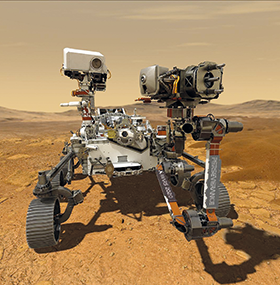 Each time the Perseverance Mars Rover collects or handles rock and regolith samples in Jezero Crater during its multiple-year mission on the surface of the red planet, key components from SKF will facilitate these activities.
Enabling the Mars Rover's core operations in the harsh environment on Mars are Kaydon RealiSlim thin-section ball bearings, designed and manufactured by SKF at the company's global thin-section bearing engineering centre in Muskegon, and its recently expanded manufacturing hub in Sumter, USA. These highly engineered components are contributing to the survival of the Rover's main robotic arm, sample collecting turret, tool bit carousel and sample handling assembly during a months-long trip through space, and its function as intended on the Mars surface. SKF also supplied critical bearings for the mission's launch vehicle which carried the Rover and its lander into space.
SKF bearings will play an integral role in the vital process of sample collection on Mars. When the rover is ready to begin collecting samples on the surface, the robotic arm will manoeuvre into place and the tool bit carousel will whirr into action, deploying tools to drill or abrade material, which will then be collected by the sample collecting turret, aka 'the hand', and transferred to the sample handling assembly for processing onboard the Rover, and eventually a potential return to Earth for analysis via a future Mars mission.
"The bearings we designed and built to help the Rover perform its core science activities were based on several models of Kaydon thin-section ball bearings customised by our engineers to minimise weight and save space, while retaining maximum functionality and reliability for a mission where repair or replacement is simply not an option," said Isidoro Mazzitelli, director of product development and engineering for the Americas. Space applications must be a small fraction of the weight of standard bearing assemblies.
Kaydon bearing solutions are often customised from baseline models for specific customers and commonly used in applications that require a careful balance between strength, weight, size, functionality and reliability – including robotic surgical equipment, automated precision manufacturing, detailed painting, aircraft systems, airport security scanners and medical CT imagers.
In addition to the latest mission, SKF has a decades-long history as a supplier to global space programmes, dating all the way back to NASA's Apollo 11 mission.
"Our company's bearings, seals and other products have helped enable a wide range of spacecraft and missions for more than 40 years," said John Schmidt, president of SKF USA. "Our parts have flown on the previous space missions, dozens of commercial and government satellites, space-borne telescopes, a wide range of rocket launch vehicles and in astronauts' spacesuits. When conditions become critical and applications demanding, engineering knowledge is the only way to success."
For more information contact Samantha Joubert, SKF South Africa, +27 11 821 3500, samantha.joubert@skf.com, www.skf.com
Credit(s)
Further reading:
A very smart material
Second Quarter 2021 , Editor's Choice, Electrical switching & drive systems & components
Shape memory materials (SMMs) are strong, lightweight materials that have the ability to recover their original shape after being deformed if a stimulus is applied. They can be programmed to remember 
...
Read more...
---
The benefits of collaborative robots
Second Quarter 2021, SMC Corporation South Africa , Editor's Choice, Robotics & Mechatronics
While robotics led the way for the rapid growth of automation, cobots are the democratisation of robotics technology. They eliminate the cost and complex programming that robots usually require while providing much greater flexibility.
Read more...
---
Fast, safe transport on the factory floor
Second Quarter 2021, Omron Electronics , Editor's Choice
The Philips site in Klagenfurt produces over 23 million linear cutting elements for hair and beard trimmers each year. These beard trimmers use lift-and-trim technology: the beard hair is first lifted 
...
Read more...
---
Hacking for a difference
Second Quarter 2021, RS Components SA , Editor's Choice, News & events
The annual Geekulcha Hackathon recently saw more than 100 coders, developers and programmers challenge each other in an online contest.The event has become a highlight in the African developer world. 
...
Read more...
---
Energy efficiency in the chemical industry
Second Quarter 2021, Danfoss , Editor's Choice
Danfoss has widespread experience and expertise in refrigeration and in controlling the speed of AC motors in all main chemicals sectors: petrochemicals, basic inorganics, polymers, specialty and 
...
Read more...
---
Mars helicopter makes history
Second Quarter 2021, DNH Tradeserve , Editor's Choice
This is the first time in the history of powered, unmanned spaceflight that a device has flown in a controlled manner on another planet – with the help of DC motors from maxon motor. The helicopter flew 
...
Read more...
---
Grease injector for harsh applications
Second Quarter 2021, SKF South Africa , Electrical switching & drive systems & components
The new SKF Lincoln SL-6 injector has been designed for ease-of-use and low maintenance, with outstanding leak protection and service life, even with harsh extreme pressure greases. The SL-6 can easily 
...
Read more...
---
Counting their chickens before they hatch
First Quarter 2021, SKF South Africa , Shaft power components
The introduction of food line (blue line) bearing units by SKF, in collaboration with its Authorised Distributor, Bearing Services (BSA) Polokwane, has reduced downtime and increased plant reliability 
...
Read more...
---
Land Cruiser wet brakes for mining
First Quarter 2021, Axiom Hydraulics , Editor's Choice, Hydraulic systems & components
Unfortunately, the vehicle's OEM brakes are not built for mining; they compromise safety while suffering frequent and expensive maintenance. Simply put, the brakes were never designed for use in the highly 
...
Read more...
---
Hybrid bearings for wind farm
Fourth Quarter 2020, SKF South Africa , Shaft power components
SKF's Renewables Segment team was instrumental in securing an order for the supply of three hybrid bearings which deliver improved reliability and uptime for a customer operating a wind farm in the Western 
...
Read more...
---