printer friendly version
Energy efficiency in the chemical industry
Second Quarter 2021
Editor's Choice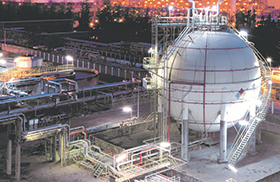 New resources, compounds and active ingredients are continuously being developed to meet the ever-growing demand of industries. The best available technologies are required for chemical reactors, distillation, precipitation, drying, milling, granulation, hot melt extrusion and associated processes in heavy and harsh environments. Efficient supply, refining and transportation of valuable raw materials kept at constant temperature levels can be achieved with refrigeration solutions from Danfoss Drives.
Danfoss has widespread experience and expertise in refrigeration and in controlling the speed of AC motors in all main chemicals sectors: petrochemicals, basic inorganics, polymers, specialty and consumer. Its range of refrigeration equipment and AC drives is designed to fulfil the demands of the chemical industry, where safety has the highest priority.
Optimised processes, less downtime
Process control improvements with speed control of motors and proven energy savings in various applications have increased the output and reliability of processes and reduced carbon emissions. The high protection class and conformal coating of printed circuit boards (PCB) in Danfoss AC drives enhance protection against environmental pollution, aggressive gases, moisture and dust. These drives also reduce heat loads and air conditioning requirements with their superior heat management performance. This results in increased drive lifetime, reduced maintenance, reliable operation in harsh environments, less downtime and a low cost of ownership.
Quality chemical plants powered by quality drives
For a chemical plant to run at its absolute best, drives must enable peak performance. Danfoss AC drives deliver best-in-class reliability and robustness. Their leading energy efficiency lowers the total-cost-of-ownership (TCO) and makes a positive contribution to reaching the world's climate goals. Further, predictive and condition-based monitoring are built into the drives to give you the intelligence you need to future-proof your systems. The Danfoss Drives product line is fully compatible with any motor or system, so you are free to run the optimal system for your plant.
Reliability and robustness
Aggressive gases can damage components at a chemical plant, while cooling air contamination can cause PCB tracks and door seals to decompose. Danfoss drives have conformal coated circuit boards as a standard, and high IP ratings. They are ATEX compliant and can withstand high ambient temperatures of up to 50°C.
All Danfoss drives offer simpler and more cost-efficient solutions and can be used with 150 m shielded or 300 m unshielded cable starting from 1,5 kW, without any additional output filters for motor connections. This
saves on initial investment, makes additional space requirement obsolete, lowers total losses in the system and provides full output torque on the motor shaft by avoiding voltage drop over the filter. Predictive and condition-based monitoring capabilities are embedded into the drives, extending the lifetime of the applications and helping to future-proof the system.
Energy efficiency
Danfoss AC drives are highly energy efficient, helping increase plant return on investment (ROI) and reduce TCO. They have excellent back-channel cooling, reducing the need for air conditioning, as well as smart tools that lower energy use and application wear. Higher power density also means you can say goodbye to oversized drives, whilst at the same time lowering your energy consumption.
AEL cuts energy consumption by 500 kWh per hour
The 720 ton per day AEL Intelligent Blasting nitric acid plant in South Africa is saving R3,6 million annually on operating costs, thanks to an upgrade from direct-on-line operation to VLT drive control of electric pumps and motors.
For many years, motors and pumps in the process cooling water (PCW) system operated direct-on-line. With the upgrade, the aim was to improve efficiency and reliability by introducing AC drive motor control. AEL chose the VLT AQUA Drive FC 202 and VLT HVAC Drive FC 102 drives from Danfoss, based on their ability to ensure stable operation despite unreliable mains power supply. These drives offer automatic energy optimisation and kinetic backup features to support highly efficient and reliable plant operation.
The remarkable payback time of only 18 months reflects the vast improvement in process cooling water efficiency enjoyed by AEL Intelligent Blasting.
"The drives were selected based on the kinetic backup feature, which is valuable to us because of our unstable electricity supply and a lot of small voltage dips causing our facilities to trip out. With this feature we can keep the plant online without any issues, therefore saving millions," explains Johan Engelbrecht, AEL Nitrates MV electrical engineer. The full case study can be found at https://tinyurl.com/2asv5977.
For more information contact Lynne McCarthy, Danfoss South Africa, +27 11 785 7628, mccarthyl@danfoss.com, www.danfoss.co.za
Credit(s)
Further reading:
A very smart material
Second Quarter 2021 , Editor's Choice, Electrical switching & drive systems & components
Shape memory materials (SMMs) are strong, lightweight materials that have the ability to recover their original shape after being deformed if a stimulus is applied. They can be programmed to remember 
...
Read more...
---
The benefits of collaborative robots
Second Quarter 2021, SMC Corporation South Africa , Editor's Choice, Robotics & Mechatronics
While robotics led the way for the rapid growth of automation, cobots are the democratisation of robotics technology. They eliminate the cost and complex programming that robots usually require while providing much greater flexibility.
Read more...
---
Fast, safe transport on the factory floor
Second Quarter 2021, Omron Electronics , Editor's Choice
The Philips site in Klagenfurt produces over 23 million linear cutting elements for hair and beard trimmers each year. These beard trimmers use lift-and-trim technology: the beard hair is first lifted 
...
Read more...
---
SKF bearings help Mars Rover collect rock
Second Quarter 2021, SKF South Africa , Editor's Choice, Shaft power components
Enabling the Mars Rover's core operations in the harsh environment on Mars are Kaydon RealiSlim thin-section ball bearings, designed and manufactured by SKF at the company's global thin-section bearing 
...
Read more...
---
Hacking for a difference
Second Quarter 2021, RS Components SA , Editor's Choice, News & events
The annual Geekulcha Hackathon recently saw more than 100 coders, developers and programmers challenge each other in an online contest.The event has become a highlight in the African developer world. 
...
Read more...
---
Mars helicopter makes history
Second Quarter 2021, DNH Tradeserve , Editor's Choice
This is the first time in the history of powered, unmanned spaceflight that a device has flown in a controlled manner on another planet – with the help of DC motors from maxon motor. The helicopter flew 
...
Read more...
---
Danfoss continues to invest in sustainable transformation
First Quarter 2021, Danfoss , News & events
There has been growing momentum in the energy sector, and governments across the world are committing to a transition to low-carbon economies. At the recent opening of the Investing in Africa Mining Indaba, 
...
Read more...
---
Land Cruiser wet brakes for mining
First Quarter 2021, Axiom Hydraulics , Editor's Choice, Hydraulic systems & components
Unfortunately, the vehicle's OEM brakes are not built for mining; they compromise safety while suffering frequent and expensive maintenance. Simply put, the brakes were never designed for use in the highly 
...
Read more...
---
PC-based control technology for next-generation telescope
First Quarter 2021, Beckhoff Automation , Editor's Choice, Electrical switching & drive systems & components
Key factors were the advantages of EtherCAT for site-wide real-time communication connecting all telescope functions. Various embedded PCs and AM8000 servomotors were also tested and specified, among 
...
Read more...
---
Surfing back to Earth
First Quarter 2021, Horne Technologies , Editor's Choice, Electrical switching & drive systems & components
How did life actually form on Earth? Even today this question still has not been definitively answered. There are, however, signs that asteroids or comets played an important role. In the search for additional 
...
Read more...
---