printer friendly version
Voith now owns Elin Moteren
First Quarter 2022
News & events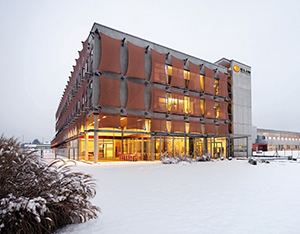 Since 1 May, 2020 a 70% share of Elin Motoren has been owned by the Voith Group. The other 30% of the company remained with the long-standing managing director, Franz Hrachowitz. At the end of last year, the two parties agreed on the acquisition by Voith of the remaining stake. "For Voith, this is a further step in strengthening our core business and consistently expanding it in the direction of sustainable technologies," says Dr Toralf Haag, CEO of the Voith Group.
Elin Motoren has a total of about 1000 employees and generates a turnover of about 120 million Euro. The company manufactures electric motors and generators in small series as well as individualised solutions for industrial applications. In this area, the company focuses on electric machines, motors in the low-voltage, medium-voltage and high-voltage range and generators, in particular for wind energy and decentralised energy generation. With its product portfolio, Elin Motoren serves markets in wind energy, plastics, tunnels and mining, oil and gas, plant construction as well as power plants. "Voith Turbo is regarded worldwide as a leading technology-independent supplier of drive systems. Together with Elin Motoren, we have been able to achieve a significant advantage for our customers in the electrification of the drivetrain in recent years. The acquisition is therefore an important milestone and contribution to driving forward decarbonisation and the Voith Group," he concludes.
For more information contact Philip Bäuerle, Voith Turbo, +49 7321 37 9517, [email protected], www.voith.com
Further reading:
Port and rail upgrades essential for SA
News & events
Bearings International (BI) has welcomed the assertion by President Cyril Ramaphosa in his State of the Nation address on 10 February that the economy cannot grow without efficient ports and railways. 
...
Read more...
---
From the editor's desk: Making sense of the metaverse
Technews Publishing News & events
It wasn't so long ago that nobody had heard of IIoT. Then the hype began and now it's an integral part of the manufacturing environment. Recently I've been hearing more and more about the metaverse 
...
Read more...
---
Innovation for sustainable agriculture
News & events
Panasonic Industry has announced the Gold sponsorship of ETH Zurich's Robotic Weeding System (Rowesys) project and will assist the student team with engineering know-how, as well as components and products 
...
Read more...
---
New head office and warehouse for Fuchs Lubricants
News & events
The new head office and warehouse for Fuchs Lubricants South Africa is on track to be completed this month. The company is investing over R250 million in the expansion at its existing location in Isando, 
...
Read more...
---
Bosch Rexroth Africa Development appoints Tanzanian distributor
News & events
Bosch Rexroth Africa Development has appointed a Tanzanian company as its in-country distributor. Transec is a general mining equipment supplier with an established countrywide presence. In line with 
...
Read more...
---
YES to youth employment
News & events
Bosch Rexroth South Africa has participated in local government's 2021 Youth Employment Service (YES) Programme, which took place from 1 March 2021 to 28 February 2022. This experiential learning programme 
...
Read more...
---
Appointments
News & events
Read more...
---
Appointments
News & events
Read more...
---
Cummins offers a lifeline to the mining industry
News & events
With the bulk of its business in Africa driven by mining, Cummins has continued to support its major mining clients throughout the Covid-19 pandemic. From blasthole drills and front-end loaders to 360 
...
Read more...
---
WorldSkills Africa collaborates with Festo to host the 2022 competitions
News & events
WorldSkills is a global competition organisation that raises the profile of skilled individuals worldwide. This organisation also demonstrates how skills are essential in achieving economic growth. Their 
...
Read more...
---