printer friendly version
New head office and warehouse for Fuchs Lubricants
Second Quarter 2022
News & events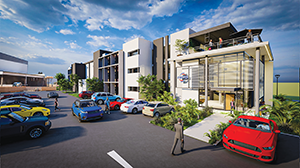 The new head office and warehouse for Fuchs Lubricants South Africa is on track to be completed this month. The company is investing over R250 million in the expansion at its existing location in Isando, Johannesburg in the wake of rapid growth in sub-Saharan Africa. The Phase 1 expansion, which consists of the office complex and new warehouse, commenced in June 2020. While Phase 2 is still in concept development, it is planned to comprise a new lubricants plant to bolster the company's strong growth and expansion plans for the continent.
The warehouse itself will incorporate the latest technology, including all product being wrapped, with 100% selectivity and batch control introduced. The latest materials handling equipment will also be implemented, such as narrow-aisle lift trucks stacking to 17 m high. The warehouse system itself will be based on a fully integrated barcoding system using SAP. In addition, the fire protection system is being designed to the latest international best practice.
Looking to the future MD, Paul Deppe is confident that the new head office with its visibility will be testament to Fuchs' strong growth prospects on the continent. "We have a lot of confidence and are growing market share. This makes our expansion such an important step forward, and will consolidate our South African operation as the regional hub for sub-Saharan Africa," he concludes.
For more information contact Kayla Van Vught, Fuchs Lubricants South Africa, +27 11 565 9738, [email protected], www.fuchs.com/za
Further reading:
BI launches new e-commerce platform
News & events
Bearings International (BI) is entering the fast-growing realm of e-commerce by expanding its current website to provide more detailed information. "The aim is to create a 24/7 access experience for 
...
Read more...
---
TUKS campus taken over by robots!
RS Components SA News & events
Several teams of third-year engineering students took to the track for the ultimate robot showdown as the highly anticipated annual TUKS Robot Race Day took place at the campus recently. Now in its 
...
Read more...
---
From the editor's desk: Killer science and alternative energy
Technews Publishing News & events
I couldn't resist watching The World Industrial Reporter's video on Ten Scientists Killed By Their Own Experiments. Some of them would have deserved the Darwin Award for taking themselves out of the 
...
Read more...
---
Bosch Rexroth SA celebrates women in hydraulics
News & events
Bosch Rexroth South Africa is committed to social investment and the advancement of all its employees, breaking down barriers to create a diverse and dynamic workplace. This upcoming Women's Day presents 
...
Read more...
---
ABB's lifeline to unemployed graduate
News & events
When a kind stranger took a photograph of Momelezi Sifumba standing at a busy roadside with a cardboard sign stating: 'Help Me to Find a Job' and posted it on LinkedIn, little did the unemployed graduate 
...
Read more...
---
Port and rail upgrades essential for SA
News & events
Bearings International (BI) has welcomed the assertion by President Cyril Ramaphosa in his State of the Nation address on 10 February that the economy cannot grow without efficient ports and railways. 
...
Read more...
---
From the editor's desk: Making sense of the metaverse
Technews Publishing News & events
It wasn't so long ago that nobody had heard of IIoT. Then the hype began and now it's an integral part of the manufacturing environment. Recently I've been hearing more and more about the metaverse 
...
Read more...
---
Innovation for sustainable agriculture
News & events
Panasonic Industry has announced the Gold sponsorship of ETH Zurich's Robotic Weeding System (Rowesys) project and will assist the student team with engineering know-how, as well as components and products 
...
Read more...
---
Bosch Rexroth Africa Development appoints Tanzanian distributor
News & events
Bosch Rexroth Africa Development has appointed a Tanzanian company as its in-country distributor. Transec is a general mining equipment supplier with an established countrywide presence. In line with 
...
Read more...
---
YES to youth employment
News & events
Bosch Rexroth South Africa has participated in local government's 2021 Youth Employment Service (YES) Programme, which took place from 1 March 2021 to 28 February 2022. This experiential learning programme 
...
Read more...
---