printer friendly version
Optimised luxury vehicle production
3rd Quarter 2015
Electrical switching & drive systems & components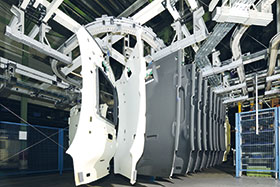 Bosch Rexroth recently supplied a high end German motor vehicle manufacturer with a more efficient handling and distribution solution for the conveyance of interior roof trims along the production line. The solution incorporated the customised VarioFlow plus chain conveyor system to provide simplified, automated handling capabilities while optimising the use of space.
Instead of being laid upon the conveyor belt, the roof interior trims, each weighing around six kilograms, are hung vertically from the conveyor about three metres above the floor. To achieve this, the VarioFlow plus chain conveyor system was fitted with a longer version of the hanger to which the carried roof interiors are attached.
The workpiece is then floated directly to the robot at the machining station, which removes the item from the conveyor for machining at the laser cutting station. Once machined, the robot collects the item and returns it to the conveyor, from where it is transported to the removal point and placed in buffer storage.The delivery and collection of units to and from the laser cutting station occurs in a completely automated logistical sequence – only the initial deposit and final collection require manual intervention.
The facility processes around 20 different interior roof trim styles across three vehicle model lines. This new conveyance system, unique in this form, enables the carmaker to serve four complete assembly lines. The VarioFlow modular chain conveyor system offers a highly efficient conveyance solution for indoors material handling operations in the food and beverage, automotive, packaging, assembly, electronics and material handling industries. It offers a fully user-defined conveyance network that moves, accumulates and distributes items across a production floor with maximum space utility, delivering improved productivity in today's manufacturing facilities.
The VarioFlow range includes the VarioFlow plus and VarioFlow S chain conveyor systems. VarioFlow plus offers easy to design and assemble conveyor solutions with low noise operability, in widths of 65 to 320 mm to support item loads of up to 20 kg. VarioFlow S, ideally suited to maximum-hygiene packaging applications, can be procured in several width variations, from 80 mm to 320 mm, which support item loads up to 22 kg.
Bosch Rexroth manufactures several different chain types to handle a wide range of workpieces, each of which offers high strength and flexibility for long-lasting, reliable performance. Using advanced resin formula, the VarioFlow chains have a high tensile strength up to 1250 N.
VarioFlow's state-of-the-art drive and gearbox infrastructure means 90% of the motor rotation is delivered to conveyor motion, providing a highly energy-efficient conveyor solution. Low friction coefficient designs also reduce energy load requirements and require fewer drives, while delivering a smooth conveyor motion.
The VarioFlow's aluminium or stainless steel frameworks provide a high degree of flexibility, allowing operators to adapt and adjust the conveyance system to changing workshop parameters. The VarioFlow range can be combined with RFID for enhanced identification, management and data storage capabilities.
For more information contact Greg Calder, Tectra Automation, +27 (0)11 974 9400, greg.calder@tectra.co.za, www.hytecgroup.co.za
Credit(s)
Further reading:
Helping farmers free up energy
Fourth Quarter 2020, Danfoss , Electrical switching & drive systems & components
In recent years, South African energy security has been constrained, while also being recognised by the Development Bank of Southern Africa as a water-scarce country. The importance of energy efficiency 
...
Read more...
---
Condition monitoring using the drive as a sensor
Third Quarter 2020, Danfoss , Electrical switching & drive systems & components
Variable speed drives have been used for over half a century, with the main advantage being the reduction of electrical energy use. With the advance of Industry 4.0, the role of the drive moves from that 
...
Read more...
---
Thirty years of linear motion technology
Fourth Quarter 2020, Tectra Automation , News & events
This year, factory automation specialist Bosch Rexroth celebrates 30 years of linear motion technology and innovation. Constantly updating its range of innovative linear axes, the company has a product 
...
Read more...
---
Festo Simplified Motion Series electric drives designed for simple movements
Fourth Quarter 2020, Festo South Africa , Electrical switching & drive systems & components
The Simplified Motion Series integrates all the elements of standard electric drive solutions into a single package for simple motion tasks such as repositioning, aligning, feeding, sorting, clamping, 
...
Read more...
---
VSDs improve energy efficiency on farms
Fourth Quarter 2020, Danfoss , Electrical switching & drive systems & components
"Farming operations are not only facing the challenges of the COVID-19 pandemic, which has affected every industry globally, but farmers also need to cope with power supply limitations and the rising 
...
Read more...
---
Lubricant and feed gear pumps
Fourth Quarter 2020, Bearing Man Group T/A BMG , Electrical switching & drive systems & components
BMG's range of Steimel lubricant and feed gear pumps – the SF series – are used mainly on oil lube systems in mines, steel works, power stations and general industry. "SF heavy duty pumps, which 
...
Read more...
---
Extending wind turbine service life
Fourth Quarter 2020, Beckhoff Automation , Electrical switching & drive systems & components
One way to prolong service life beyond the design life is to reduce the load on the main components. For instance, a 10% reduction in damage-equivalent load at the rotor blade root results in a 50% longer 
...
Read more...
---
Drive configuration made easy
Fourth Quarter 2020, Nidec Control Techniques , Electrical switching & drive systems & components
Nidec Control Techniques prides itself on offering free software for commissioning, optimising and monitoring drive/system performance. "If you have already purchased our hardware, why should you have 
...
Read more...
---
What is adaptive acceleration control?
Fourth Quarter 2020, Elettronica Santerno South Africa , Electrical switching & drive systems & components
Adaptive Acceleration Control (AAC) is a new soft start control type that allows the selection of different acceleration and deceleration profiles according to application needs. Soft starters offer a 
...
Read more...
---
Powerful technology packages for motion control and CNC
Fourth Quarter 2020, Siemens Digital Industries , Electrical switching & drive systems & components
Siemens is launching three powerful technology packages exclusively for the CNC Sinumerik One. The Sinumerik One Dynamics packages are One Dynamics Operate, One Dynamics 3-axis milling and One Dynamics 
...
Read more...
---