printer friendly version
An amazing turnaround
1st Quarter 2017
News & events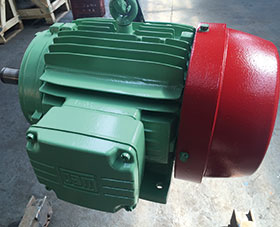 It is not every day that a company stares at liquidation and devastating job losses, but survives to tell the tale. Unidrive Electric Motors is receiving a second lease on life following the acquisition of a majority stake in the business by Ayanda at Work, with the majority of funding coming from a consortium of black women.
Between 2012 and 2013, Unidrive went through hard times as a result of cash flow challenges and this pushed the business into a precarious financial position with the possibility of closure. "Unidrive is one of the most recognised players in the refurbishment and supply of electric motors and its demise would have been very sad," says Unidrive MD, Theo Mashego.
Key among the steps to win back business was to improve the quality of workmanship and secure all necessary standards. Unidrive is SANS 1561-1:2006 listed and also complies with SABS 0242 as well as being ISO 9001 certified. Mashego says Unidrive is very competitive in the market for the repair of up to 450 kW and 1000 V motors, and also complies with SANS 60079-0 and 60079-1 for repairs of flameproof motors and with SANS 60079-0/15/19 for sparkproof motors. The company has seen its turnover growing in double digits between 2015 and 2016, with more upside expected in 2017 with the recovering economy.
Unidrive has been verified as a level 2 B-BBEE company. Mashego says the company will continue to focus on black women youth training, development and employment as part of its socio-economic contribution.
For more information contact Theo Mashego, Unidrive, +27 (0)11 813 3206, info@unidrive.co.za, www.unidrive.co.za
Further reading:
Bosch Rexroth Tanzania expands footprint
Second Quarter 2021 , News & events
Magare Company, the newly appointed Sales Partner for Hytec Services Africa, has secured a HSA containerised hydraulic hose workshop to further extend its reach in the country, supplementing the Mwanza 
...
Read more...
---
Become a Bosch Rexroth Distributor in Africa
Second Quarter 2021 , News & events
Bosch Rexroth South Africa is looking to welcome new sales partners into its African distribution network. Through Hytec Services Africa (HSA), the Group is looking to expand its network by bringing its 
...
Read more...
---
Africa Automation Technology Fair postponed to 9-11 May, 2023. Virtual Connect! launched
Second Quarter 2021 , News & events
The Africa Automation Technology Fair (AATF) has made the decision to postpone the September 2021 in-person event and reschedule it for 9-11 May 2023.
Read more...
---
Honingcraft goes solar
Second Quarter 2021, Honingcraft , News & events
Honingcraft has implemented the next part of its initiative to move to renewable energy sources. The company has installed a solar energy system that will decrease its carbon footprint and free it from 
...
Read more...
---
BMG contributes to YES programme
Second Quarter 2021, Bearing Man Group T/A BMG , News & events
BMG – part of the Engineering Solutions Group (ESG) of Invicta Holdings – is participating in South Africa's Youth Employment Service (YES) Programme, which is a joint initiative between the government 
...
Read more...
---
BI rolls out IE1 motors from ABB Africa
Second Quarter 2021 , News & events
Bearings International (BI) now has sufficient stock of IE1 motors from ABB Africa to be able to supply the local market in accordance with the new partnership between the two companies, reports BI offer 
...
Read more...
---
Non-genuine parts affect performance and warranty
Second Quarter 2021 , News & events
Counterfeit products illegally make use of Cummins trademarks, copyrights and patents. A counterfeit product is any non-genuine product with a Cummins logo, whereas 'will-fit' parts are usually reverse-engineered 
...
Read more...
---
Hacking for a difference
Second Quarter 2021, RS Components SA , Editor's Choice, News & events
The annual Geekulcha Hackathon recently saw more than 100 coders, developers and programmers challenge each other in an online contest.The event has become a highlight in the African developer world. 
...
Read more...
---
From the editor's desk: Watch this space
Second Quarter 2021, Technews Publishing , News & events
Space adventures capture our imagination − the thrill of space exploration never goes away − and this issue of Motion Control has a couple of articles relating to the ground-breaking exploits of NASA's 
...
Read more...
---
Danfoss continues to invest in sustainable transformation
First Quarter 2021, Danfoss , News & events
There has been growing momentum in the energy sector, and governments across the world are committing to a transition to low-carbon economies. At the recent opening of the Investing in Africa Mining Indaba, 
...
Read more...
---