printer friendly version
Tectra upgrades flight simulator software
1st Quarter 2019
Electrical switching & drive systems & components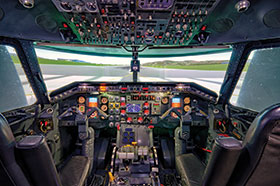 Simex, a South African company specialising in the fabrication and upgrading of flight training devices like flight simulators, contracted Tectra Automation to upgrade software, supply new hardware and adjust and convert a portion of the motion logic control across three flight simulators. The conversions, implemented for software compatibility purposes, pertain to the controls directing inflight aircraft angles (side-slip and shade), the aircraft roll (side-to-side inflight movement) and pitch (altitude increase/decrease).
The simulators benefitting from the upgrades are the Embraer 120 and the King Air 200, 350 and 1900, located at Lanseria airport in Gauteng and a generic twin-piston simulator, based on a Piper Seneca V, at Port Alfred airport in the Eastern Cape. All force-feel and control-loading equipment and componentry used for the simulator upgrades are Bosch Rexroth engineered.
The Embraer 120, an FNPTII (Flight Navigation and Procedures Trainer) MCC fixed-base simulator, which is used for imitation training and proficiency checks, experienced compatibility issues with its motor program and its motion logic controller (MLC) device. As the components are Bosch Rexroth, Simex approached Tectra Automation in Johannesburg for assistance. The fault lay in under-resourced componentry (known as CML) for a program contained within the MLC, which Tectra Automation resolved by replacing the existing CML25 with a CML45 and adjusting the software programming.
Electric drives and controls manager, Wiets Pretorius, verified the fault, provided and installed the correct hardware and adjusted the software to ensure compatibility. Commissioning was conducted jointly by Simex and Tectra Automation, and subsequently reconstructed and approved by the South African Civil Aviation Authority (SACAA), the aviation industry regulator in South Africa. "All of this was completed within standard industry time expectations and to our exact requirements," commented Leon Postma, simulation engineer at Simex.
Based on the successful conclusion of the Embraer 120 project, Simex again contracted Tectra Automation, this time for the other two simulator projects, both of which are ongoing. The Port Alfred-based generic twin-piston simulator had been upgraded with new motors and required higher grade firmware and the King Air three-way simulator (200, 350 and 1900) involved work on its control loading.
The firmware upgrade for the twin-piston simulator, however, proved to be incompatible with the PLC leading to a PLC firmware upgrade. This entailed motor parameter checking and adaption to the motor programming to correct an inverted analog signal – both of which were conducted remotely.
Tectra Automation also supplied all required Bosch Rexroth equipment and components for the control loading of the King Air 200, 350 and 1900 simulator. This aircraft simulator can be adapted to exactly duplicate the aeroplane cockpits of any of the three aircraft types through the use of interchangeable panels.
All Bosch Rexroth hardware has been delivered to site and Tectra Automation is on standby to assist with commissioning once Simex has completed the installation. "For all projects, which first began in 2017 when we conducted upgrades to the Embraer 120, until now with the work undertaken on our two ongoing projects, we have not experienced any unsolvable challenges subsequent to Tectra Automation's involvement," said Postma. "The service we have received from Tectra Automation exceeds even the exceptional high quality of the Bosch Rexroth equipment they represent, if one could draw a quality comparison," he concluded.
The standard one year Bosch Rexroth warranty on all products and equipment applies, and Tectra Automation provides a 24 hour call out offering as part of its aftersales service.
For more information contact Wiets Pretorius, Tectra Automation, +27 11 971 9400, wiets.pretorius@tectra.co.za, www.hytecgroup.co.za
Credit(s)
Further reading:
Powerful pump set tested
First Quarter 2020 , Electrical switching & drive systems & components
With 1350 Kw of raw power produced by a massive V16 diesel motor, the SABS in conjunction with KSB Pumps and Valves has tested one of the most impressive pump sets to be assembled on South African soil 
...
Read more...
---
Magnetic levitation technology for the Far East
First Quarter 2020 , Electrical switching & drive systems & components
German construction engineering specialist, Max Bögl, is commissioning a local public transport system based on magnetic levitation in Chengdu, China. Beginning at Max Bögl's main factory in Sengenthal, 
...
Read more...
---
SEW-Eurodrive's pick-and-place solution for brick and block plant
First Quarter 2020, SEW-Eurodrive , Electrical switching & drive systems & components
When a local Original Equipment Manufacturer (OEM) of concrete brick, block, and paving machinery had the unique opportunity to build a greenfield plant for a longstanding customer in the East London area, it turned to SEW-Eurodrive for its easily configurable HandlingKinematics pick-and-place solution.
Read more...
---
Production boost for glass manufacturers
First Quarter 2020 , Electrical switching & drive systems & components
A pair of 5 MW standby power systems from Cummins are providing extra protection at two glass manufacturing facilities in Lahore, Pakistan that are growing their businesses, allowing production lines 
...
Read more...
---
New app supports predictive services for drive systems
First Quarter 2020, Siemens Digital Industries , Electrical switching & drive systems & components
With Predictive Services for Drive Systems, Siemens makes maintenance more efficient for Sinamics drive systems and/or Simotics motors in the low voltage range. With its new service portfolio including 
...
Read more...
---
Motor efficiency high on global agenda
First Quarter 2020, Zest WEG Group Africa , Electrical switching & drive systems & components
With electric motors consuming almost 70% of industry's energy, companies are always looking for better motor efficiencies. For many years, motor efficiency has been well defined; however, when driven 
...
Read more...
---
Modernised irrigation control system
First Quarter 2020, Varispeed (Div. of Hudaco Trading) , Electrical switching & drive systems & components
As a preferred supplier to the agricultural industry due to proven reliability and performance, Varispeed designs, manufactures and distributes constant pressure solutions. With a good knowledge of the 
...
Read more...
---
Cam clutches for bulk handling
First Quarter 2020, Bearing Man Group T/A BMG , Electrical switching & drive systems & components
New to BMG's extensive range of Tsubaki cam clutches is the BS-F series, designed for high speed inclined and long overland belt conveyors and bucket elevators used in the mining and bulk handling sectors. 
...
Read more...
---
New automated drive analyser
First Quarter 2020, Comtest , Electrical switching & drive systems & components
Fluke's MDA-500 Series is designed to help users easily test and troubleshoot typical problems on three-phase and single-phase inverter type motor-drive systems. The on-screen information, and step-by-step 
...
Read more...
---
Maximised precision and speed
First Quarter 2020, Beckhoff Automation , Electrical switching & drive systems & components
Due to the outstanding quality characteristics of its beam, the fibre laser has become the technology of choice in the fine cutting of metal sheets. It delivers highly precise cuts with very narrow kerfs 
...
Read more...
---